VietNamNet Bridge – Vietnamese martial artist Truong Thi Kim Tuyen, 20, is eyeing a gold medal at the upcoming Southeast Asian (SEA) Games in Malaysia after pocketing a silver medal at the recently concluded Muju WTF World Taekwondo Championships in South Korea.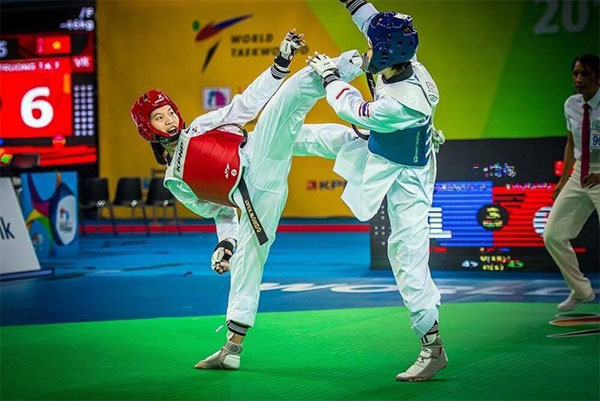 Truong Thi Kim Tuyen (left) performs in the WTF World Taekwondo Championships in South Korea. — Photo courtesy of Truong Thi Kim Tuyen
It is the first world silver medal in Vietnamese taekwondo history. Viet Nam previously only won five bronzes over the past 22 years — two in the world tournament in 1995, and one each in 1999, 2005 and 2011.
"I was really happy when I stood on the podium to get the medal as I am the first Vietnamese to do so. It seemed like a dream. Prior to the event, the training board and I only set a target of winning a medal. This is a big tournament so I didn't think I could bag a silver medal," Tuyen says.
"Hearing the good news, my parents who live in the southern province of Vinh Long also phoned me to celebrate. I am happy, but immediately started training again for the Games. Now I am working towards my new goal of defending the gold medal that I won at the Games in Singapore two years ago," Tuyen says.
"The world silver medal is a great driving force for me to do well at the regional sporting event," Tuyen adds.
At present, Tuyen and her teammates are training hard at the National Sports Training Centre in Ha Noi to prepare for the Games in Malaysia, focusing on physical strength and tactics.
According to Tuyen, Thailand will be her strongest rival in the fight to win gold.
At the Games 2015, Tuyen, world No 33, beat a Thai rival in the semifinal and then defeated Irene Therese Bermejo of the Philippines in the women's under 46kg final to win gold. At the world event as well, she beat her Thai rival Napaporn in the semifinal (27 places higher in the world rankings), and only surrendered to host player Jea Young Sim in the final.
"I had victories thanks to several factors. Firstly, I followed my coach's tactics and then I also had luck. But, obviously, wins against Thai rivals will boost my confidence to face them," Tuyen says.
According to experts, Tuyen's success comes from the fact that she adapted quickly to the new competition rule of the World Taekwondo Federation (WTF), which recently came into force.
"When the new rule of WTF came into effect, Tuyen learned the new techniques very fast. The new law allows players to push and kick. These movements require martial artists to have good speed and physical strength," Vu Xuan Thanh, head of the taekwondo section of the National Sports Administration and general secretary of the Viet Nam Taekwondo Federation, says.
"Tuyen's weak point is that she is shorter than others, but has very good tactics and physical fitness," Thanh says.
"The competition rule of taekwondo has changed significantly. The points for each blow have also changed. Therefore, I altered my way of playing as well as my tactics according to the new law. I failed to earn a ticket to compete at the Rio Olympics 2016, therefore the world medal is motivation for me to gain a place at the next Olympics," Tuyen says.
"I am only 1.65m tall. That is my disadvantage, so I must focus on moving, beating my rivals at close range and following my coach's guidance," Tuyen says.
Tuyen says South Korean Kim So-hui, 23, is her idol. Kim won gold medal in the women's U49kg category at the Rio Olympics 2016 and bagged two world gold medals in 2011 and 2013 in the U46kg category.
"Kim is only 1.64m tall, but she beat strong rivals who are taller than her thanks to the close blows," Tuyen says.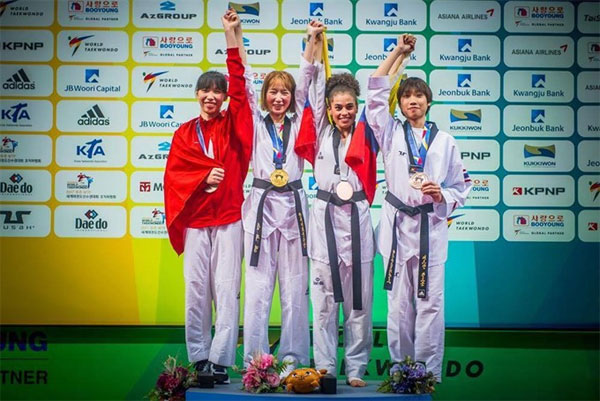 Vietnamese martial artist Truong Thi Kim Tuyen (left) celebrates winning the silver medal at the WTF World Taekwondo Championships in South Korea. — Photo courtesy of Truong Thi Kim Tuyen
Active child
Tuyen is the youngest child in a family of four daughters. Her family's income depends on the rambutan orchard in Hoa Ninh Commune, Long Ho District, in the Mekong Delta province of Vinh Long.
She was pampered and did not have to do housework when she was young, but she was very strong and active. She, therefore, called her friends to help her train in taekwondo seven years ago although she did not at that time have any knowledge about the martial art.
"At first, I only trained because it made me feel happy and healthy, and then I began to love it very much," Tuyen says.
"My parents did not approve of my choice as they thought daughters shouldn't practise martial art," Tuyen added.
Coach Tran Le Thuy Tran soon noticed Tuyen's talent -- her fast and strong blow and her good health -- and persuaded her parents to allow her to learn the martial art at a good sports school in the province.
From the age of 14, she began living away from home for training. One year later in 2011, she was selected for the national junior team and had to train in Da Nang and Ha Noi. Soon after, she won gold medal at the national junior taekwondo championship.
In 2015, at the age of 18, she won gold medal at the international taekwondo tournament in Morocco and silver at the Kazakhstan Open tour.
Notably, she set a milestone in her career by crushing archrivals from Thailand and the Philippines to snatch the gold medal at the SEA Games in Singapore.
In 2016, she won gold medal at the Asian junior championship and bronze medal at the Asian senior event.
This year, she won a gold at the Asian Junior Taekwondo Championship held in Kazakhstan in April along with the world silver medal.
Having spent seven years practising professionally, Tuyen says she has gained many things. The first is to bring glory for the country, honour for her family and for herself. The second is that she has had the opportunity to visit many countries, instead of being confined to her native land.
"However, I only have little time for my family. If there is an important sporting event such as the SEA Games, I only come home one or twice a year. Returning home from South Korea, I rushed into training, and did not come home," Tuyen says.
"I am very proud of my daughter who is now a good martial artist and has gained international achievements, paying tribute to the national sport. I will encourage and support her to continue excelling in her chosen career," Tuyen's father Truong Van Hat says. 
Thanh Nga
VNS