Born into a family with a four-generation tradition of martial arts in Lam Dong, seven-time world champion Nguyen Tran Duy Nhat has been called "The loner who seeks defeat" in Muay Thai. Nhat shares with Bui Quynh Hoa his passion for the sport and his strong desire to secure a victory for the country at the upcoming SEA Games 29 in Malaysia.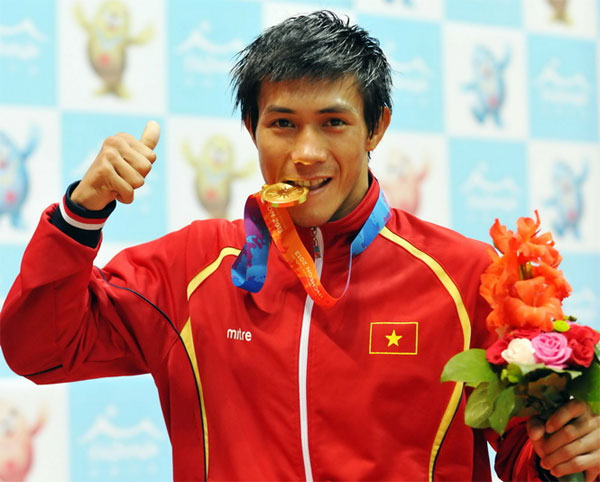 The champ: Seven-time world champion Nguyen Tran Duy Nhat.  Photo tinthethao.com.vn
Tell us about your journey in Muay Thai?
Born into a family with a great tradition of martial arts, I befriended the sport at a very young age, when I was about six. My parents, who were famous Vietnamese fighters in the 80s, inspired and awoke my passion for martial arts.
I moved from the Central Highlands province of Lam Dong to HCM City to study at the HCM City University of Sport in 2007 and started getting into Muay Thai in 2008. I became part of the national Muay Thai team one year later.
Your parents supported you to take part in Muay Thai, didn't they?
Although I chose Muay Thai, which is a martial art from Thailand, and not from Viet Nam, I received great support from my parents. They allowed me to freely decide which discipline I wanted to follow, at the same time reminding me martial arts is not about fighting, but a lesson in manners and behaviour.
What is your medal collection like?
Since 2010 I've won seven times at the Amateur Muay Thai World Championships. I've also won five gold medals at the Asian Muay Thai Competition, three times bagged the championship title at the Semi-professional Muay Thai World Championships, and gold medals at Muay Thai national competitions, and many other prizes.
Fighting for gold is a difficult task that not everybody can do, and defending the championship title seven times at the Amateur Muay Thai World Championships is even more challenging and very hard work. Have you felt pressure and stress to defend your championship titles to meet your fans' high expectations?
Yes, you are right. Winning is hard work, and staying on top for a long time is even harder. That's why I practise more and more, learn better techniques and gain experience.
I always tell myself that if I don't participate in a competition, it's fine. But if I decide to compete, I must give it my best shot and never give up in the ring, no matter if I win or not.
What is the key to your success in the ring?
Before a match, I always carry out in-depth research about the strengths and weaknesses of my opponent. In the ring, I play with increasing speed, progressing towards my maximum capacity. I always put in my best, so I have no regrets when the game is over.
Have you ever suffered from a serious injury while facing a strong opponent?
Yes, of course. I was competing against an opponent from Thailand for the championship title at the Semi-professional Muay Thai World Championships at the end of 2012. I won the first two rounds. In the third -- the final round -- my arm was broken after a strong blow to my opponent's forehead. The pain was unbearable, but I had to keep calm to decide how to play with my other hand and two legs effectively. I eventually won the match. I was very happy although I had to take six months off from fighting.
Along with the name Nguyen Tran Duy Nhat, which is well-known in the international Muay Thai arena, your fans have also given you the nicknames "The loner who seeks defeat" or "King of Muay Thai". How do you feel about that?
They gave me those nicknames because they love and trust me a lot. But I do not spend much time thinking about it. Every single day, I give my all to Muay Thai -- only under my real name Nguyen Tran Duy Nhat, and nothing else.
What characteristics does a kick boxer need to attain success?
To be successful in Muay Thai, I think a kick boxer needs to have four characteristics -- be brave in the ring, have a deep passion for the sport, be trained in a suitable environment to improve and develop his/her skills, and get into the sport right when it is developing and when many people want to practise.
What do you think about the development of Muay Thai in Viet Nam recently?
At present, Muay Thai in Viet Nam has developed strongly and extensively. Many Muay Thai clubs have opened nationwide, especially in HCM City, making the sport more accessible. Several Muay Thai competitions have been organised annually to meet the increasing demand of Muay Thai fans.
Along with practising for national and international Muay Thai competitions, you have established a club called No 1 Muay Club. Can you tell us something about the club?
I set up the No 1 Muay Club in HCM City three years ago. I want to create a playground for all people who love Muay Thai. Not only professional kick boxers, but also normal people who love the sport and want to keep healthy, everyone can practise here.
Further, I also want to find and train promising youngsters to help them follow our generation and gain more achievements for Viet Nam in Muay.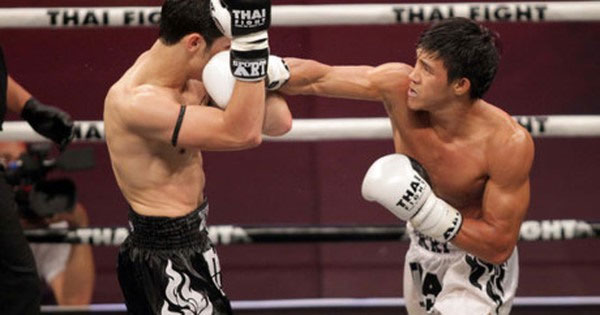 Take that: 'The loner who seeks defeat,' Muay Thai fighter Nguyen Tran Duy Nhat (Right). Photo thoibao.today
Inner Sanctum: Besides Muay Thai, what is your passion in life?
Everyone has their own passion. I'm the same. Along with a deep passion for Muay Thai, I like swimming, playing football and volleyball, and drawing. I won some fine art awards when I was in school.  
I'm also a speed merchant and a collector of sports and racing motorbikes. In my free time, I've also taken part in some martial arts film projects. I want the audience to learn more about Muay Thai, watch the sport and fall in love with it. It's really amazing. Trust me.
Inner Sanctum: You have not yet won a SEA Games gold medal although your Muay Thai gold medal collection is really large. What is your plan to win the gold at the upcoming SEA Games 29 in Malaysia this month?
Yes, you are right. I still lack an SEA Games gold medal for my medal collection. To prepare for SEA Games 29, the national Muay Thai team and I have undergone many training courses in Thailand and Viet Nam. We are ready to compete. But it's difficult to say what will happen. It depends on many factors, including the referee.
About myself, I promise I will try my best to secure a victory for the country. 
VNS