The Vietnamese Traditional Martial Arts Association has banned the Nam Huynh Dao Kung Fu School from participating in any competition with the martial artist Pierre Francois Flores without official permission.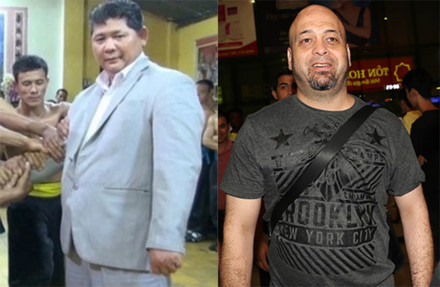 Huynh Tuan Kiet and Pierre Francois Flores (left to right)
Pierre Francois Flores is a student of martial artist Nam Anh, head of Wing Chun Nam Anh Kung Fu School in Canada. He had accused Huynh Tuan Kiet, head of Nam Huynh Dao Kung Fu School, of faking his 'electricity channelling' technique and challenged him. However, Kiet didn't respond.
Huynh Quoc Hung, Kiet's brother, said that Kiet wouldn't engage in a street fight with Flores. Hung said Nam Huynh Dao was a reputable school and recognised by the government so they wouldn't participate in illegal fighting.
He said. "We don't view Flores as an enemy and we are willing to make friends with him. Kiet will meet him under three conditions. First is he must be introduced by Canadian agencies and the head of his school. Second is the fight must have permission by Vietnamese authorities and finally, he should arrive with the proper attitude of a martial artist and not be provocative."
Hoang Vinh Giang, chairman of Vietnamese Traditional Martial Arts Association said they had banned Nam Huynh Dao Kung Fu School from fighting with Flores. Giang said since Nam Huynh Dao was a member of the association, the fight is the association's problem.
"If anything unfortunate happens, it may affect the relationship between Vietnam and Canada," he said. "In fact, we don't have the authorisation to issue the permit and don't condone the fight. What with this kind of fighting that has no protective outfit and insurance? At least there must be some rules about weight class or age."
Giang said the fight had no motive outside of attracting curious internet viewers.
Last week, Flores had knocked out karate artist Doan Bao Chau in a friendly match that doesn't have official permission. Many viewers commented that they physical difference was too huge as Flores weighed 91kg and was 180cm tall, while Chau weighed 62kg at 161cm tall
The Department of Public Sport still has no idea how to deal with the duel of such nature.
Dtinews