In a first, Vietnam grabbed a gold medal in swimming at the ninth ASEAN Schools Games (ASG), which is ongoing in Singapore.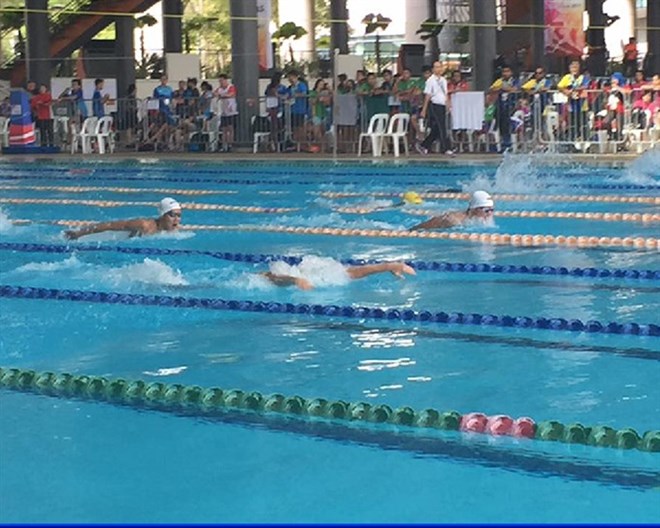 Swimming athletes at the event 
The Vietnamese swimmer triumphed in the boys' 400m individual medley event, as Nguyen Dang Khoa came first with a timing of 4 minutes and 34.36 seconds and his teammate Luong Jeremie Loic Nino was second with 4:37.74.
 According to their teacher Tran Ngoc Tien, it was the first time Vietnam had won a swimming medal at the annual ASG.
Athletics has always been Vietnam's strong point. They did a good job on July 16 with three gold, three silver and two bronze medals.
Hoang Thi Minh Hanh claimed the gold in the girls' 400m event, clocking 56.11sec.
Vu Thi Ngoc Ha was first in the girls' long jump with a result of 5.87m.
Pham Thuy Hanh ran in 4min and 47.45sec in the girls' 1,500m event, which won her the gold medal. Her teammate Doan Thu Hang was second, just 1.86sec slower.
Two other silver medals went to Dang Thi Trang in the girls' javelin event and to the girls' 4x100m relay team.
Two bronze medals went to Bui Thi Kim Thoa in the girls' 400m and Nguyen Long Chu in the high jump.
Table tennis players also made their mark in the medals tally. They won a gold in the boys' team event and a bronze in the girls' team category.
On the first day of the tournament on July 15, the Vietnamese team pocketed four gold, three silver and two bronze medals.
Apart from a bronze in gymnastics, the other medals were won in athletics.
"This year, most of the athletes in the track-and-field events are taking part in their first games. However, we can see that they have done a really good job and given impressive results against strong rivals from Thailand, Indonesia and Singapore, who have grabbed medals in regional tournaments," said Ngu Duy Anh, head of the Vietnamese delegation.
"I am really impressed with the first gold medals of the day. This will be a strong motivator for our athletes to try harder in the coming events at the games," he said.
Vietnam have won eight golds, nine silvers and four bronzes after two days of competition.
VNA