VietNamNet Bridge – Ho Van Tuong has been offering free Takhado martial art classes for 20 plus years, and has written as many books on the subject. His passion for imparting his skills to younger generations has not dimmed.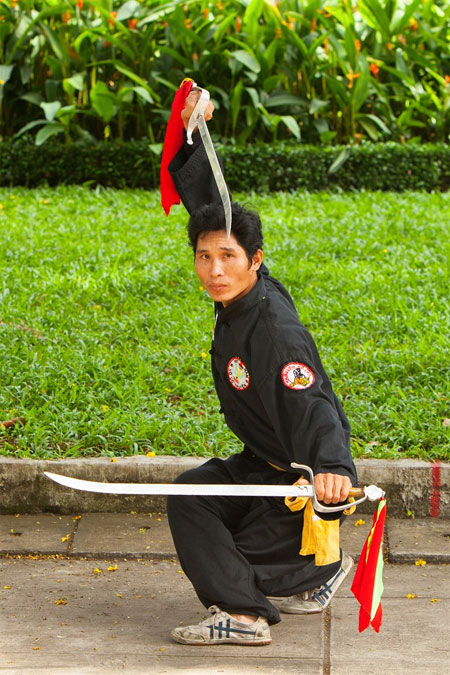 Looking sharp: A Takhado pose with swords. Photo courtesy of master Ho Tuong
At 63, Ho Van Tuong is fighting fit.
He is also fighting tirelessly to help preserve traditional Vietnamese martial arts for posterity, most particularly Takhado.
The master was recognised four years ago by the Viet Nam's Book of Records as the martial arts instructor who has offered free classes for the longest time.  
However, he has not rested on those laurels. The author of several books on Vietnamese martial art forms, Tuong continues to display the same passion for passing his skills and knowledge to succeeding generations, for free.
Born in the southern province of Binh Duong, Tuong was introduced to Tan Khanh-Ba Tra or Takhado, a branch of Viet Nam's traditional martial arts, at the age of four by his father Ho Van Lanh, a master himself.
Later, he became the student of many renowned masters who were his father's friends, including Le Van Kien, Nosar Neang and Kid Dempsey.
Tuong became his father's assistant after eight years of learning. In 1972, he was granted an official certificate recognising him as a professional martial arts instructor.
Tuong said Takhado was invented by the Vietnamese as they settled in Tan Khanh and Ba Tra villages, currently located in Binh Duong in the 17th century.
Technically, this art form has more weapons, hand and kicking techniques than other Vietnamese martial art forms, given the social and natural conditions in the south. In total, it has about 100 forms and 100 fighting positions with 40 different weapons.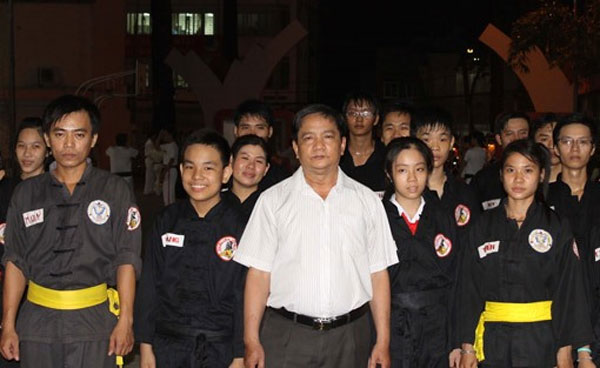 Master and disciples: Ho Tuong with his Takhado students at the Youth Culture House in District 1, HCM City
Many Takhado masters have contributed significantly to Viet Nam's resistance wars against the French and Americans. They include Nguyen An Ninh, Phan Van Hum and Huynh Van Nghe.
Master Ho Van Lanh, in particular, trained hundreds of disciples, half of them women, in 1969-1974. Many of Lanh's disciples have made the nation proud by winning domestic and international martial arts tournaments. He was given a certificate of honour for his dedication to traditional martial arts.
All these and other interesting information about the history of martial arts in Viet Nam can be gleaned from the 20 books or so that Tuong has written.
Among those books, he is most satisfied with Tim Hieu Vo Thuat Viet Nam (Introduction to Viet Nam's Martial Arts).
Tuong began teaching in 1979. Clubs in HCM City's District 1, 3 and the Youth Culture House were the venues then, and most surprisingly, continue to host his classes to this day.
Meanwhile, he acquired a PhD in Cultural Studies and has been working as a lecturer of tourism in several universities in the city and surrounding areas.
He was inspired to open free classes after many students confided in him their desire to learn, but inability to pay the fees. His idea was supported by the board of directors of the Youth Culture House. The free classes have been held regularly here since 1995, benefiting thousands.
Many of his students have since become masters themselves.
"Thanks to his teaching, I have become a martial arts instructor myself, following his path to pass on his passion to other students," said Tran Long To Chau,  currently head of the martial arts department at the District 4 Sports Centre.
"Ten years ago, when I was a freshman at the Cao Thang Technical College, I joined master Tuong's class after my friend recommended it," said master Tran Van Minh, Tuong's former disciple.
"His enthusiasm and dedication to martial arts have been an inspiration for me to pursue the sport. Today, besides my main job, I also teach martial arts in Tan Phuoc Commune in Binh Duong, and at the HCM City University of Technology."
Tuong's classes have also attracted learners from other countries including the US, Australia and France.
He said the classes not only improved the learner's health, but also their personality and spirit. They are equipped with necessary self-defence skills in case they are attacked or robbed. Mainly, however, "the classes are an effective way to preserve and promote Viet Nam's traditional martial arts," he said.
Tuong continues to travel from his house in Go Vap District to the Youth Cultural House in District 1 six nights a week to teach two classes of about 60 disciples.
Apart from Takhado, he has established three teams to play human chess combined with martial arts, and opened martial arts classes for the elderly.
Thanks to his and his student's efforts, Takhado has been popularised in many southern provinces including Kien Giang, Dong Thap, Dong Nai and Binh Duong, where as many as 1,000 students are learning the art. In HCM City, Takhado classes are open in seven districts.
The museum of Binh Duong, the hometown of Takhado, has compiled a dossier to submit to the Ministry of Culture, Sports and Tourism to recognise the traditional sports as the national intangible heritage.
Tuong, meanwhile, has no plans to stop: "I am in the second half of my life, and still trying to pass down all my Takhado assets to the next generations."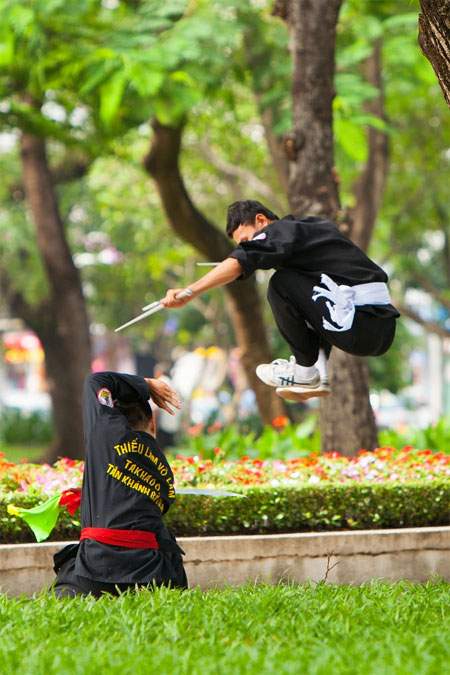 Look and leap: A Takhado move. Photo courtesy of master Ho Tuong
Luong Thu Huong
VNS