In-form Vietnam defeated Iran 25-19, 25-17, 25-19 at the second Asian Women's U23 Volleyball Championship in Thailand on May 16.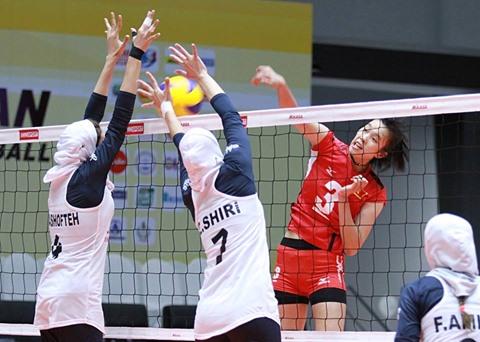 Vietnam (in red) beat Iran 3-0 in the second round match of the Asian Women's U23 Volleyball Championship on May 16 in Thailand
It was the first playoff encounter in the round of the last eight teams at the Mall Nakhon Ratchasima's MCC Hall.
Tran Thi Thanh Thuy, who stands 1.87m tall, turned a smashing machine for the Vietnamese side as she scored several points in some crucial moments.
Going down the first two sets 19-25 17-25, Iran, the first round's Pool D winners, hit back gallantly with high hopes of taking the third set.
However, Vietnam shattered their day dream to end the Iran's determined efforts 25-19 in the set for an exceptional 3-0 win.
Thuy, who is also a member of the national senior team, scored a match-high 21 points including 17 kills from 33 attempts. She also led in blocking and serving points.
They will next meet Malaysia on May 17 afternoon.
Vietnam's head coach Japanese Irisawa Hidehiro who was happy with the win said his team would try to improve on first-ball reception and attacks.
Vietnam set a target of advancing to the semi-finals.
VNA