VietNamNet Bridge – U20 Argentina crushed U22 Viet Nam 5-0 in a friendly match at the My Dinh National Stadium in Ha Noi on Sunday.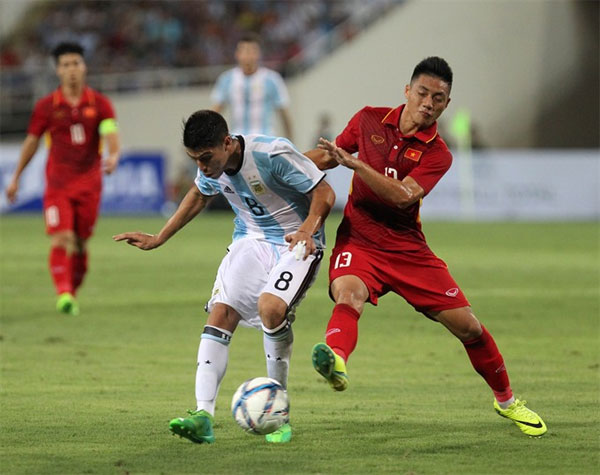 Good quality play: Vietnamese midfielder Lam Ti Phong (right) vies for the ball with an Argentina player during the friendly match at the My Dinh National Stadium in Ha Noi on Sunday. 
The visitors quickly scored the opening goal in the 16th minute after a spectacular kick by Colombatto Santiago. Goalkeeper Phi Minh Long couldn't save the goal although he threw his body at the ball at top speed.
Before the first half closed, Palacios Exequiel Alejandro scored two goals to help Argentina take a 3-0 lead.
Viet Nam's losses showed that the defence line didn't play effectively, allowing their rivals to easily score goals.
Coach Nguyen Huu Thang made five adjustments in the second half of the match, but his players couldn't reduce Argentina's attacks. However, Vietnamese strikers and midfielders created several chances in front of Argentina's goal.
Javier Martinez met injury after clashing with goalie Long in the 60th minute. He couldn't continue to play and was immediately admitted to hospital.
In the 64th minute, Senesi Baron Marcos Nicolas raised the score to 4-0 for his team.
Just 18 minutes later, Ponce Ezequiel put his header past goalkeeper Long to fix the 5-0 score for Argentina.
This friendly match was a warm-up for Viet Nam ahead of the U23 Asia qualifying round and Southeast Asian (SEA) Games 29.
Despite losing to Argentina, coach Thang isn't sad about the result.
"I am not sad with the result. I totally take full responsibility for this loss. Argentina are a word-class football team. They are in good form for the U20 World Cup," said Thang.
He said Viet Nam will play better if they have midfielder Luong Xuan Truong who is playing for Gangwon FC, and Nguyen Van Toan who is injured.
"We still have time before the Sea Games. I still have key players, Truong and Toan, so I will have many changes ahead of the Games. I think that the match tonight was of good quality," said Thang.
Meanwhile, coach Claudio Fernando Ubeda of Argentina said Viet Nam played very well, creating pressure on his players. "We always make every effort in every match," said Ubeda.
Argentina also defeated U20 Viet Nam 1-4 on May 10 at the Thong Nhat Stadium in HCM City.
It was the final preparation for both teams ahead of the FIFA U20 World Cup in South Korea. 
VNS