VietNamNet Bridge – Defending champions Thai Son Nam continued to dominate the National Futsal Championship with an 8-2 win over Hoang Thu Da Nang yesterday in HCM City.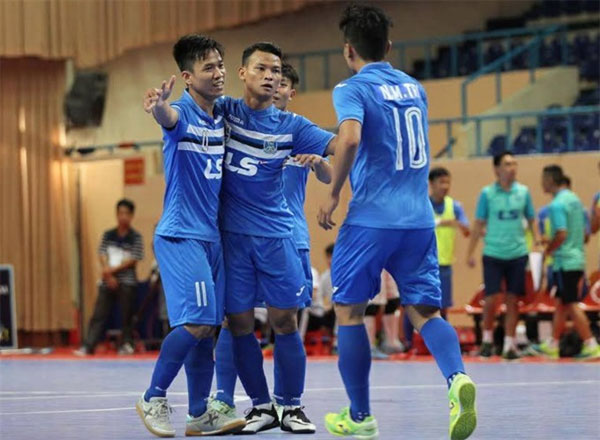 Thai Son Nam players enjoy their fifth win at the National Futsal Championship after beating Hoang Thu Da Nang 8-2 on April 16. — Photo Thai Son Nam facebook
With better experience, staff and technique, Thai Son Nam pushed up their team and pressed the opposition from the beginning. They pocketed the opener after just three minutes with a left foot kick by Le Quoc Nam.
Lam Tan Phat made it 2-0 some minutes later, with a kick that lobbed the ball over goalkeeper Le Xuan Truong's head.
The first period ended at 4-1, with the only goal by Hoang Thu Da Nang scored by Thai Son Nam's Do Xuan Du, who made his own goal.
After the interval, Thai Son Nam was still the better team, and they netted four more goals to take their fifth win after six matches.
Hoang Thu Da Nang's second goal was in the final seconds when Tran Van Tan Tai heeled in at close range.
Coach Nguyen Bao Quan said he wanted a big win so Thai Son Nam could create some distance from the other rivals, such as Sanna Khanh Hoa and Hai Phuong Nam Phu Nhuan.
Assistant coach Tran Ngoc Tu of Hoang Thu Da Nang said his team was in a difficult situation because of injuries, as the substitutes were not strong enough to take the left positions. It was their biggest loss of this year.
Thai Son Nam led the tournament with 16 points and will play third-place Hai Phuong Nam Phu Nhuan on Wednesday.
Hai Phuong Nam Phu Nhuan's winning streak was ended after losing 2-3 to Tan Hiep Hung yesterday.
Their exciting feeling did not help much in a game that their rival planned to play in defence. Each team scored one goal in the first 20 minutes.
Three more goals were netted in the second period, with Hai Phuong Nam Phu Nhuan going ahead after a kick by Do Hoai An.
But Tan Hiep Hung's power-play worked well, as they came from behind to score two goals in the last five minutes, and Co Tri Kiet grabbed a double.
"We had a good match, but it is pity that we lost after having the first goal due to their power-play tactic," said coach Nguyen Tuan Anh of Hai Phuong Nam Phu Nhuan.
"We will watch the match again and find out how we lost these two goals. We have to fix our mistakes and find the best way to resist power-plays," he said.
Tan Hiep Hung's assistant coach Truong Hong Tai said his players competed with 200 per cent of their ability. He found that Hai Phuong Nam Phu Nhuan's weak point and then applied the power-play to win, he said.
It was their first win during this competition.
In other games, Sanna Khanh Hoa trounced Cao Bang 6-2; Thai Son Bac suffered their fourth defeat in a row, losing 2-4 to Sai Gon FC; and Sanatech Khanh Hoa won 7-1 over Sanest Tourist Khanh Hoa.
VNS