VietNamNet Bridge – Viet Nam will play Chinese Taipei in today's friendly match that will see many youngsters as both sides look to rejuvenate their line-ups.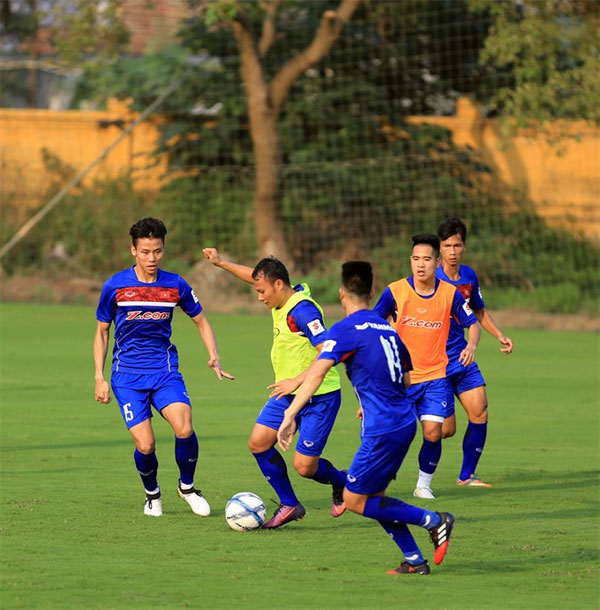 Vietnamese players in a practice session on Monday. Viet Nam will play Chinese Taipei in a friendly match on March 22 in Ha Noi. — Photo: VNS
The match is one of the activities to prepare for the last 2019 Asian Cup qualification round next week.
It will be the second meet for the teams within 12 months. Previously Viet Nam beat Chinese Taipei 4-1 in the 2018 World Cup qualifier in Ha Noi last March 23. It was the first win for national coach Nguyen Huu Thang since he took charge of the team some weeks earlier.
"I hope for a similar win. But it will not be easy because there is a big change in my team. Some veterans have retired leading to a young roster," Thang said at a press briefing yesterday in Ha Noi.
The 45-year-old coach said if his team was led by experienced ones they would be more confident but he believed that his young players could control the game.
"Some of my players have been competing in the K. League (South Korean football tournament), some are the key players of their clubs, while some are teenagers but present regularly in the first teams in V. League. They are strong enough to compete in all tournaments," Thang said.
"My team is turning into a new page. Young players bring fresh air although there will be difficulties. We will overcome challenge well."
Talking about rivals, Thang said Chinese Taipei also replaced almost positions of their team. They were now young but not weak. It could be a great match for the young generation.
Midfielder Luong Xuan Truong, who returned home from South Korea, also attended the briefing yesterday.
"From now on there will be no Le Cong Vinh, Pham Thanh Luong and Truong Dinh Luat. We will have to try harder to repeat what we did in last year's match," he said
On the visitors' side, coach Kazuo Kuroda confirmed that the team might be at a lower level compared to Viet Nam, but that was no reason to be afraid of the hosts. Chinese Taipei wanted a win.
Japanese Kazuo used to be a high-school teacher before he worked as a football trainer for a year at the J. League 1's Vissel Kobe FC. One of his students, Okazaki Shinji, is now playing for English Premier League champions Leicester City.
He has also helped train at least 40 players who are currently playing at the J. League.
Before taking charge of the Chinese Taipei team, Kazuo was the technical director and managed the U-18 squad.
His U-18 team also lost 1-6 to a U-19 Viet Nam squad in 2013.
In his five-month reign, Kazuo added 17 new faces to the team.
Chinese Taipei beat Guam 2-0 and lost 0-2 to North Korea.
The 68-year-old coach said he was happy with the chance to play Viet Nam. He would base Viet Nam's good football facility and infrastructure to improve the conditions of Taipei when he was back home.
The match will be aired live from the Hang Day Stadium from 6pm on VTV6.
After that, Viet Nam will travel to Dushanbe, Tajikistan, on Friday, to play Afghanistan in the Asian Cup's Group C match four days later.
Chinese Taipei will welcome Turkmenistan on Sunday.
VNS