Saigon Heat delivered a stunning performance to secure a much needed win against Hong Kong Eastern Long Lions, currently ASEAN Basketball League's top ranker, on their home turf last night.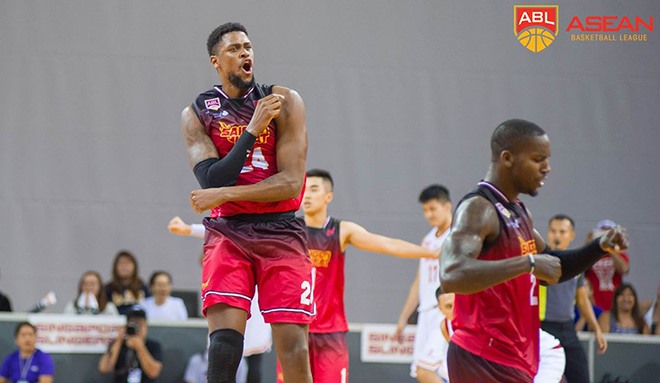 Jordan Henriquez, the Heat's MVP of the game, celebrates after scoring. 
Saigon Heat entered the 17th round against the Hong Kong Lions, the league's dominating team, as the underdog but valiantly fought tooth and nail to clinch a 96-92 victory.
The visitors barely managed a 24-24 draw following the first quarter, with Jordan Henriquez leading the charge. The second and third quarters of the game saw the team from Viêt Nam forced to play catch-up after losing the lead to the home side.
The breakthrough came just a minute before the end of the third quarter, with Saigon Heat, for the first time, taking a slender lead with the score at 71-70.
Losing the lead despite home ground advantage, the Lions went into full attack mode, but the Heat held on with strong defence and effective counter-attack. Henriquez, once again, showcased his top form by scoring repeatedly for a match total of 30 points.
It was anybody's game until the very last seconds, with the Heat just managing to eke out a 96-92 win.
This is the first victory against the Lions for Saigon Heat, and the team's chances to enter the semi-final round have improved significantly.
The Heat's next game will take place on Sunday versus Singapore Slingers, who is holding 2nd place in the league's ranking. 
VNS