International Master (IM) Nguyen Anh Khoi of Viet Nam in a surprise win yesterday defeated Grandmaster (GM) Zhou Jianchao of China at the HDBank Cup International Open Chess event.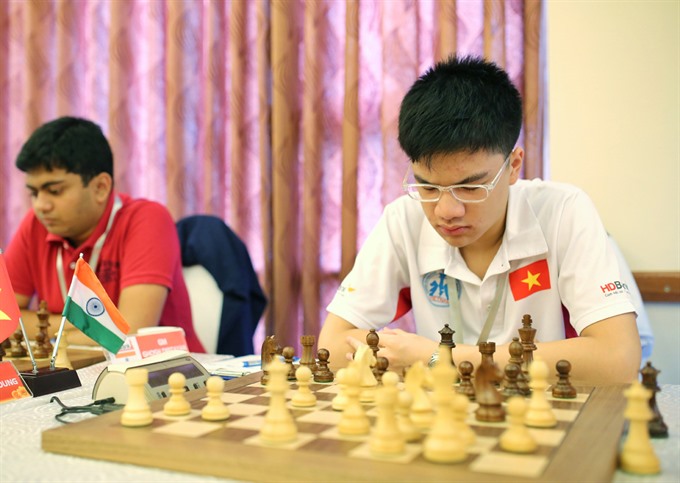 Khoi secured the win in the sixth round of the Masters category at the HDBank Cup International Open Chess in HCM City.
Khoi, 15, who ranks No 1191 in the world and is more than 1,000 places behind in the ranking table, beat his rival, who is No 175, although he had black pieces, after 54 moves.
The win pushed the former world U10 and U12 champion Khoi from 12th to fifth place after six matches with 4.5 points.
He ranking is even better than No 1 seed Wei Yi of China, who yesterday drew with his countryman Wang Hao and has 4.5 points to sit at No 7.
Defending champion Wang has the same number of points and dropped from No 2 to No 4 place.
Vietnamese GM Le Quang Liem maintained the lead with five points after beating Russian GM Aleksey Goganov.
However, Chinese GM Bu Xiangzhi is close behind with the same points.
In the top 10, is another Vietnamese IM Tran Tuan Minh at No 3. Minh defeated No 12 Ali Muhammad Lutfi of Indonesia.
In the seventh round today, there are exciting matches between No 1 Liem and No 2 Bu, No 4 Wang and No 5 Khôi, and No 3 Minh and No 8 Eduardo Iturrizaga Bonelli of Venezuela.
In the Challengers category, Vietnamese masters occupy the first nine berths in the top 10.
Pham Minh Hieu takes the lead with 5.5 points, followed by Nguyen Huynh Tuan Hai and Women's FIDE Master Nguyen Thi Thuy Trien. 
VNS