Vietnamese coach Hoang Anh Tuan hopes Việt Nam can make a big surprise at the coming FIFA U-20 World Cup, after the draw for event took place at the Suwon Artrium, South Korea yesterday.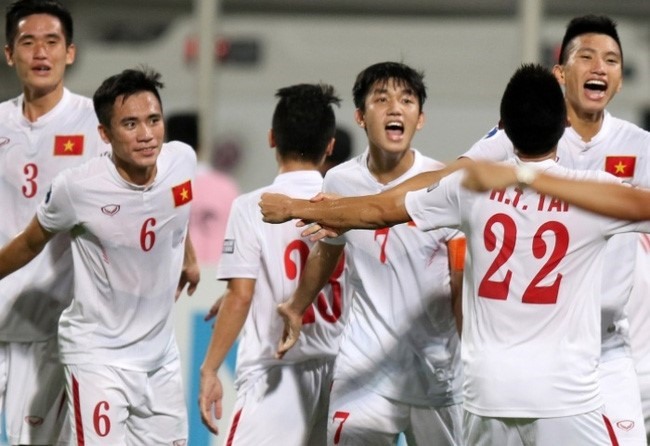 U20 Việt Nam team are in Group E of the coming FIFA U-20 World Cup.
Under the draw, Viet Nam are in Group E alongside France, Honduras and New Zealand.
The pairings were drawn by some famous personalities including two amazing FIFA Legends, Diego Maradona, who won the 1979 FIFA U-20 World Cup, and Pablo Aimar, who won the 1997 edition.
The lucky draw helped Viet Nam to avoid strong teams such as Germany and Argentina to be in a comfortable group.
"I am satisfied with this draw. We highly appreciate and respect our rivals in the group," said Tuấn.
"This is the first time Viet Nam football earned a ticket. We will try to play well," Tuan added.
After returning home from the draw, Tuan and his players will convene in Nha Trang on March 21. 
After three weeks of training in Nha Trang, Viet Nam will leave for Germany to have more training sessions.
"Time is very important for us. We need to prepare our best football for the tournament," said Tuan.
As scheduled, Viet Nam will meet New Zealand on May 22. They will face France three days later and then take on Honduras on May 28.
After receiving the draw's result, striker Ha Duc Chinh showed his confidence to fight his rivals.
"The draw put Viet Nam into an interesting group. Viet Nam will have a chance to play with different continents including European (France), America (Honduras) and Oceania (New Zealand). We are ready for the event and aren't afraid of battling any rivals," said Chinh.
"There are no weak teams in the tournament. We will answer by the result of each match in the group round.
Group A includes South Korea, Guinea, Argentina and England. Group B consists of Venezuela, Germany, Vanuatu and Mexico. Zambia, Portugal, Iran and Costa Rica are in Group C. Group D includes South Africa, Japan, Italy and Uruguay. While Ecuador, the US, Saudi Arabia and Senegal are in Group F.
"We will make every effort to enter the next round. At that time, we can play against England or Portugal," Chinh added.
The FIFA U-20 World Cup Korea Republic 2017 will bring some promising matches. Hosts Korea Republic will take on Guinea in the opening match on 20 May, with Group A also including England and Argentina in what turned out to be a mouth-watering group.
Other standout games from the first round of matches include CAF U-20 Africa Cup of Nations title-holders Zambia taking on two-time winners Portugal and Italy facing South American champions Uruguay. 
Meanwhile, newcomers Vanuatu – in their first ever FIFA tournament – have been dealt a challenging opener against Mexico.
The competition will begin on May 20 with the final scheduled for June 11. 
VNS