Hòa Xuân Stadium has been always a lucky venue for SHB Đà Nẵng who beat Quảng Ninh Coal 2-0 in the eighth round of the V. League yesterday in Đà Nẵng.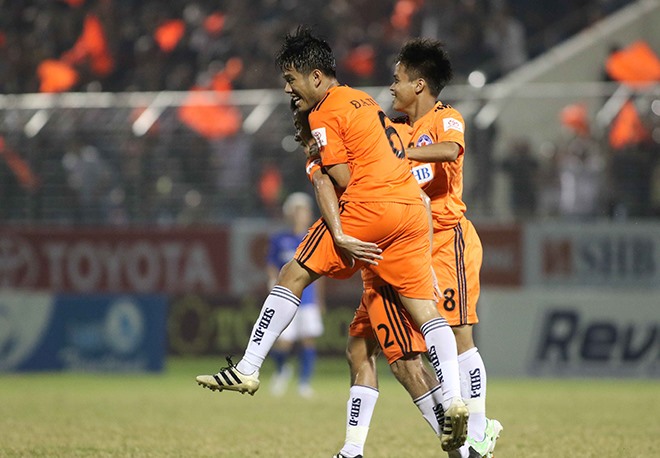 SHB Đà Nẵng players celebrate their goal in a 2-0 win over Quảng Ninh Coal during the V.League's eighth round match on March 3. 
After a tiring first half, the match became more interesting after the interval and the turning point came in the 65th minute.
Midfielder Nguyễn Thanh Hải pushed the ball into the central area which reached captain Nguyễn Vũ Phong who ran with the ball for metres before making a straight shot.
His kick could not beat goalkeeper Huỳnh Tuấn Linh of Quảng Ninh Coal but it was too strong to catch. The ball bounced back after Linh blew it out and came to Đặng Anh Tuấn who easily opened the score with a kick into the right corner.
Quảng Ninh Coal, with three former SHB Đà Nẵng players and under coach Phan Thanh Hùng who was a Đà Nẵng-born man, pushed up their attack. But they forgot to defend.
From a counter-attack, Teofilo Soares Eydison broke through the left wing and saw a signal by substitute A Mít. He gave a perfect ball to the young midfielder who just threw his leg at it to make it 2-0 near the end.
The win helped SHB Đà Nẵng replace Quảng Ninh Coal in the fourth position in the V. League table with 12 points. Quảng Ninh Coal dropped to No 5 with the same points.
SHB Đà Nẵng will next face HCM City on March 11 while Quảng Ninh Coal will take part in the AFC Cup against Yadanarbon FC of Myanmar at the Hà Nội's Mỹ Đình Stadium on March 8.
Five other matches of the V. League will be organised this weekend.
Acting president of HCM City Lê Công Vinh believes his players could stop Hoàng Anh Gia Lai's winning streak when they meet in Pleiku City today.
HCM City have enjoyed two wins in a row while host Hoàng Anh Gia Lai tasted three straight victories.
The hosts' most famous striker Lê Công Phượng has also found his scoring skills after nearly a year of silence.
His outstanding performance has pushed Hoàng Anh Gia Lai from No 13 to No 5 currently.
Both of them have 10 points and rank seven and six, respectively.
A win in today's match will lift them to top three.
Vinh said that despite playing on an away ground and on the central highland, which has a different climate and attitude, HCM City would come back home with three points.
However, the visiting side will not have the best line-up as their key players, goalie Quốc Thiện Esele, midfielder Nguyễn Anh Tài and defender Nguyễn Văn Việt will not compete due to injuries.
This would be a blow to Vinh's determination as his defence is said to be the worst in the V. League after nine goal losses in seven matches.
Vinh will also not join his players in Pleiku.
"I have a family affair and have to stay back in the city. But, I believe that without me they will still achieve a good result. It is based on what they did to grab six points in two recent games," Vinh said.
In the other match, leader FLC Thanh Hóa will play next-to-bottom Cần Thơ on home turf.
However, they will miss midfielder Nguyễn Văn Bình who received three yellow cards from previous matches. Their striker Pape Omar Faye is serving the last of his six-match ban.
Hải Phòng will host Quảng Nam in a closed door stadium after their fans set off fires during the last match.
"The more difficulties the better we will play," coach Trương Việt Hoàng said. "Hải Phòng will play with 200 per cent of their ability."
Elsewhere, former champions Sông Lam Nghệ An will entertain Becamex Bình Dương and Long An will visit Sanna Khánh Hòa. 
VNS