VietNamNet Bridge – Both hosts Hai Phong and visitors Ha Noi FC will miss their top players when they meet each other in an early match of the V.League's sixth round today.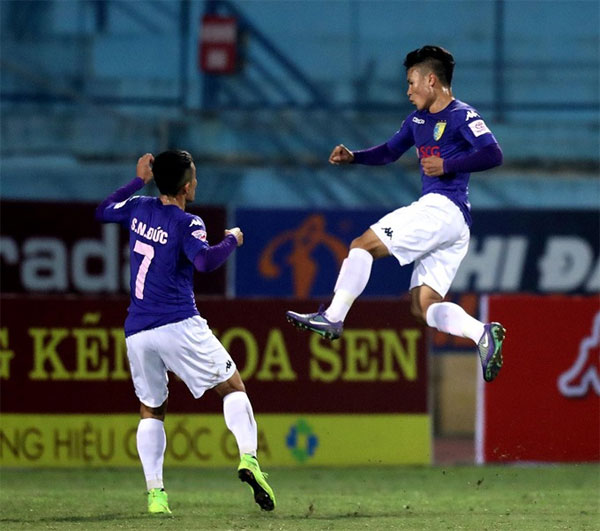 Nguyen Quang Hai of Ha Noi FC (right) celebrates his goal scored against SHB Da Nang last round of the V.League. Hai will lead his team's forward line to visit Hai Phong on February 16. — Photo webthethao.vn
The game was advanced, as Ha Noi needed time to prepare for their Asian Football Confederation Cup match on February 21.
A win may help Ha Noi, currently at the third place, share the top position with FLC Thanh Hoa for at least two days, before other matches of the round are played on Sunday.
Meanwhile, if they win, Hai Phong will replace defending champions Ha Noi in the top three.
However, Ha Noi FC will have to play without their best striker Hoang Vu Samson because of a six-match fine. Samson has scored four goals this season, before he was fined a month ago.
Their captain, Gonzalo Damian Marronkle, twisted his ankle weeks ago, and it is still not clear if he will play today.
"We are facing a big problem of personnel. Samson and Marronkle are important to us. They influence our playing style," said coach Chu Dinh Nghiem.
"Samson will be out for another two weeks, while Gonzalo (Marronkle) is getting better, but I am not sure if he could play again. He is important, but I need him 100 per cent ready for the match against Hai Phong, which could be very challenging for us," he added.
Nghiem is now relying on youngster Nguyen Quang Hai, who has netted four goals in five matches. Hai, 19, is considered an asset for his club, as well as the national U23 squad.
National head coach Nguyen Huu Thang said he was grooming Hai for the Southeast Asian Games in August.
Nghiem is hoping that strikers Trinh Duy Long and Frenchman Arnaud Loris deliver the goods, despite listless performances in recent games, including in the last match against SHB Da Nang which closed at 1-1.
For Hai Phong, key forward Anthony Stevens will be sidelined, as he received three yellow cards in the previous matches.
As a perfect partner to teammate Andre Diego Fagan on the frontline, Stevens grabbed two goals after five first matches. They have been vital part of the team in the recent seasons.
Hai Phong will have the advantage of playing at home, where their royal fans can be relied upon to fill up the 30,000-seat Lach Tray Stadium.
The match will be aired live on VTV6 and the Viet Nam Professional Football Company's official media channel.
VNS