VietNamNet Bridge – SHB Da Nang replaced FLC Thanh Hoa in V.League's second place after winning their rival 2-1 in the round 14 match yesterday (July 3) on their home ground.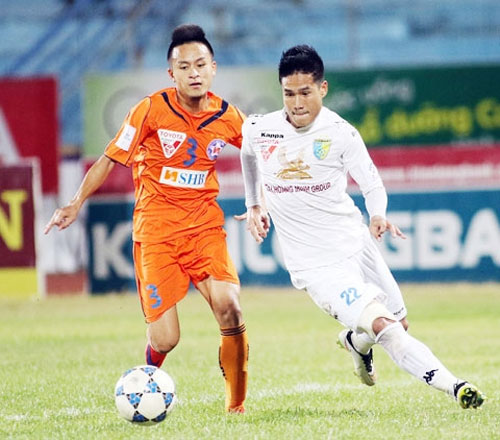 Vo Huy Toan of SHB Da Nang (left) ends his goal drought with a opener in Da Nang's 2-1 win over FLC Thanh Hoa on July 3. — Photo bdpcdn.net
Vo Huy Toan and Sebastian Gaston Merlo scored for the hosts, while Thanh Hoa's goal by Omar Faye was sandwiched in-between.
Anh Tuan passed a smart ball to Toan, who ran from outside the box and finished with a sure tap in.
Striker Toan burst into tears after his opener, which ended his seven months without a goal.
"My disk herniation was worse than I thought. I was even thinking I might become paralysed, after doctors in Singapore said it was 50-50 if I took part in a surgery. I tried my best and, luckily, I can return to competition," said Toan after the game.
"I had to work hard for that day when I would be allowed on the field. And the goal came. It was happiness," he said.
Merlo broke the off-side trap and was in a one-two position with goalkeeper Thanh Thang. The Argentinean made no mistakes in bringing home another goal. It was his 10th goal at the league, helping him rank second on the best scorer list, just below leader Hoang Vu Samson of Ha Noi T&T.
Omar's goal came in an easy situation, when SHB Da Nang's defenders loosened their attention for a moment, as the Senegalese striker converted a corner kick into a goal with a straight header.
FLC Thanh Hoa nearly had their equalizer in the additional time, when Da Nang's keeper, Van Hung made a mistake choosing the wrong position, but defender Chau Le Phuoc Vinh was in the right place to stop all Thanh Hoa's strikers' attempts.
With three points from this win, SHB Da Nang has 27 points, two more than FLC Thanh Hoa, and replaced their rivals in the second position.
Hai Phong remains the league leader after they came from behind to beat bottom-placed Dong Thap 3-2 at Lach Tray Stadium.
Samson Kpenosen opened the scoring just 11 minutes into the game. His teammate, Nguyen Thien Chi, made it 2-0 15 minutes later, which became a perfect start for the visitors.
However, Hai Phong proved how they could lead the tournament after 13 rounds.
Le Xuan Hung, Diago Fagan and Nguyen Dinh Bao netted in the second half and helped Hai Phong secure their 10th victory.
Song Lam Nghe An yesterday trounced Quang Ninh Coal 4-0, their biggest win since the beginning of the tournament.
National Ho Tuan Tai scores a goal in each half; while the remaining two goals were scored by Tran Phi Son and Ouattara Baba Salia Affoloh, both in the second half.
Song Lam Nghe An then ran away from the red-light area with 18 points.
Quang Ninh Coal, meanwhile, lost their fourth position to Ha Noi T&T, who were received one point from their 1-1 draw to Long An yesterday. Both sides have 23 points, but capital city has a better difference in goals, taking fourth place.
Meanwhile, Hoang Anh Gia Lai foresaw their defeat in this round, as seven of their players in the first team could not play because of taking part in the ongoing national high school exam. The remaining team included injured members.
Coach Nguyen Quoc Tuan arranged a strange formation, as players were placed in unfamiliar positions.
This happened as the team of young players lost 1-2.
In other games, Sanna Khanh Hoa tied defending champions Becamex Binh Duong 1-1 and Quang Nam drew Sai Gon FC 3-3.
Source: VNS