VietNamNet Bridge – Viet Nam are gearing up for the AFF Suzuki Cup 2016 with an aim of making it to the event's final match.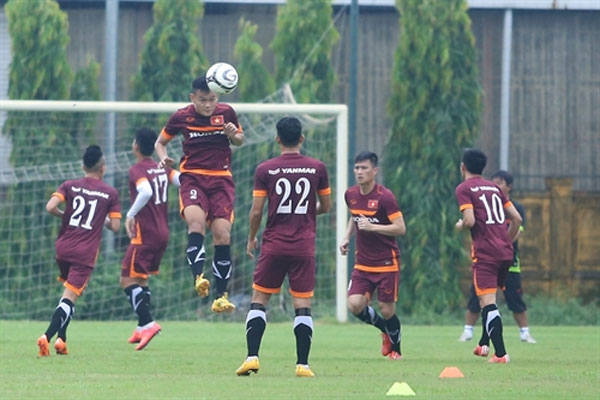 Getting in shape: Viet Nam's team seen in a training session. Photo baomoi.com
According to the Viet Nam Football Federation (VFF), the national men's football team will have two training sessions, of which they have around 10 friendly matches to hone their skills for the Cup.
The first one will take place from May 23 to June 7. During the training, Viet Nam will have a friendly match with Syria, who qualified for the third round of World Cup 2018 on May 31 at My Dinh Stadium in Ha Noi.
After the match, Viet Nam will leave for Myanmar to partake in a four-team tournament with the participation of the hosts, Hong Kong and Singapore.
The event will be a good chance for Viet Nam to play more games and spend more time together, especially before the Suzuki Cup.
The second training session will last from September 24 to December 18. The VFF will invite foreign teams to play with Viet Nam on October 2, October 7 and November 11.
To speed up preparations for the Cup, Viet Nam will train abroad and have several friendly matches from October 25 to November 5.
"We will meet all of Coach Nguyen Huu Thang's requirements in preparation for the AFF Cup," said VFF Vice Chairman Tran Quoc Tuan. "We will prepare qualitative international matches for Viet Nam's team during their practice."
The Suzuki Cup, which is co-hosted by Myanmar and the Philippines, is scheduled to take place from November 19 to December 17.
VNS