Vietnam has been drawn in Group A along with Thailand, Singapore and the Philippines at the 2016 AFF Women's Championship, to take place in Mandalay, Myanmar from July 26 to August 4.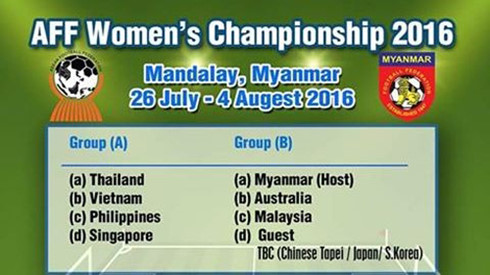 Group B includes Myanmar, Malaysia and two invitees from Australia and another unidentified country – either Japan, Chinese Taipei or the Republic of Korea – according to the team grouping held by the ASEAN Football Federation in the host country on March 12.
The eight participants will compete in a group-stage round robin tournament to decide the top two teams from each group that will advance into the semifinals round.
This will be the first time Vietnam have met their biggest rivals in the region, Thailand, since overcoming them 2-0 last September to sneak through to the last qualifying round for the 2016 Rio Olympic Games.
With Singapore and the Philippines considered on lower ranks, one of the two semifinal tickets of Group A almost surely lies within the reach of the Vietnamese women.
The Vietnam women's national football team have just concluded their campaign at the last Rio Olympic qualification round in Japan. The squad is scheduled to reconvene in June in preparation for the regional competition.
Nhan Dan