VietNamNet Bridge – SHB Da Nang have signed contracts with strikers Gaston Merlo Argentina and Horace James of Jamaica in preparation for the national football V-League championship this year.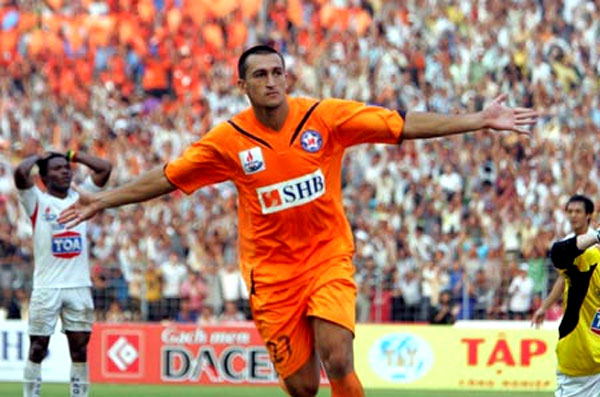 Argentinean striker Gaston Merlo – File photo
The team's coach Le Huynh Duc told Viet Nam News that the two strikers would play for the team under a one-year contract.
He said the contract was signed after a friendly tournament in Gia Lai Province last week, where Merlo and James scored twice to help the team beat Japan's Yokohama FC 2-1.
Argentine striker Gaston Sebastian Merlo had a knee operation while playing for Da Nang in 2014, before leaving the team last year.
Merlo has fallen in love with the football-crazy city of Da Nang ever since he started playing for its team in 2009. In his debut season, he scored 15 goals to help Da Nang win the V-League after a 17-year wait.
He has won the Best Foreign Footballer Award as well as the Top Goal Scorer title in the V-League for the past three years, and won the National Cup with his team in 2009.
The 31-year-old striker scored 68 goals for Da Nang between 2008 and 2014.
Last year, Da Nang signed Melquiades Canderlario Gomez of Spain and Pejic Anto of Croatia, but the team finished with a poor ninth rank in the championship.
The central city team has also signed contracts with midfielder Lam Anh Quang from Nam Dinh, Le Hoang Thien from Hoang Anh-Gia Lai and some young players to strengthen the squad.
Da Nang, who won the V-League championship in 1992, 2009 and 2012, finished fourth in 2014.
VNS