VietNamNet Bridge – The 2015 Golden Ball statue, the award for the best player of the year, was kicked off yesterday (Nov 23) in HCM City.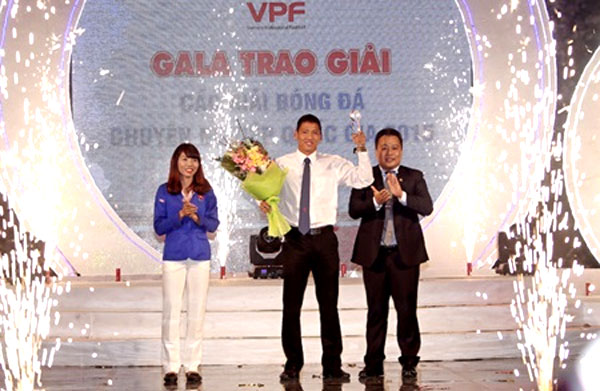 Top player: Striker Nguyen Anh Duc of Becamex Binh Duong is one of 20 candidates for the Golden Ball title this year. — Photo: VNS
Hosted by Sai Gon Giai Phong (Liberated Sai Gon) Newspaper for 21 years, the award aims at honouring the most outstanding individual players through the season.
This year, the organisers announced six categories: men's and women's Golden Balls, best young male and female players, best foreign player and best futsal (indoor football) player.
In the most wanted class of men's Golden Ball, the organisers yesterday announced 20 candidates.
Defending champions Becamex Binh Duong and the runners-up Ha Noi T&T contributed half of the number.
The highlighted names are Nguyen Anh Duc and Le Cong Vinh of Becamex Binh Duong and Nguyen Van Quyet and Pham Thanh Luong of Ha Noi T&T as the most potential candidates.
Song Lam Nghe An, another football hub of the country, have three names.
Captain Duc is the best player of V. League 1 2015.
In the women's category, HCM City and Ha Noi nominated eight out of 11 candidates.
In the young male player pool, Do Duy Manh of Ha Noi T&T, who is also named in the Golden Ball list is the strongest nominee.
Manh, 19, has been a key member in his club, the national U21, U23 and the national squads.
Manh is the best young player of the V. League 1 which is managed by the Viet Nam Professional Football Joinstock Company.
Vo Huy Toan of Da Nang, and Nguyen Cong Phuong and Nguyen Tuan Anh of Hoang Anh Gia Lai are Manh's strong rivals.
In the foreign player class, there are 10 candidates including the national best scorer Tambwe Patiyo of Quang Nam.
It is the first time futsal players are being honoured in this annual event. Twelve nominees, nearly half of them members of national champions Thai Son Nam Club, are vying for the title.
Nearly 160 coaches, team captains, sport journalists and experts will take part in the vote.
The awards ceremony will be organised on January 6 in HCM City and will be aired live on different TV channels.
Last year, Luong of Ha Noi T&T won the men's statue while Nguyen Thi Tuyet Dung took the women's glory.
VNS