VietNamNet Bridge – Vietnamese Vu Thi Trang hopes to get a high result at the Viet Nam International Challenger badminton tournament in Ha Noi next week.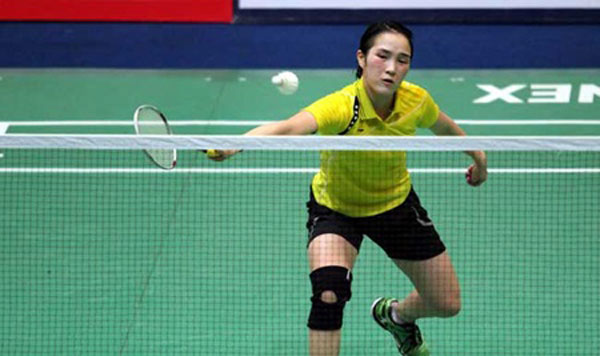 Deft touch: Vu Thi Trang hopes to improve her rankings at the Vietnam Challenger tournament next week. — Photo caulongvietnam.vn
The national top female player is one of two host athletes who has a berth in the main round of the annual event, which will run from March 17-22 at the Cau Giay District Gymnasium.
"I will try my best to change my position, but at least maintain a berth in the top three," Trang, who ranked third last year, told Viet Nam News yesterday, March 10.
Trang who is based in Da Nang for intensive training predicts many difficulties are await her in the capital city.
"The challenger is a chance to collect points for the Olympics. It lures many players including those from Japan, Chinese Taipei, Indonesia, Malaysia and Thailand. They may create many obstacles for me," said Trang.
In the women's singles category, Trang is seeded No 3 and will play Fitriani Fitriani of Indonesia in the first round match.
"Since last year's tournament, Trang, 46th in world ranking, has made remarkable progress with successes internationally. I can say that she will be a heavy opponent at this year's event," said Bui Kim Ha, deputy general secretary of Ha Noi Badminton Federation, organisers of the tournament.
Ha said Trang's biggest rival would be No 1 seed Jiayuan Chen of Singapore who is in the same branch. However Chen, 39th in world ranking, did not produce good results at tournaments this year.
Trang and Chen will face with threats from Thai athletes who will arrive in Viet Nam with one of the biggest delegations.
Another Vietnamese players in the singles, Le Thu Huyen, will play Lee Zii Yii of Malaysia.
The organisers expect more Vietnamese athletes will be successful in the qualifying rounds.
In the men's singles, Pham Cao Cuong is the only Vietnamese qualifier.
If he wins, he will face No 1 seed Suppanyu Avihingsanon of Thailand, world No 45.
Avihingsanon won a silver medal from the Thai Challenger in January.
Another player to watch will be Sony Dwi Kuncoro of Indonesia, world No 125.
Kuncoro has collected a numbers of titles and aims to improve his world ranking at the Viet Nam's Challenger.
Duo Duong Bao Duc and Nguyen Hoang Nam are the sole Vietnamese representative in the main round of the men's doubles.
Their biggest obstacles will be Liang Jui Wei and Lu Chia Pin from Chinese Taipei who are No 62nd in the world.
Among Vietnamese women, Vu Thi Trang and her partner, Vu Thi Sen, are considered likely to go further.
"The world's No 92 duo are candidates for the winning medal. The No 6 seeds had a successful 2014 with a semi-final berth in the Viet Nam Open, and a title at the Kawasaki Vietnam later," said Ha.
Ha added that with strong support from home fans, Trang and Sen would be able to rival anyone in March.
Nearly 300 athletes from 17 countries have registered for the event. The winners of the tournament on March 22 will walk away with 4,000 points and more than US$1,100 in cash.
VNS