Viet Nam stunned Hong Kong 7-0 in a Group C match of the Asian Football Confederation Women's U16 Championship qualifier at the Hang Utah Stadium in Malaysia yesterday.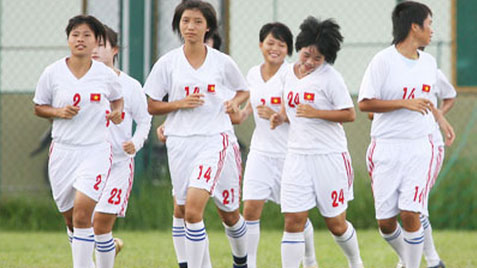 Skippers Toyed Nag and Nguyen The Quinn each scored a double, while Thu Hein, Nguyen The Nag, Nguyen The Nu were all on target, scoring for coach Lou Ngoc Mai's team.
Playing for pride, the Vietnamese players gave it all to clinch their only win in the three-match qualifying tournament.
Earlier, they lost to South Korea and Australia and failed to reach the finals.
Hong Kong lost all three matches and went home empty-handed.
In the other match of the group, South Korea beat Australia 1-0 and won their ticket for the final tournament in China next year.
Coming to the field right after half-time, substitute Im So-jeong became the Korean hero by sending the ball flying with a high right foot kick, past Australian goalkeeper Jade Mathyssen-Whyma, into the goal in the 69th minute.
Ha Keum-jin almost doubled the lead as striker Gwon Hui-seon took a free kick just outside the penalty box during stoppage time, but the ball hit the left post instead.
South Korea became the first team to qualify for the finals to be held in Wuhan next November. North Korea, Thailand, Japan and the hosts qualified for the finals after finishing in the top four in the last edition of the tournament.
Three more qualifying teams will finish the eight-nation line-up for the finals.
VNS/VNN