VietNamNet Bridge – Anything that you cannot do, you can hire others to do it for you. You can hire a bride, a groom and even one to pray for you.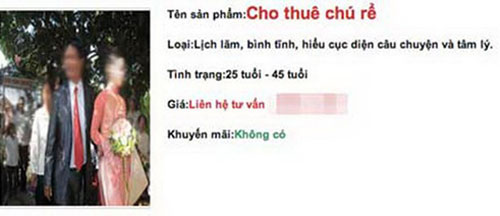 An ad on bride-and-groom-for-hire service on a website.
Hiring parents at weddings is a new service to serve the couples whose parents object their boyfriend-girlfriend and their weddings but they still want to get married in the presence of their parents.
This service is provided by wedding service shops, with the prices ranging from VND2-5 million ($100-250)/person.
This service is also used by the couples whose parents are rural people. In such cases, the hired parents will welcome guests and deliver speeches on behalf of the real parents.
In many cases, the bride and groom's parents are too old and weak. They cannot attend the wedding so they hire fake parents for the wedding.
Some people also hire others to attend weddings on behalf of them. The clients of this service are "busy and wealthy people." They don't want to send wedding gifts or send their secretary to attend the wedding so they hire someone.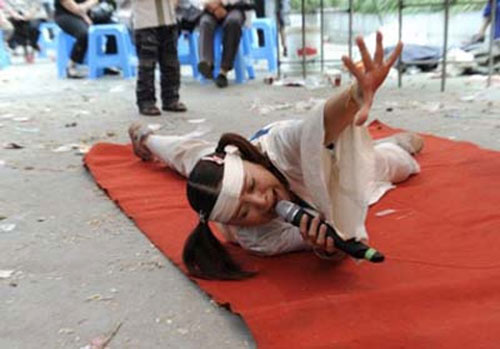 Crying at funerals is also a job in VN.
The cost for this strange service depends on the distance. Normally, it is VND100,000-VND200,000/wedding. However, the mission of the hired "worker" is not only to enjoy food at the wedding party but have to act like a real actor.
Currently, many wedding service shops offer the bride and groom hiring service.
According to a shop on Truong Chinh Road, Hanoi, to have a perfect wedding, the client must "act" under a script compiled by the "wedding organizers." The wedding package, with a hired bride or groom, is about VND120 million ($6,000).
Meanwhile, many families hire "criers" at the funerals of their relatives.
Mr. Doan Cong Chat, in Thuan Thanh district, Bac Ninh province, a senior "crier" at funerals, said that in the past, crying at funerals was the job of some "talented people" in funeral music troupes but now it has become a "job" that needs training. Chat said clients only pay for those who can cry well, very real and can move others.
Crying at funerals has become a "trendy" profession. Most funerals need criers because not everyone can express their grief and feelings into words like these criers. Therefore, this job brings about high income.
Hiring fake students is a service openly advertised on a lot of websites, at public notice-boards or near universities.
Students who play hooky can directly contact with the service provider to bargain, give them some personal information. Then the fake students will attend class on behalf of the customers and sometimes do some tests for them.
In addition, students can hire someone to sit in exams for them, at the cost of VND1-VND1.5 million ($50-70) per subject. The hired student must ensure high marks.
If you type the key words "cho thue nguoi yeu" (hired girlfriend/boyfriend) on Google, you will get hundreds of search results with sweet introductions. There are many company providing fake boyfriends/girlfriends, fake secretary, etc.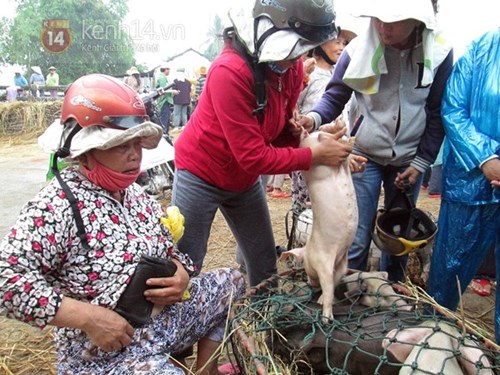 Holding pigs is a job at Ba Ren - the largest pig market in Vietnam.
The price of this service is not cheap, about VND500,000 - VND1 million ($25-50)/four hours. The demand for this special service is high during holidays.
Finding people of a suitable age for groundbreaking ceremonies has become a hot service. This service is specially favored by businesses. The price for this service is from VND200,000-VND400,000 ($10-20).
Hiring first-footer is a money-making service during the lunar New Year because many people believe that the age of the first footer will affect the health and the fortune of the family in that year. The service cost is quite high, up to VND2 million ($100) for a 30-minute pack.
In the early year, many people go to pagodas but they do not know how to pray. To meet this real demand, hired prayers appear at all big temples. The rent for these people depends on the service users, usually from VND10,000 to VND50,000 ($0.5-2.5).
Hiring body parts has also become a job of young girls. Girls with nice skin can hire their faces. They can also hire their hair, their arms or their back at the price of VND40,000 ($2) per two hours.  
At Ba Ren – the largest pig market in Vietnam in Que Xuan commune, Que Son district, Quang Nam province – there is a very special job: holding pigs. Only women do this job and they earn VND500-VND1,000 ($0.02-0.01) for holding a pig.
Hanh Nguyen