VietNamNet Bridge - Nearly 20 years ago, Catherine Karnow followed General Vo Nguyen Giap to Dien Bien to take photograph of veterans who jubilantly welcomed him. Now, she flew halfway around the world to Hanoi to witness millions of people bidding farewell in the General in tears.
Western reporter's memoir about General Vo Nguyen Giap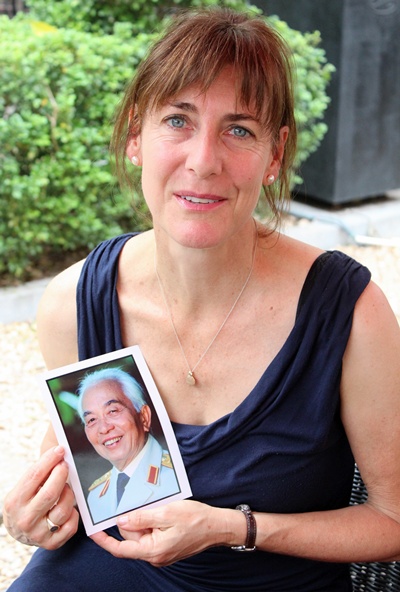 Catherine Karnow and the picture she took of General Vo Nguyen Giap in 1990. This photo was held by many people in Hanoi and Quang Binh in the funeral of General Giap. Photo: VNE
Suddenly hearing about the death of General Giap while preparing to celebrate her father's death anniversary, Catherine Karnow felt hurt though she knew that this day would come. The photojournalist of National Geographic rushed to buy an air ticket to Vietnam at the last minute.
"It was the time of much emotion, when all were put in the same time. The history of the intimacy between me and the family of General Giap began from my father. I feel like an insider when experiencing the loss of his family and the country, not only because of my friendship with them, but also because I had just lost my father. And because I wished my father could hear about this, I wished to share it with my father," she said, with tears streaming down on her chin.
Katherine Karnow, National Geographic photojournalist, was the only foreigner who was allowed to take a photo of General Giap in Dien Bien in 1994, thanks to the introduction of her father, Stanley Karnow.
Mr. Karnow is the American journalist who wrote the most comprehensive book on the Vietnam War, titled "Vietnam: A History". His work was made into a documentary and he won the Pulitzer Prize for it. He died in January 2013 at the age of 87.
On the flight to Hanoi, Catherine thought that she would have to take pictures of the General's funeral, not to publish in newspapers, but for herself and for the General's family. She wanted to share the loss as a friend of the General's family.
Witnessing the huge crowd waiting before funeral home to pay respect to the General, she exclaimed: "I cannot find words to describe it. I was so surprised when I saw thousands and thousands of people queuing in a long, long line that my eyes could not see the end."
From the early morning to night on October 12, a record number of people for decades queued along the roads of Tran Thanh Tong, Pasteur, Han Thuyen, Pham Dinh Ho, Hang Chuoi, Le Quy Don ... waiting for their turn to pay homage to the "great general of Vietnam's history." They came from all provinces in the North; they are of all age and all classes.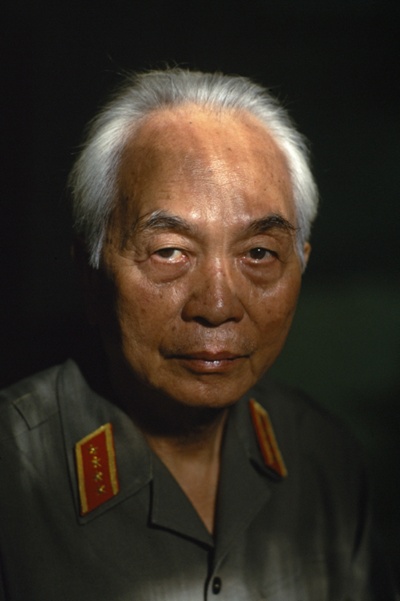 A beautiful photograph of General Giap shot by Catherine Karnow in the house at No. 30 Hoang Dieu Street, Hanoi. She said it was very hard to find a place like that to take the portrait, but finally she found a source of light from the window sliding down to the stairs. Based on the French way of comparison, comparing him to a "snow volcano", Catherine chose the position where the light was on the white-haired head and the eyes of the General. Photo: Catherine Karnow
"This shows how Vietnamese people love their country and to what extent they are proud of their country. It consolidates the spirit: 'This is our country. We won independence from China, France, the US, with a long history of resisting foreign invaders.' The death of General Vo Nguyen Giap has revived all those feelings in the hearts of all people," Catherine said. Then she apologized for not being able to speak because she could not hold on her emotion.
Going to Vietnam several times in the past over two decades, the female photographer found different attitudes among Vietnamese youth in recent years. She believes that there are about 60 million people born after the war, with other concerns such as rice and money, family and career. Meanwhile, the remaining 30 million people who were born before the war are a different group of people. Therefore, she was so happy to see in the funeral of General Giap, all of them united together.
"Your country needs this. The young generation needs to feel a part of history, not only the present moment. The documentaries and endless stories about General Giap, about Dien Bien Phu are not enough. This is the time the young people experience to understand their own history," she said.
Joining the family of General Giap from Hanoi to Quang Binh, Catherine faced a lot of difficulties doing her job, because she did not expect the huge flows of people on the road to welcome the general back to his hometown and she did not understand the funeral procedures of Vietnam. But the biggest surprise for her was probably when she saw people holding the portrait of General Giap that had taken by her. "Catherine! Do you see a lot of people are holding the picture taken by you?", a family member of General Giap asked her.
"Indeed, I could not imagine it, especially when it is in a rural area," Catherine said with pride. However, she modestly said that there are hundreds of beautiful photos of General Giap and her photo was chosen just simply because her photo is the only one that the people can have.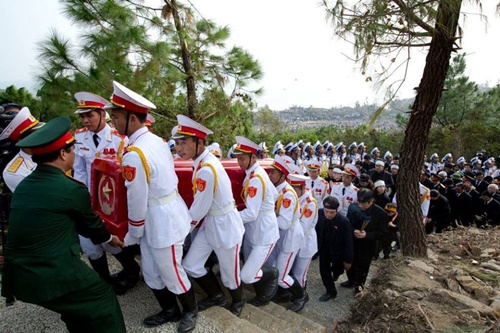 The General's coffin was carried by guards of honor in Quang Binh. Photo: Catherine Karnow.
After a week of many emotions, the daughter of journalist Stanley Karnow on October 16 returned to the U.S., with the baggage including 16 memory cards, containing a total of approximately 5,000 pictures.
The female photographer planed to send some pictures to the family of General Giap and put them into a photo book about Vietnam that she has cherished for a long time.
She said that on January 29, 2013, from Ho Chi Minh City she called her father in the U.S., asking him to write an introduction for her photo book.
"I will do everything you want," said Stanley Karnow. He died in his sleep a few hours later.
"I wish that we had completed the introduction for the book," said Catherine in a cafe near the Opera House. Hanoi is undergoing late autumn days, with yellow leaves in the wind.
Catherine Karnow in Vietnam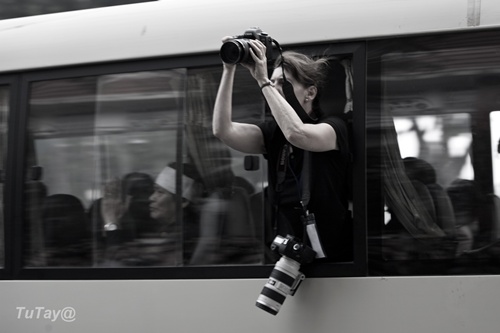 Catherine leans out of the car to take pictures of the General's funeral. Photo: Tu Tay.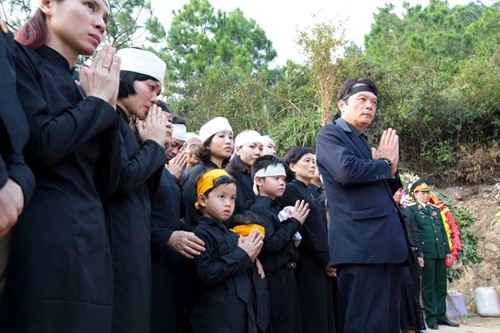 The family of General Vo Nguyen Giap at the funeral in Quang Binh. The first in the row is the General's eldest son, Mr. Vo Dien Bien. Photo: Catherine Karnow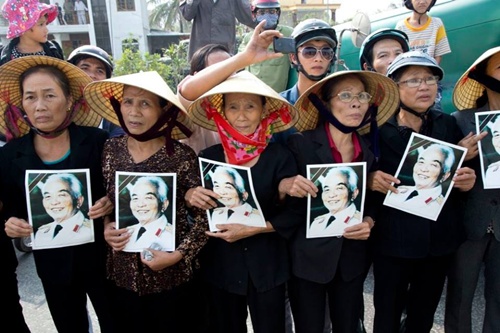 Catherine was surprised to see so many women in rural Quang Binh province holding her photo of General Vo Nguyen Giap. Photo: Catherine Karnow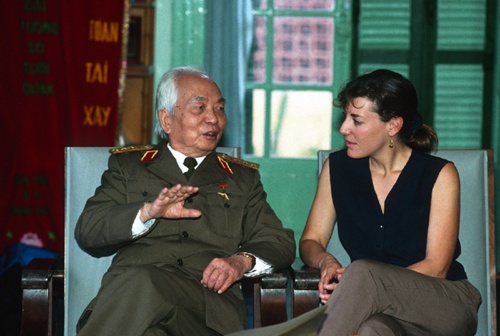 Catherine talked with General Giap in 1994. Photo: Catherine Karnow
In 1994, Catherine Karnow was the only foreigner to be accompanied the General and take photograph of him during his return to Dien Bien. In the picture, people flocked to the area where General Giap's helicopter landed. Photo: Catherine Karnow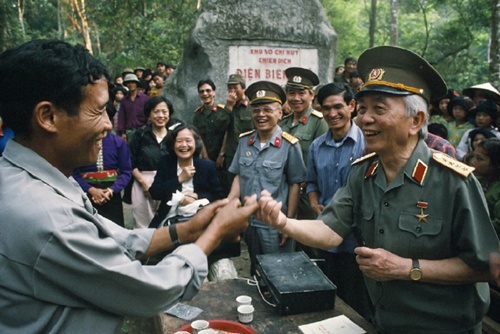 In Muong Phang, people were delighted to welcome the General with great reverence, Catherine said. Photo: Catherine Karnow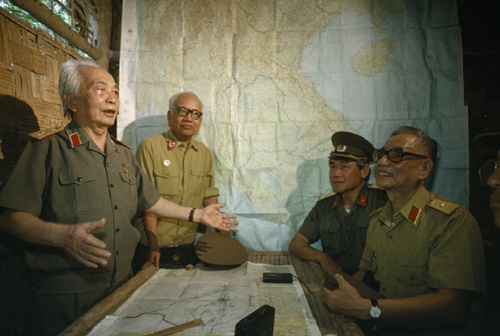 Giap recalled that he had been in this tent 40 years earlier. Photo: Catherine Karnow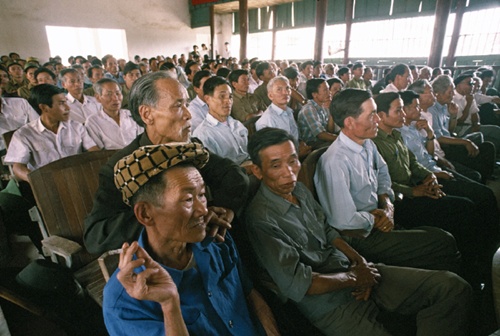 The veterans of Dien Bien listened to Giap's speech. Photo: Catherine Karnow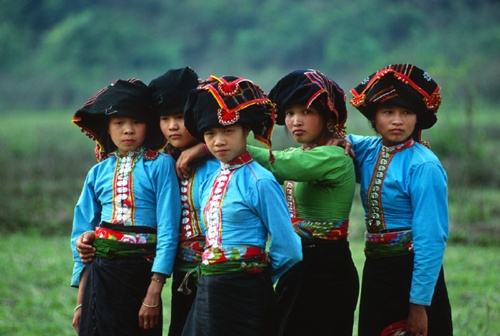 The Black Thai women in Dien Bien in the lens of the U.S. female photographer. Photo: Catherine Karnow
VNE