VietNamNet Bridge – A shark of half of a ton, a 4-ton whale, giant barbs and ocean sunfish are among the "monsters" that were caught in a net in Vietnam.
Catching a giant whale shark of 800 kg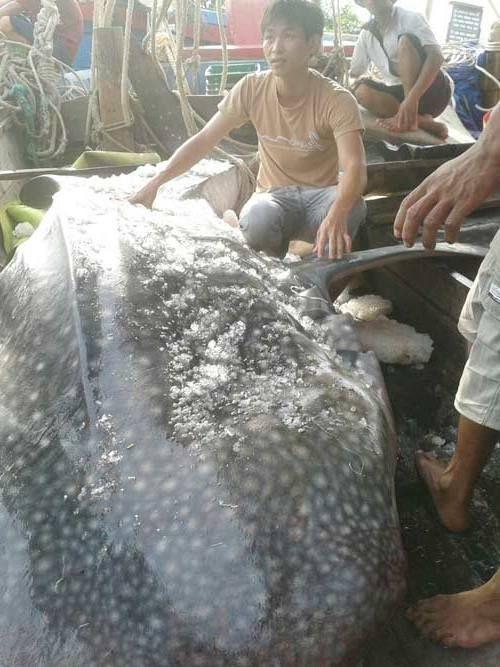 A whale shark of 4.2 m long, weighing 780kg, was caught in the net of fishermen from Quynh Luu district, Nghe An province on August 15, 2013 about 145 nautical miles from the shore of the Tonkin Gulf.
Fisherman Vu Ngoc Dien, who caught the whale shark, said the fish was dead when it was found. This is the largest whale shark ever to be captured by Nghe An fishermen.
"I and other sailors on this boat have not seen any fish that is big and weird like this for many years. When we found it, the fish died. We had a hard time to get it on board, freeze it and take it to the mainland."
Dien reported to local authorities and contacted the Vietnam Museum of Nature to donate the fish to serve the research and display.
This is the first whale shark discovered in the waters of Nghe An. The whale shark (Rhincodon typus) is a slow-moving filter feeding shark and the largest known extant fish species.
The whale shark is found in tropical and warm oceans and lives in the open sea with a lifespan of about 70 years. Although whale sharks have very large mouths, as filter feeders they feed mainly, though not exclusively, on plankton, which are microscopic plants and animals.
Giant ocean sunfish of 400 kg in Nghe An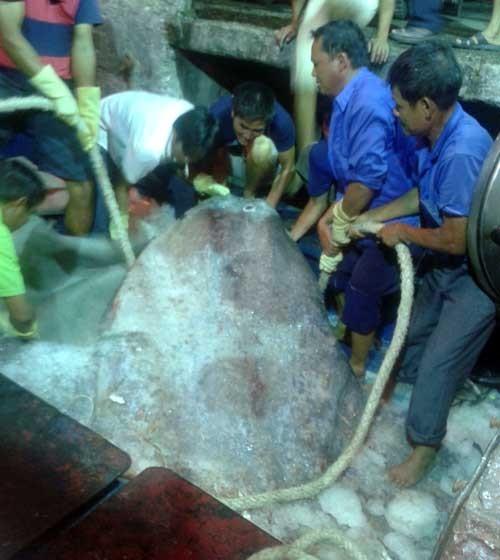 In the evening of July 31, 2013, the boat of fisherman Tran Xuan Thanh from Quynh Long commune, Quynh Luu district, Nghe An province net a big fish in the Gulf of Tonkin, about 140 nautical miles from shore.
After pulling the fish to the board, Thanh discovered that it was an ocean sunfish of nearly 2 meters long, 2.3m wide (including both fins), and weighing 400 kg.
The fish then died. Knowing that this is a rare fish, the fisherman froze the fish. Immediately after the ship docked, he contacted the Vietnam Museum of Nature to donate the fish.
On August 1, the Vietnam Museum of Nature received the fish.
Giant fish weighs two tons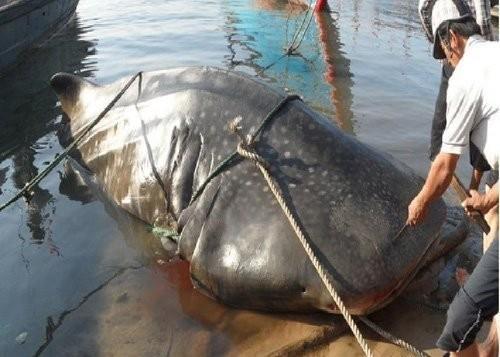 On 6/4/2012, Mr. Tran Viet Hung in Gio Linh district, Quang Tri province went fishing in the waters of Con Co Island and unexpectedly caught a giant fish.
This fish was more than 5m long, 1m in body diameter and weighed about 2 tons.
People recognized that this was a "ngheo" fish but Hung's family thought that it was a "god" fish so they were afraid to sell the fish although someone offered VND30 million ($1,500).
It took a lot of effort of 20 people to pull the fish ashore.
Giant barb of over 100 kg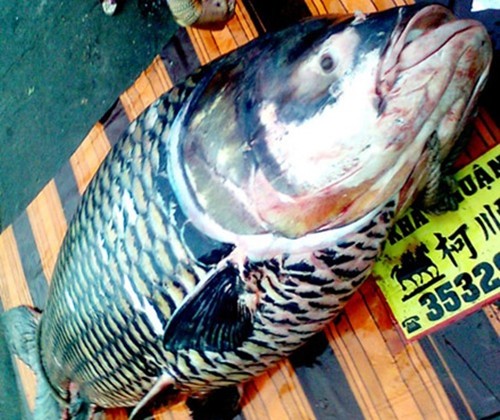 Last year, fishermen in Tan Phu district in An Giang province caught a giant barb of 120 kg on the Vam Nao River. The fish had a length of 2.5m, a width of 1.5 m. Up to four people could carry the fish.
A trader bought the fish for VND400,000 ($20) per kg then sold it to a restaurant with high price of VND1.8 million per kg.
Thus, the fish cost nearly VND200 million ($10,000).
Recently, fishermen have caught many giant barbs on the Tien and Hau rivers, in the Mekong Delta.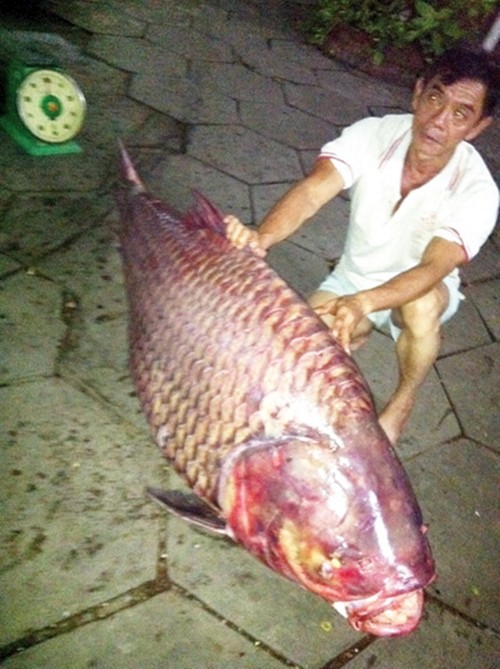 This is a giant barb of 130 kg, nearly 2 m long, sold for more than VND1 million per kg to a restaurant in Long Xuyen City, An Giang Province.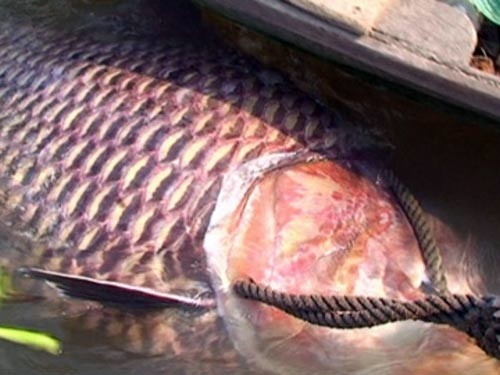 This giant barb is 150 kg, caught in the Tien River in Vinh Long Province.
Fishermen catch giant ray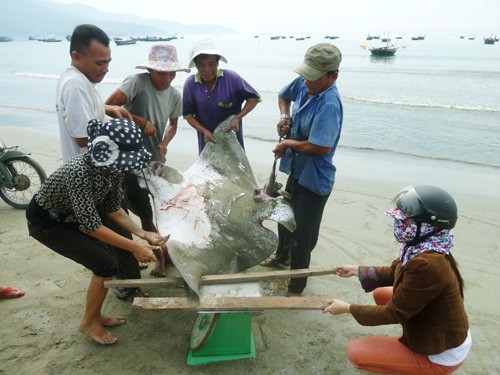 After a night of fishing on waters of Nghe Cape, Son Tra Peninsula, Da Nang, fisherman Nguyen Son caught a big ray on June 18, 2013.
If including the tail, this stingray was over 8m long. Its body along was more than 2mx2m in size, weighing 83 kg. This stingray has delicious meat.
Son and other people were very hard to take the fish to the scale.
Mekong giant catfish net in Tien River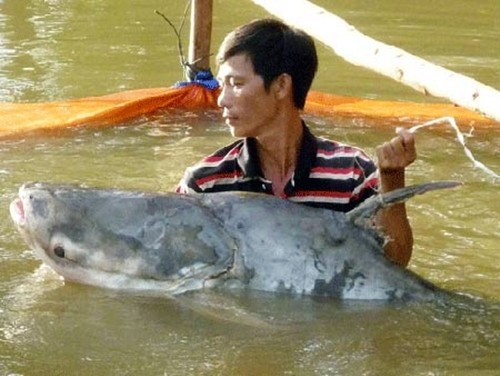 On the night of June 15, Mr. Nguyen Minh Chien in Cao Lanh city, Dong Thap province net a Mekong giant catfish of more than 1.4 m long and 80 cm in in diameter, weighing up to 63 kg on the Tien River.
This species is extremely endangered and is listed in the Red Book of the IUCN. It is the largest freshwater fish species in the world, with some fish being up to 3m long and 200-300 kg in weight.
The fish was brought to the market to sell for VND160,000-200,000 per kg.
Super-big shark in Quy Nhon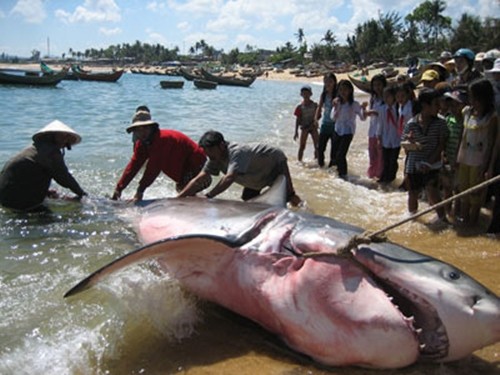 On the morning of March 5, hundreds of people of Quy Nhon City, Binh Dinh province grouped up in Ghenh Rang wardto see the giant shark of 500 kg. The owner of this fish is Mr. Tran Van Duc, a fisherman from Xuan Phuong commune, Song Cau town, Phu Yen province.
When it was detected, the shark was still healthy so Duc and other fishermen had to beat the fish to death and brought it ashore.
Many people said that this fish was not the one that attacked tens of people on the beach of Quy Nhon because its jaw was up to 50 cm wide, while the teeth marks on the bites left on victims was only 17 cm wide.
Four-ton whale in Bac Lieu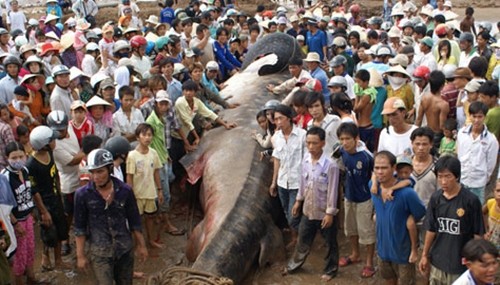 On October 1, 2010, a dead whale of about four tons was placed at the Whale Temple in Ganh Hoa town of Bac Lieu Province.
Previously, Mr. Nguyen Van Sang pulled his nets at sea and found a whale shark in the net. At that time the whale was still alive but after that it weakened and died. Sang and several other ships pulled the whale ashore.
This whale had a length of 6m, 3.5m of waist circumference and was about four tons in weight. This is a rare species of whale shark. The shark was buried and worshiped at the Whale Temple in Bac Lieu.
Numerous people came to see the giant whale being dragged into the estuary.
Other giant fish: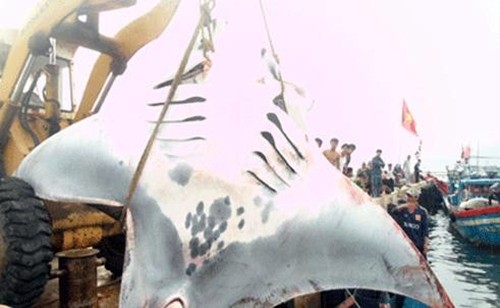 This fish was caught on November 29, 2011, at Ly Son Island of Quang Ngai Province.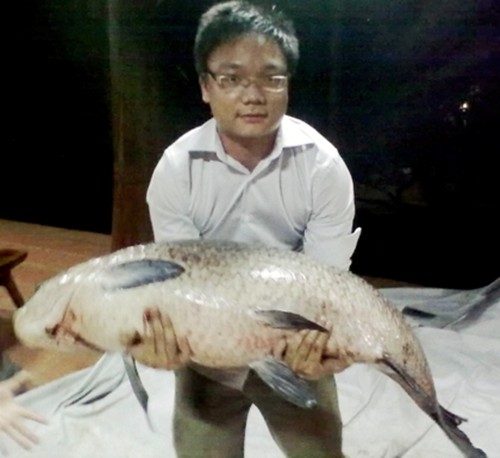 The giant black carp caught at the Thien Son - Suoi Nga tourism site in Ba Vi district, Hanoi. The fish weighed 30kg and was up to 1.5 m long.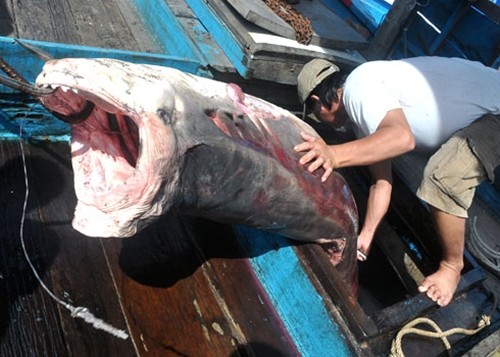 A 400kg shark caught in Quang Ngai province.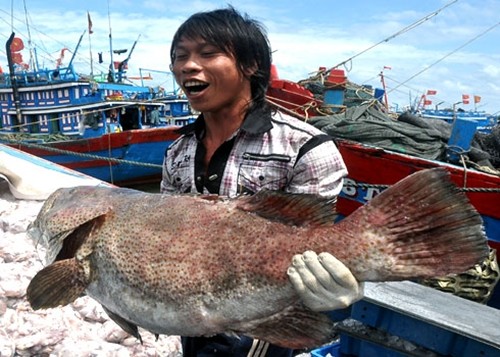 A young fisherman carried a 40 kg grouper.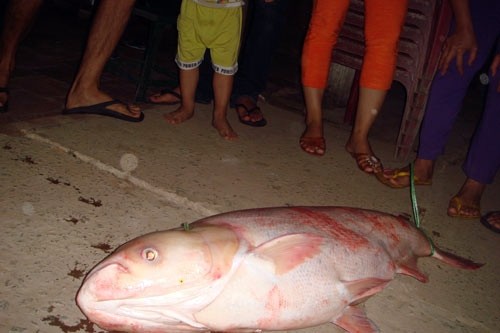 A giant carp in Vinh Long.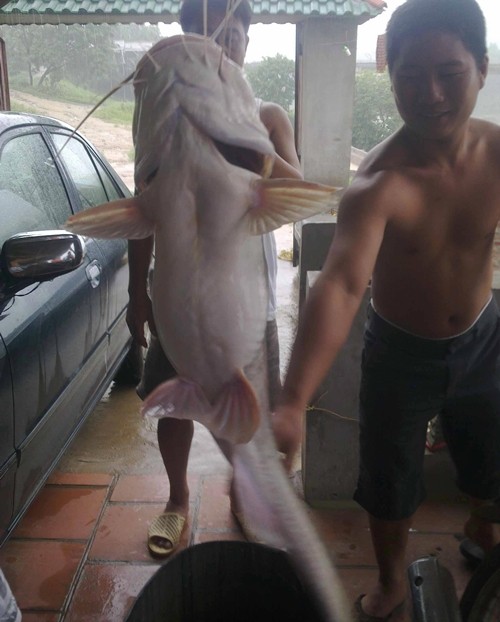 A big hemibagrus of 54kg caught from the Lo River, Doan Hung district, Phu Tho province.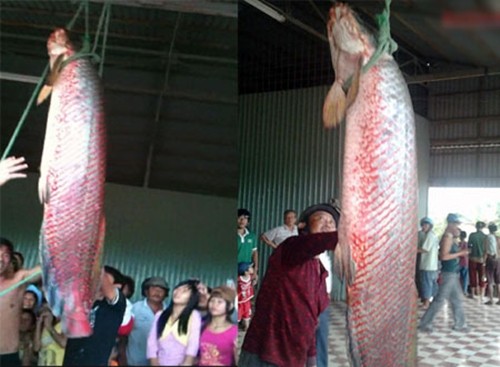 The dragon fish of 70 kg in An Giang.
Dat Viet