VietNamNet Bridge – For the last 20 years, Kon Tum and Quang Nam provinces have invested millions of US dollars to maintain Ngoc Linh ginseng genetic resource, but they have developed only 5-7 hectares. Meanwhile, a young businessman in Kon Tum has quietly grown more than 100 hectares of Ngoc Linh ginseng in 13 years.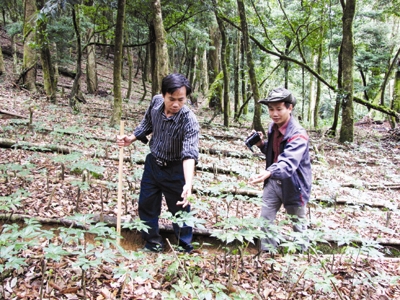 Tran Hoan and Tran Hao.
In the jungle
On May 14-15, 2011, the Kon Tum Ngoc Linh Ginseng JS Company introduced its Ngoc Linh ginseng garden to Kon Tum province's officials and the media.
At 5 am, we were on the road to Dak To – Tu Mo Rong, where the ginseng field is located. On the way, major-general Le Duy Hai, director of Kon Tum Police Department, was still in doubt. "I heard Hoan (Tran Hoan – Chairman and General Director of Ngoc Linh Ginseng JS Company) said he has planted over 100 hectares of Ngoc Linh ginseng, but I don't believe yet. I must see it by my eyes," he said.
At 9.30 am, all guests had to leave their cars to climb up the mountain to the ginseng field. Their bags were carried by locals. After nearly four hours of climbing, passing through guard fences, we finally arrived at the Ngoc Linh ginseng field at the height of 2000m, where is covered by cloud all the year round.
The Ngoc Linh ginseng field is located in the middle of a jungle, surrounded by ancient trees. Perhaps Ngoc Linh ginseng trees are the most fragile trees in the jungle, because there is only one branch sprouting in spring annually in a tree, and then they wither in late summer and hibernate until the next spring.
Ngoc Linh ginsengs are actually internodes of Ngoc Linh ginseng trees. Each tree has only one internode annually. Since the tree trunks lie on the ground and they are covered by fallen leaves, the internodes are called ginseng bulbs.
Tran Hoan, Chairman and Director of the Ngoc Linh Ginseng JS Company, was born in 1975 in Ha Nam province in northern Vietnam. He moved to the Central Highlands in 1994.
In 1997, while working in Dak Choong-Dak Glei commune in Kon Tum province, hearing that Ngoc Linh ginseng is very good for health, he bought several hundreds of fresh ginseng for his family. He dried the internodes and stuck the top of the internodes into the ground. He saw them strike roots and sprout.
The prices for Ngoc Linh ginseng rose high as the ginseng became rare. Hoan thought of growing this kind of tree. He read many books about this tree.
Since 1998, Hoan and his younger brother – Tran Hao, 36, saved up money to plant Ngoc Linh ginseng in Dak Choong and Dak Lei communes in Kon Tum province. They both experimented planting the tree, while seeking the places where it is suitable for Ngoc Linh ginseng. They even grew the tree in Da Lat.
The trees that were planted in other areas also developed, but the content of saponin in the internodes was only one fourth of the trees planted in Kon Tum. In 2003, Hoan and Hao chose Te Xang – Tu Mo Rong in Kon Tum province to develop Ngoc Linh ginseng, though it is very difficult to get there.
They moved all ginseng trees planted in other areas to Te Xang – Tu Mo Rong. Hoan invited Dr. Duong Tan Nhut, the leading expert in creating flower species in Da Lat, who is now deputy director of the Institute of Biology of the Central Highlands, to research on multiplication of Ngoc Linh ginseng by tissue.
This multiplication was successful in 2008. However, after four years of experiment, trees developing from tissues don't grow normally, as trees developed by normal methods.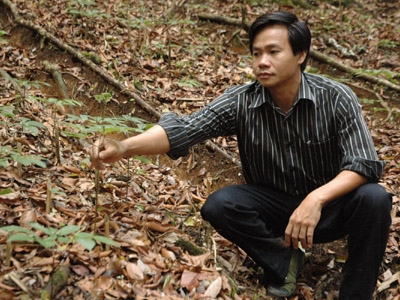 Mr. Tran Hoan
To have over 100 hectares of Ngoc Linh ginseng, Tran Hoan has invested huge capital. In the beginning, he bought fresh ginseng internodes collected from the forest to grow. Only 20-30 percent of them were alive. Each hectare had 50,000-55,000 trees while the price for a kilo of Ngoc Linh ginseng was up to VND50-60 million ($3,000-4,000) several years ago. The investment in this was really huge. In addition, he bought ginseng seeds from Quang Nam.
Gradually, his ginseng trees developed well and blossomed. However, ripe ginseng seeds were eaten by birds. Hoan's workers had to use plastic pieces to cover flowers to protect them from birds. Rats also like ginseng internodes very much, but Hoan has found ways to prevent them from eating internodes.
Beds of seed ginseng trees are now ready for the next crop. Hong, a manager at the ginseng field, said that all the trees are planted naturally. They develop very well thank to natural humus from the jungle.
Ngoc Linh ginseng trees are very fragile from the sun, so workers are always ready to cover them by specialized nets whenever big trees collapse after storms, making space for sunlight.
A bigger plan to develop Ngoc Linh ginseng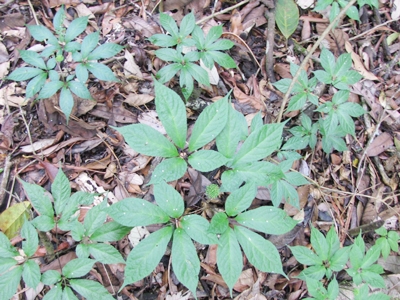 It is difficult to plant Ngoc Linh ginseng, but it is more difficult to protect the ginseng fields. Before choosing this area to invest millions of US dollars in the ginseng field, Tran Hoan said the most important task was recruiting a group of workers who could manage and protect the field for him.
A Sy, 39, former Chairman and Party Secretary of Te Xang commune, helped Hoan to recruit trustworthy workers from three communes of Ngoc Lay, Mang Ri and Te Xang. All recruited workers are native Xedang people.
The ginseng field is protected by two fences, with a guarding station for each 5-10 hectares, where guards work 24/7. From the first three workers, Hoan now has over 100 workers.
According to Hoan, since the ginseng field was set up, he has never lost just a single internode. He said that Xedang people are highly self-respected. Any thief, if being detected, will be fined under the village rules or even being driven from the community. This is the greatest shame for a person and his family.
Hoan's ginseng field is well protected because he has built trust among local Xedang people. He said next year he would plant an additional 30-50 hectares of ginseng. The area of ginseng will increase yearly because Hoan takes initiative in seedlings. He can produce millions of seedlings a year.
As Ngoc Linh ginseng develops in virgin forests, the top priority of Tran Hoan's company is protecting the forest.
Hoan said that according to a recent survey, there are nearly 5,000 hectares of forest in this area which are suitable for Ngoc Linh ginseng. His company will take responsibility to protect this forest area free of charge while it will hire locals to take care of the forest.
In nature, Ngoc Lam ginseng is nearly extinct since the price for a kilo of fresh ginseng is from VND60-100 million ($3,000-5,000).
It is estimated that if one hectare of ginseng is harvested after ten years, Tran Hoan will earn at least VND30 billion dong ($150,000) (if the price is only VND30-40 million dong per kilo).
Tran Hoan planed to deliver free seedlings and assist locals in six communes in Tu Mo Rong and Dak Glei district to grow and then share profits with them. He believed that this can help eliminate hunger and reduce poverty in the region.
Dao Xuan Quy, Deputy Party Secretary of Kon Tum province, chief of the working group of Kon Tum province to survey the ginseng field, said that he would report to the Kon Tum Party Committee to encourage local people to cooperate with the Kon Tum Ngoc Linh Ginseng JS Company to grow ginseng. If a person takes care one hectare of ginseng, after 10 year, he will earn at least VND1 billion ($50,000) while his food expenses will be covered by the ginseng company.
Tran Hoan said that he would invite local and foreign scientists to research to produce various products from Ngoc Linh ginseng for export.
On May 5, the Ministry of Science and Technology held a workshop on researching and developing Ngoc Linh ginseng into a national product. The Ministry will suggest the government to set up a national steering board to implement this project.
At this workshop, Kon Tum officials announced to have hundreds of Ngoc Linh ginseng planted by a private firm.
Ngoc Linh ginseng or Vietnamese ginseng was found in the highlands of central Vietnam in 1973, and was regarded as a new species, and subsequently named Panax vietnamensis Ha et Grushv (1985). This is the most southern distribution of the Panax genus (Araliaceae). It is the 20th ginseng species discovered in the world.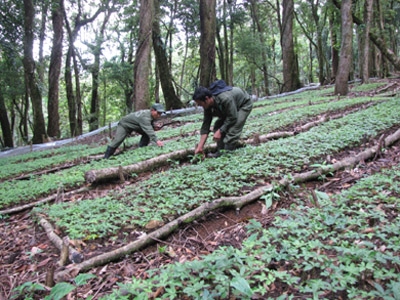 In the nature, Ngoc Linh ginseng grows in the peak of Ngoc Linh mountain of 2,598m, in nine communes of three districts of Dak Glei, Tu Mo Rong (Kon Tum province) and Tra My (Quang Nam province).
It has been a secret medicine of the Sedang ethnic group, a miraculous, life-saving plant drug used for the treatment of many serious diseases and for enhancing body strength during long journeys in high mountains.
Chemical studies of the constituents of the plant have identified 23 saponins, including 14 new compounds. Some of them are common to Panax ginseng, such as protopanaxadiol and protopanaxatriol saponins, but in higher concentration in this species. In addition, an extremely high concentration of ocotillol saponins, i.e. majonoside-R2 (5.3% of the dried rhizome) has been identified.
The price of Ngoc Linh ginseng is even higher than that of Korean ginseng.
Tien Phong