VietNamNet Bridge - "After being shot like this, and perhaps will still be shot, what is your future plan?" "I will fix the boat and continue fishing in the old places. If we meet Chinese vessels and are driven away by them, we will run and then return to Hoang Sa again," said a fisherman named Phai.
Prof. Carl Thayer and Hoang Sa story
A Quang Ngai's fishing boat shot by Chinese vessels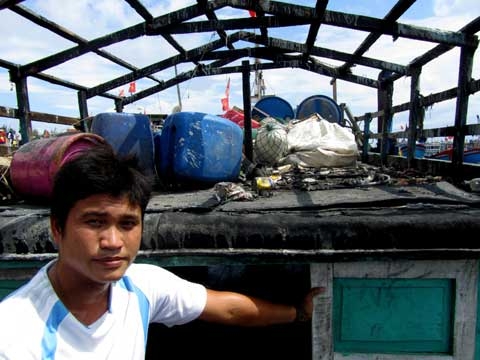 Fisherman Nguyen Van Phai and his ship which was burned by Chinese bullets. Photo: Tran Huy Cong.
Phai, the captain of the Vietnamese fishing boat which was shot by Chinese boats recalled: "On the morning of March 23, at about 7.30am, when my sailors were diving into the sea to catch fish some Chinese ships appeared. Upon detection of Chinese ships, I called sailors to come back to the ship. About 15 minutes later, all of them were on board and we fled."
"About half an hour later, while the ship was still running, I heard about four explosions then sailors shouted that the cabin was burning. I and other fishermen scooped sea water to extinguish the fire," Phai said.
It is the story of Nguyen Van Phai, the captain of the fishing boat that was burned by bullets from Chinese ships on March 23. The story was told to reporters of TV Tokyo on Ly Son Island in early May 2013.
TV Tokyo made a documentary of about 30 minutes to air on TV Tokyo channel, as the material for the talks between Japanese scholars related to the tension related to China in the East Sea and the East China Sea on May 18.
In late April, on Ly Son Island, Quang Ngai province, the annual festival to commemorate the Hoang Sa Flotilla too place. For the first time in the history of the festival, foreigners, especially foreign correspondents, were warmly welcomed.
This is the second event held this year in Vietnam, after the first state-level event to commemorate the Gac Ma incident. Next year will mark the 40 year that China totally invaded the Hoang Sa Archipelago.
Professor Carl Thayer and foreign scholars attended the workshop at the Pham Van Dong University on April 27 and they visited Ly Son the next day.
Among the foreign correspondents to Ly Son, there were many Japanese journalists, who worked for NHK, Asahi TV, Kyodo, and TV Tokyo. They all made short reports on the Hoang Sa flotilla memorial ceremony and the story about the Vietnamese fishing boat which was shot by Chinese on March 23 to air the next day
Mr. Duong Dinh Huy, Asahi reporter in Vietnam, who directly made the report, said: "The annual Hoang Sa flotilla memorial service, which has been held for over the last 200 years, has demonstrated longstanding and undisputed sovereignty of Vietnam over the Paracel Islands. The incident in which Vietnamese fishermen shot by Chinese ships shows the escalation of action of China in dealing with fishermen in the East Sea."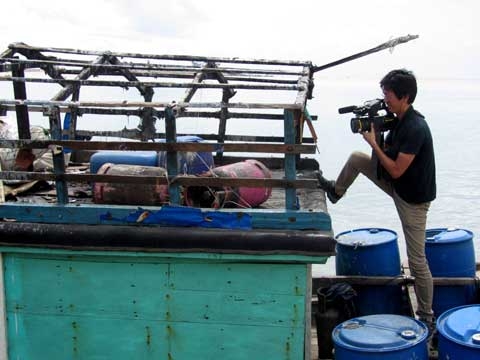 A cameraman of Tokyo TV.
Before that, though foreign correspondents had suggested many times, only two foreign journalists were permitted to go to Ly Son to interview fishermen there, especially the fishermen who worked in Hoang Sa waters and their boats and fishing tools were confiscated by China. The two lucky foreign correspondents are Greg Torode from the South China Morning Post in 2010 and Miyake Kazuhisa of Kyodo in late 2011.
Mr. Tran Huy Cong, representative of NDN news agency in Vietnam, who took the group of reporters of TV Tokyo to Ly Son, commented: "The documentary was made in the context that China illegally invaded Vietnam's Hoang Sa in 1956 and 1974, and occupied a number of islands (of Truong Sa - Spratly Islands) in 1988."
Cong said that reporters of TV Tokyo, after Phai told his story, asked him: "Where is your traditional fishing ground?"
Phai answered: "Hoang Sa area. My great grandfather, my grandfather and my father fished there."
They asked again: "After being shot like this, and perhaps will still be shot, what is your future plan?"
Phai answered: "I will fix the boat and continue fishing in the old places. If we meet Chinese vessels and are driven away by them, we will run and then return to Hoang Sa again."
In addition to Nguyen Van Phai, TV Tokyo also interviewed many other fishermen, whose boats and fishing tools were confiscated by China. Some of them were arrested and went to jail in China.
They asked them: "Your traditional fishing ground is the Paracel but now China is using every trick to rob it, what do you think?"
A fisherman had a very good answer: "If it is China's territorial waters, they do not wait until now to reclaim it!"
Another fisherman, who was arrested by the Chinese twice and his boat and fishing tools were seized by China, but he still borrowed money to build a new boat to keep fishing in Hoang Sa, said: "We are fishermen, who do not have any gun in hand, but China sent armament ships to bully us. Obviously, they did not behave as a big country."
The entire interviews with fishermen on the island of Ly Son are part of the documentary of TV Tokyo. The other part of the film is the normal life of Vietnamese people, after decades of peace and economic integration.
For example, Cong said on April 30 and May 1, TV Tokyo reporters films scenes in Hanoi, with young people who were very excited at a music show or Vietnamese families, especially the young and well-off, buying Japanese expensive things to use.
The filmmakers of TV Tokyo also paid attention to economic development, through the forms of association with the Japanese, for example, Japanese factories in the Nomura Industrial Park in Hai Phong or panels advertising Japanese goods everywhere.
"War, as in the past, is always a risk threatening the people of Vietnam, after a period of peace and development. Especially with the growth and increasingly belligerence of China," Cong said.
Fellow-sufferers have mutual sympathy
When observing the boat that was shot by Chinese, a Tokyo TV reporter found a small box, which looked like a toothpaste box and twisted by fire but survived the word Wasabi on it. Phai said: "It's Japanese mustard. We often serve it with fresh fish. The taste is very good."
Wasabi, produced by Japan, is not the only thing that the reporter of Tokyo TV found in common between Japan and Vietnam and in the relation to the neighbor China. The issue of fishermen is the second common thing that China chose to deal with both Japan and Vietnam, in the island and sea conflicts, although it uses different ways for each country.
From the story that a Chinese fishing boat "hit the Japanese patrol boat" and was arrested in mid-2010 in the waters of Senkaku (called the Diaoyu by Chinese), China, especially in recent times, after the new leaders took office, has developed into "aggressive actions."
They continued to send fishermen, in bigger and bigger numbers, to fish in the waters that Japan claims. They also used radar to detect Japanese patrol vessels to inform Chinese fishermen to avoid that place.
China also instigated fishermen of Taiwan or Hong Kong to do the same with Japan.
Therefore, each move of China in the East Sea is watched by the country on the coast of the East China Sea. It is "Fellow-sufferers have mutual sympathy."
Huynh Phan