VietNamNet Bridge – Relics and heritage are now a very "hot" topic in Vietnam. There were many incidents related to monuments and heritages happening recently, revealing many things to think about...
Seriously degraded images of the One Pillar Pagoda
Living like prehistoric men, Duong Lam villagers cry for help
Destroying legacy for restoration!
Relic restoration: The opportunity to make money

Heritage syndrome?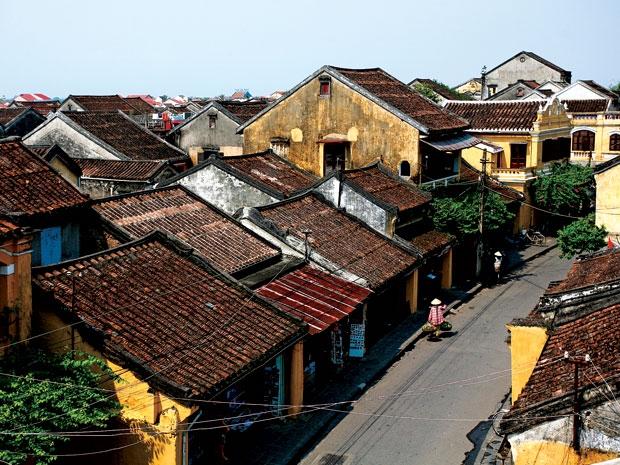 The ancient town of Hoi An.
Let's review, starting from the Central Region! In 1993, Hue ancient citadel in Thua Thien – Hue province was recognized by UNESCO as a world cultural heritage. It is also the first World Heritage of Vietnam. In 1999, Hoi An ancient town and My Son Sanctuary in Quang Nam were also recognized as world cultural heritage. The term "Central Region Heritage Road" appeared after that.
In 2003, the cave system of Phong Nha - Ke Bang in Quang Binh province was recognized by UNESCO as natural heritage, extending the heritage road to the northern central region. In 2011, the Ho Dynasty Citadel in Thanh Hoa was honored by the UNESCO, adding one more world cultural heritage to the central region.
After the failure to nominate the Cuc Phuong National Park (1991) and the ancient capital of Hoa Lu (1991) as world natural and cultural heritage, Ninh Binh province still persisted in the search for world-class heritage because the heritage road has expanded to Thanh Hoa, its neighboring province. Ninh Binh is now seeking the world heritage title for the Trang An – Bai Dinh beauty spot.
Many localities that are not in favor of natural landscapes or architectural and cultural heritage, are searching for the title of world intangible cultural heritage for folk arts and traditional festivals. After the Hue royal court music and the cultural space of Highlands gongs which were both recognized by UNESCO in 2008, Bac Ninh folk duet (quan ho) and ca tru (ceremonial songs) were recognized in 2009. In 2010, the Giong Festival at Phu Dong Temple and Soc Temple in Hanoi were honored. A year later, hat xoan (xoan singing) of Phu Tho province was recognized. Early in 2013, Phu Tho was again honored with the title of world intangible cultural heritage for the "Religious Worship of Hung Kings."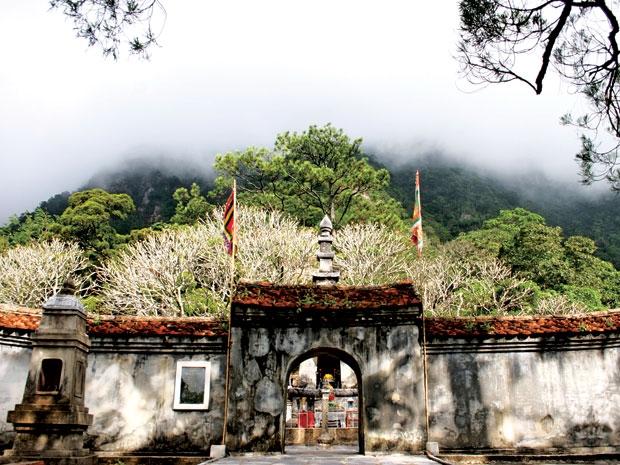 It seems the way to the intangible heritage title is more easily than for cultural and natural heritage titles so many other provinces have suggested their folk arts and festivals as world heritage. Vi dam singing of Nghe An and Ha Tinh provinces has been submitted to the UNESCO. Binh Dinh Province has recently proposed the Ministry of Culture - Sports and Tourism to consider its bai choi art as a nominee for the world intangible cultural heritage.
The provinces that do not have world heritage sites all have national relics and landscapes and they also want to "upgrade" their national relics into the world level.
Quang Ninh province is preparing to submit its Yen Tu historical and religious relic to the UNESCO to recognize it as a world cultural heritage.
It is highly possible that the Heritage Road of the Central Region will not be broken in the future because the central region has a lot of relics and landscapes and all local governments are eager to have heritage.
Perhaps the "heritage season" has never been so busy like now, from the national to the international level. Early in 2013, Tho Ha village festival in Bac Giang was recognized as intangible cultural heritage of the national level, followed by the Hoang Sa flotilla ceremony of Quang Ngai. Many records have been compiled to send to the UNESCO for considering chau van singing of Nam Dinh, then singing of Tuyen Quang, Dong Ho folk paintings of Bac Ninh, don ca tai tu singing of the southern region, Cat Ba island of Hai Phong city, Cat Tien National Park of Dong Nai... as intangible cultural or natural heritage of the world.
That number of nominees has made the UNESCO ... panicked. If this keeps continuing, perhaps Vietnam will have world heritages everywhere.
And ... the sadness of heritage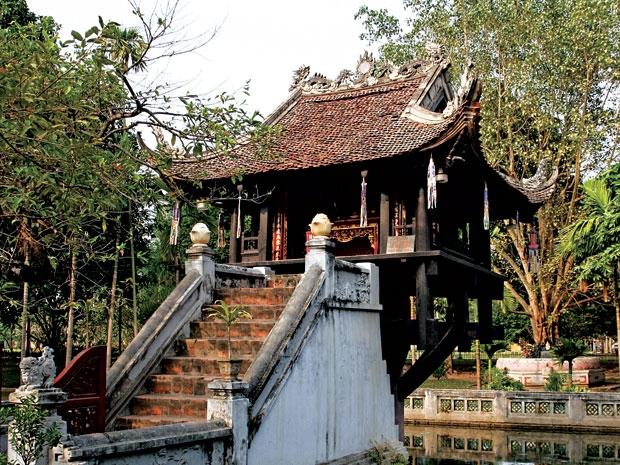 The One Pillar Pagoda.

However, there are a lot of sad stories in the busy "heritage season."
Dan Xa Tac (Earth altar) in Ha Noi, which was recognized as national monument in 2007, is about to be covered by an overpass.
Despite the objection of several experts over the plan to build an overpass at the O Cho Dua junction in Hanoi as it will affect Dan Xa Tac archaeological site, the project is still underway.
According to Professor Nguyen Quang Ngoc, Chairman of Hanoi Historian Association, the Dan Xa Tac was built in 1048 by the Ly Dynasty to worship the Earth and the Rice Goddess and pray for good crops. Dan Xa Tac was classed as a national heritage site by the Ministry of Culture, Sports and Tourism in 2007. The overpass will be built using concrete and have a section running over the Dan Xa Tac site.
The junction O Cho Dua has always been one of the places seeing highest traffic jams during rush hours in Hanoi. While building Hanoi's Kim Lien – O Cho Dua Road in November 2006, workers unearthed remains related to Dan Xa Tac.
Archaeologists found ancient bricks, tiles and pottery proving that the area once held an offering altar. Dan Xa Tac was where the Ly, Tran and Le dynasties performed prayer rituals to the heavens and earth for good weather, peace, prosperity and happiness for the people. In theory the area would have significant historical importance.
The One Pillar Pagoda, Hanoi's icon, is calling for help. The pagoda has been in state of serious deterioration for many years. During the rainy season, statues within the building can often be seen wearing raincoats, while nuns and monks collect rain water in buckets. Some areas of the complex are prone to regular flooding. However, the relevant agencies have neglected the situation.
Most recently, 78 people of 60 households in Duong Lam ancient village in Hanoi signed in a petition to return the title national relic to the state. Why?
When Duong Lam became a national relic in 2005, the village has to observe the Heritage Law. All households in the village have not licensed to build anything.
It is worth mentioning that the village's population is increasing, but local people are not allowed to construct or enlarge their own home. Many houses have up to three couples sharing a room of just over 10m2.
Not enough beds, babies sleep with their parents while bigger kids have to lie on the ground. There are many families use a single room as their bed room, their kitchen and their living room.
It is ridiculous that Hanoi is considering nominating this village as a world heritage.
Before that, many relics and heritage had been harmed in the name of restoration: the Tram Gian Pagoda in Ha Noi which is nearly one thousand years old was repaired to become a one-year pagoda; the ancient Mac Dynasty citadel in Tuyen Quang was turned into a new brick citadel...
At the same time, the Hoi An ancient town is alerted of losing its soul; the restoration of the Nam Giao altar in the Ho Dynasty citadel lacks of scientific foundation; the construction of new works in the My Son sanctuary, etc.
Many monuments and heritage sites were untouched in the past but after they are honored as heritage, they are no longer in peace. Commercial and "restoration" activities have been harming these relics.
"Heritage" – that word itself has an inner depth, rather than an industrial or a commercial item. The heritage title does not mean anything when the value of genuine and original is not preserved.
Is it sad to see heritage everywhere?
SGTT