VietNamNet Bridge - Given that "the majority of Vietnamese enterprises fail to meet the official trade relations," Mr. Wei Zi Shen, Trade Consul of the Chinese Consulate General in HCM City assured that "unofficial trade is the policy of China to help Vietnam."
"Substandard Chinese goods have the fault of Vietnamese traders"
Chinese official voices over complaints of Chinese traders in Vietnam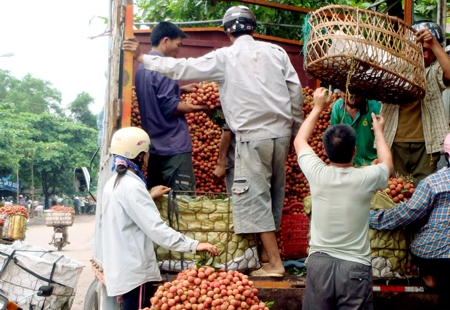 Admittedly, the relations between Vietnam and China are currently hampered by the "problems left over by history" (i.e. the East Sea conflict), but Mr. Wei Zi Shen confirmed: "We should lessen the impact of that problem on the trade relations between the two sides. Good trade relations not only benefit the two countries but also contribute to protect peace and long tradition of friendship."
What kinds of goods can Vietnam export favorably to China?
I am going to say that all items that Vietnam can produce can be exported to China! China is a huge market for Vietnam, with an enormous population of over 1.3 billion people. There are many advantages to Vietnamese businesses if they are interested in the Chinese market. It is close geography, cultural similarity; the two people know each other for thousands of years ... a lot of advantages.   
Looking at the structure of Vietnamese exports to China, the proportion of raw materials is high. And looking at China's investment in Vietnam, there is no investment in processing. For example, China buys up to 90 percent of Vietnam's cassava output. But the cassava processing plants are all located close to the border of Vietnam – China, in China's territory. It seems that in term of strategy, China wants Vietnam to be the source of supply of raw materials?
I do not understand why you and a number of Vietnamese think so? If China wants to turn Vietnam into the source of supply of raw materials, up to three or four Vietnam are insufficient to provide raw materials for China!
You should consider how many percentages of the Vietnamese agro-forestry-fishery products in the Chinese market? Certainly not great!
On the other hand, Vietnam also exports agriculture, forestry and fishery products to many other countries too, not China alone.
China does not have a policy against processed goods or only permits the import of raw, semi-processed goods, fresh products. There is no such policy! Vietnam's dried jackfruit product of Vinamit is very popular in China!
You may ask why Vietnamese goods exported to China are mostly raw materials. It is because of favorable geography, with marine and land borders, low freight. China's technical barriers are also much lower than other countries. China is in favor of goods of Vietnam and ASEAN countries, with tax rates for agricultural, forestry and fishery products are the same at zero percent.
And why doesn't China invest in processing in Vietnam?
The Chinese Government's policy with Chinese enterprises who invest abroad is completely equal, without priority for investment in any country. Chinese investors will find favorable places, with many advantages to invest in.
Why do so many Chinese investors plant rubber in Laos, Cambodia but not in Vietnam? There's no political problem here.
Laos and Cambodia grant many incentives for foreign investors who plant rubber on their land. Vietnam does not encourage and not even permits foreign investors, including China, to invest in rubber plantations.
As to investment in processing plants, frankly, investment in Vietnam is less efficient than in China or other countries. We have investigated a number of Taiwanese companies that invest in the same manufacturing plants in Shanghai and Dong Nai of Vietnam. They said the cost of production in Vietnam is. I also learn from many other investors in Vietnam and China and the result is the same.
I should tell you straight that Vietnam has the advantage of young, plentiful, cheap labor forces. But that advantage becomes very small in the investment structure and in some aspects it becomes unfavorable in the eyes of investors. Vietnam has plentiful a labor force but it lacks well-trained workers. The wage in Vietnam is relatively cheap, about 1,000 yuan/month, equivalent to about 1/3 of wage in China but labor productivity of Chinese workers is 2.5 to 3 times higher.
One more thing, Chinese workers would love to do extra work. Once companies have orders, they are willing to join together to complete the orders. It is different in Vietnam. When the enterprises have orders, workers will immediately require higher wages and other benefits increased. If the enterprises do not meet their requirement, they will go on strike.
In Vietnam, the traffic is very poor while freight rates are higher than in China and neighboring countries. On the other hand, corruption makes the freight rates higher. I myself encountered "highway bribery" though I did not violate the law.
Does China want to trade with Vietnam by border trade rather than official trade?
It is not true! It is just that most Vietnamese companies fail to do official trade.
Office trade requires stable amount and quality of goods. On the other hand, Vietnamese goods traded officially cannot compete with goods from Thailand and a number of ASEAN countries in China.
The export policy of Vietnam, I think, is also difficult for businesses. I took this example. Last year Vietnam had a bumper crop of sugarcane. The Vietnam Sugar Association recommended for sugar exports. Some businesses sought their way through China but the Ministry of Industry and Trade did not allow them to export sugar because of the fear of lacking sugar in the country. Moreover, what will happen if next year Vietnam does not have a good sugarcane crop? So sugar had to go through border trade.
It is clear that the administration of export of Vietnam is very unprofessional and it does not create advantages for enterprises.
China signed multiyear contracts to buy Cuban sugar. The monthly sugar supply must be stable. China also buys U.S. soybeans in the same way, with stable supply for tens of years. Vietnam cannot meet such conditions!
Thus, the border trade policy is the policy of China to help Vietnam (!)
What should Vietnam do to effectively do business with China? In other words, how should Vietnamese enterprises explore the Chinese market to have relations of sustainable development, mutual benefit between the two countries?
As I said, Vietnam has many advantages if Vietnamese enterprises are interested in the Chinese market. China is the world's largest market, with demand for all products of all countries in the world, including Vietnam.
After joining the WTO, especially after establishing the China – ASEAN free trade zone, China's market has been open to ASEAN countries, including Vietnam, creating new opportunities for enterprises of the two sides. China's import taxes on the vast majority of Vietnam's strong items such as agricultural, forestry and fishery, furniture etc... have been slashed to 0%.
Vietnam has the most advantages in trade with China than other ASEAN countries. It has land and sea borders with China, so freight rates are low, the consumption customs are alike ... Moreover, the Chinese market is easygoing and conditions for imports into China are also much lower than other countries like European countries or the United States.
But the problem is Vietnam businesses seem to not be interested in exploiting the Chinese market, showing through the lack of research of the Chinese market, lack of information, lack of expertise and reputed agencies to provide information for Vietnamese businesses.
Could you provide some information about the Chinese government's policies and some advices to Vietnamese businesses?
The Chinese Government always attaches great importance to developing mutually beneficial cooperation with Vietnam in many fields, including the field of economics and trade. It also has created favorable conditions for Vietnamese enterprises to approach and penetrate the Chinese market. China and Vietnam have the huge complement for each other in the field of trade and economic cooperation. China's technology, equipment and materials are in accordance with the current needs of Vietnam while most of Vietnam products can be sold in China.
However, I believe that Vietnamese goods have some of the following limits:
First, the majority of agricultural, forestry and fishery products exported to China are raw, unprocessed so the value is low, less efficient to farmers high.
Second, Vietnam does not have large-scale factories to produce these items, resulted in difficulty to ensure the quality and quantity.
Third, relevant agencies, associations, enterprises and the media have not clearly learned about the Chinese market, have not had adequate research and survey about this market so they cannot provide accurate information and accurately forecast about the demand and the fluctuations of the Chinese market to provide accurate and timely market information for businesses and farmers.
Fourth, Vietnamese enterprises do not fully cooperate with farmers in production and marketing of products.
China has the model of supermarkets directly linking with farmers which has gained very good results and Vietnam can refer to it.
In addition, the role of the media is also extremely important to the promotion of trade relations of our two countries.
Duy Chien