VietNamNet Bridge - Security instability, unstable job, the specter of diseases like malaria and dengue are the problems that Vietnamese workers have to face in Angola.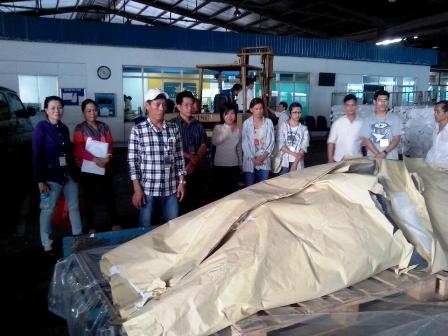 The body of a Vietnamese worker who was killed by robbers in Angola.
"No malaria, it is not Angola!"
An online community of the Vietnamese in Angola has been formed, with nearly 4,000 members. This is a forum to share information and to connect Vietnamese workers in the country. The forum recently raised fund to transport dead workers from Angola to Vietnam.
VietNamNet contacted with the forum's admin and many members to discuss the hot issues about the work and life of Vietnamese workers in Angola.
Mr. Phi Bui Long, from Hoa Son commune, Do Luong district, Nghe An province, said he has been in Angola for one year, working as a building worker for a Vietnamese contractor in the capital of Luanda.
"Most of Vietnamese workers here are building workers. Some do small business. Most of us have to live in very tough conditions. We lack both safe water and food," said Long.
Mr. Pham Ngoc Anh said: "I've been here for more than two years. Now I work in Luanda. Life is very difficult here because of the shortage of food and particularly vegetable. The major food is chicken imported from China but it is not always available. Sometimes we had to eat only rice for several days."
Living conditions are harsh so sickness is raging in Angola. The biggest obsession with Vietnamese workers is malaria.
The weather in Angola includes the rainy and the dry seasons. Mr. Luong Ngoc Tuan, 22, a native of Ha Tinh, said that it is the dry season now and it is the time for malaria epidemic.
"I've worked here for three years and I've infected with malaria so many times. We often joke that if one does not catch malaria, he is not really in Angola," Tuan said.
"Malaria is not haunted, but the horror of Vietnamese people here. The number of deaths due to malaria is even more than by robbery," Ngoc Anh added.
Illegal work, unsettled live
The major jobs of Vietnamese in this country are construction workers, photocopy and typing service providers, selling clothing, motorcycle repair and nails.
Recently, there are rings that take Vietnamese women to Angola to work as prostitutes, serving both Vietnamese and local people.
The Vietnamese are mainly concentrated in the capital of Luanda and several other cities. Most of them work as builders for Vietnamese contractors.
"Vietnamese workers are divided into several groups competing with each other," one said.
Most of Vietnamese workers go to Angola as tourists and stay there to work illegally. In this country, the Foreigner Administration Agency called De Far regularly hunt illegal immigrants so Vietnamese workers are always living in fear of being arrested and expelled at any time.
"There are about 10 Vietnamese people arrested each day. There are more than 500 Vietnamese workers detained in the Viana prison in Luanda awaiting deportation. For those whose Visto is expired, they have to pay $5,000 to $7,000 dollars to get out of prison. Those whose Visto is valid also have to pay about $3,000 to be allowed to work.
Before going to Angola, Vietnamese workers were promised to earn about $800-$1,000 per month. But in fact, their wage is counted on their working days while the work and the accommodation are unstable. Contractors often do not pay in the first 5-7 months so all workers fall into hell. Many conflicts between the employees and the contractors have happened," said Ngoc Anh.
A permanent concern of Vietnamese laborers is robbery. The culprits are usually the locals.
"We have a lot of things for fear: the police, robbery, diseases, not being paid, unemployment... I've been here for over one year without getting paid. What a nuisance!" said Mr. Thai Duy Chuan, a native of Nghe An, said.
In the Vietnamese community in Angola, Mr. Nguyen Soan is pretty special. He used to be the owner of a business with 30 employees in Vietnam. Because of business failure, he went to Angola to work to seek money to pay his debts. He has been in this country for nearly one year. "Life in Angola is like in illegal gold mines in Vietnam," he said.
Before the pressure of diseases, robbery, being arrested, this man wrote a poem for his mother, which has become very popular among the Vietnamese in Angola since the poem describes all the common problems and the mood of them.
Many Vietnamese workers die in Angola
Within a few months, several Vietnamese workers were reported dead in Angola. Most of them are natives of Nghe An province, in central Vietnam.
More than a year ago, Mr. Nguyen Cong Nguyen, in Nghi Hoa ward, Cua Lo town, Nghe An province went to Angola through an illegal network, leaving home his parents, his wife and his baby. After one year, when the dream of changing life was not realized yet, Nguyen died of malaria.
Nguyen Duc Cao, 25, in Nghi Kim war, Vinh city, Nghe An, died in Angola after only three months there, also because of malaria. The bodies of the two workers were sent home on April 5, 2013.
They died and left huge debts for their families.
Mr. Nguyen Cong The, Nguyen's father, said his son went to Angola as a tourist at a cost of $6,000. "He is my only son. He just got married a few months before it went to Angola. He died when he had never seen his first child," the father cried.
According to the family, Nguyen went to Angola through an illegal labor brokerage ring. These people promised to pay Nguyen $800-$1,000 per month. However, after six months of work, he was only paid $3,000 so Nguyen worked for another contractor.
During the lunar New Year 2013, the family was informed that Nguyen got malaria and was hospitalized for treatment. The family borrowed $6,000 to send to Angola to pay hospital fees for Nguyen, hoping that he would return Vietnam soon. On March 9, they received bad news. Nguyen died at the hospital.
More painfully, the family could get his body after paying hospital fees of $153,000. Thanks to the help of the Vietnamese community in Angola and the intervention of the Embassy of Vietnam, the body of Nguyen was repatriated. But Nguyen's family now bears a huge debt.
Sharing the same fate, on April 12, Mrs. Nguyen Thi Mai, 36, in Hung Nguyen district, Nghe An province, was informed of her husband's death – Mr. Phan Van Son - in Angola.
Son went to Angola over one year ago, at a cost of $6,000. His salary was not enough to pay the debt. His wife was stunned when she knew that to take her husband's body back, she had to pay hospital fee of up to $25,000.
The Department of Labor, War Invalids and Social Affairs of Nghe An province has asked all districts and towns in Nghe An to check the number of locals who illegally work in Angola. The provincial government has also requested relevant agencies to strictly control illegal labor brokerage rings in the area.
The authorities said it is difficult to control illegal labor export to Angola because rural people are poor and they do not have enough information so they are easily cheated by illegal labor exporting rings.
It is estimated that there are about 10,000 Nghe An people who are living in Angola.
Cao Thai