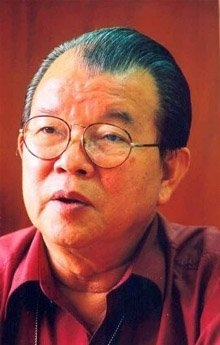 Professor Vo Tong Xuan.

VietNamNet Bridge – "People tend to take reasons to keep local interests. If determining the ultimate benefit as national interests and the interests of farmers, the forces accounting for nearly 70 percent of the population of our country, we can do it," Professor Vo Tong Xuan said about the export of rice.VietNamNet: In 2012, Vietnam lost the world's No. 1 rice exporter position to India. Are you interested in this information?
Professor Vo Tong Xuan: No. 1 or No. 2 is not the big problem. The major problem is how to help rice growers in particular and farmers in general earn high income.
Thailand used to be the top rice exporter in the world for many years before us but they do not need to care about this position. In 2011, they raised rice prices for farmers by 50 percent. Thai farmers earned high profit so they were very happy. Thai voters appreciated the government's policy to raise the price of rice, though there were many organizations and businesses in protest. Of course the Thai government had to support the people!
At the time the Thai government announced to raise the price of rice by 50 percent, I suggested that Vietnam should also follow them because Vietnam and Thailand accounted for a very large market share. If both countries are in consensus, farmers of the two countries will benefit. In 2011 we won the No. 1 exporter spot when Thailand raised prices to protect the interests of their farmers.
But in addition to Vietnam and Thailand, the world's rice market has another rival - India which supplies rice at cheaper prices. They will gain the market if we raise the price of rice? In fact Thailand has lost some markets to Vietnam because we did not raise the price?
India has over 1 billion people, more than 10 times of Vietnam's population. They need a huge volume of rice stockpiles. Every year they stock new rice and sell old rice, which is not delicious and cheap. Vietnam's rice is of higher quality, much more delicious. It is our great advantage.
When Thailand increased rice price, we were still keen on selling rice at low price. We gained the market but we earned low profit. The rice farmers suffered losses.
The idea of building a rice coalition between Vietnam and Thailand has been raised for a long time but why the two parties do not "come together" to protect the interests of the two countries as well as their rice farmers? The world has many such alliances with various forms, such as the OPEC?
It is due to the lack of confidence and determination. People tend to take reasons to keep their local interests. If determining the national interests and the interests of farmers as the ultimate benefit, we can achieve it.
The Thai people, for the benefit of farmers, have "single-handedly" determined to make it. If Vietnam joins them, the situation will be different. The most important thing is to protect the interests of farmers and the country!
Vietnam used to be the world's leading rice exporter in the early 20th century but due to wars and other causes, it became a rice importer. Until 1989, Vietnam resumed its position as a rice exporter. How do you assess the advantages and disadvantages of Vietnam's rice production and agriculture in general in the past early three decades?
Vietnamese farmers are extremely dynamic and creative. This is a great advantage but they are not well organized so sometime it became disadvantage.
As to State management, I think we need to reconsider the treatment to rice growers to make their lives better corresponding to their contributions. The State just supports the interest of rice trading firms rather than the farmers.
For nearly 30 years that Vietnam became a big rice exporter in the world but Vietnamese rice has not had a brand yet and it is unacceptable. It is the great loss for the country and for many farmers.
Could you make it more clearly?
Most obvious, farmers have responded very actively to the innovation policy of the Party and State, to produce much greater food production, turning the country from a rice importer, with up to 1.5 million tons in some years to the 2nd rice exporter in the world. But the paradox is that farmers earn the lowest income in society. The gap between urban and rural areas is further away.
Regarding to rice production and business organizations, we find that the State is more "serious" about rice business than rice farmers. We have seen many times that when world demand for rice was high, the world market for rice was very good but the State suddenly "paused" export to lower the domestic prices for a very vague reason of maintaining "food security!" This is only good for rice exporting businesses but it "killed" farmers.
Every year at the harvest time, the rice prices drop. State enterprises propose to buy rice for temporary storage; the Government approves and provides them with soft loans for rice purchase at the floor price prescribed by the State. In fact, farmers cannot sell rice at the floor price because they sell rice through mediated traders. The rice trading firms earn profit because they purchase rice at low price but farmers earn nothing.
The mechanism of "buying rice for temporary storage" has been maintained for tens of years and it does not benefit the farmers at all!
Mentioning the brand for Vietnamese rice, I think with the current way of rice business organization, Vietnamese rice cannot have a brand. If rice trading firms keep buying rice through traders, they cannot have quality rice.
Thailand is a leading exporter of rice, with large output but they have only three varieties of rice. Vietnam has dozens of rice varieties. Traders purchase rice from many farmers and they mix rice of different varieties together to sell to rice exporting firms. For profit, they mix low quality with high quality rice…
I've heard many foreign buyers of rice complained for decades that in a bag of rice from Vietnam, there are some varieties of rice!
Branding requires a lot of factors. Quality is the top factor. Our first factor is not there, how would the Vietnamese rice to go further?
Prof. Dr., Hero of Labor, People's Teacher Vo Tong Xuan is a well-known teacher and scientist in the country and the world. He was born in 1940 in Ba Chuc commune, Tri Ton district, An Giang province.

He earned a scholarship to study at the University of Los Banos (Philippines) specialized in rice. In 1975, he got a PhD degree in Japan on rice research.

Dr. Vo Tong Xuan is the rector of Tan Tao University (TTU). He is the former rector of An Giang University (AGU) and the former vice rector of Can Tho University. He is also a member of the Board of Trustees of the Rockefeller Foundation from 2002 until 2010.[1]

He won a lot of international prizes: Derek Tribe Award for Science and Technology 2005; Nikkei Asia Prize 2002 for regional growth; Ramon Magsaysay Award 1993 for State Service; the certificate of merit of the Prime Minister of Canada (1995) for "serve and contribute to the world science"; Medal for Agriculture of the French Ministry of Agriculture, Forestry and Fisheries (1996); Award for "Best Alumni" of the University of the Philippines at Los Banos (2001), the Derek Tribe Award - Australia (2005) and others.

He is known throughout southern Vietnam as Dr. Rice because of a popular television show that he ran that taught farmers tactics for growing and cultivating rice. He was also instrumental in the eradication of the brown plant hopper bug which, throughout the 1970s was destroying rice crops. Part of the problem in eradicating the bug infestation was the type of collectivization imposes on the farmers of southern Vietnam. He helped to bring about reforms in the early 1980s that can be seen as catalysts to the Doi moi reforms of 1986.

His activities were a key driver of Vietnam becoming one of the world's largest rice exporters.
Duy Chien
To be continued...