VietNamNet Bridge – The story of Mr. Le Van, 63, who has slept with the remains of his wife for years, stirred the local and international media several years ago. The local administration requested him to bury his wife but he denied. The strange man has been living and sleeping with his dead wife for nearly ten years.
Le Van still sleeps with his dead wife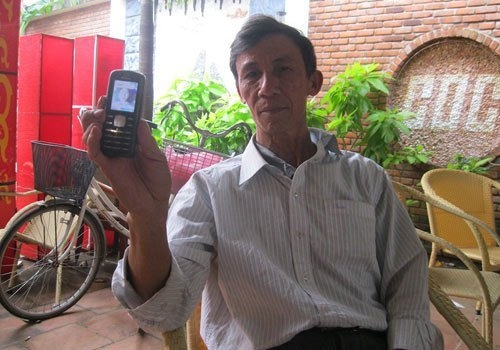 Le Van shows the photo of his wife's statue in his cell phone.
Mr. Le Van, in Ha Lam Town, Thang Binh district, the central province of Quang Nam and his wife, Pham Thi Suong did not love each other but they still got married. Their parents were close neighbors and they promised to match their children when the kids grow up. The couple fell in love after their marriage and they lived in happiness.
"They were carpenters and a well-off family but then Van got involved in illegal lotto so their economic status went downhill. However, their love still remained. Van did not let his wife work hard. They have seven children," a neighbor said.
Because of difficulties, Van had to sell his spacious house to build a smaller one. He also quit carpentry to become a rock exploiter while his wife made incenses.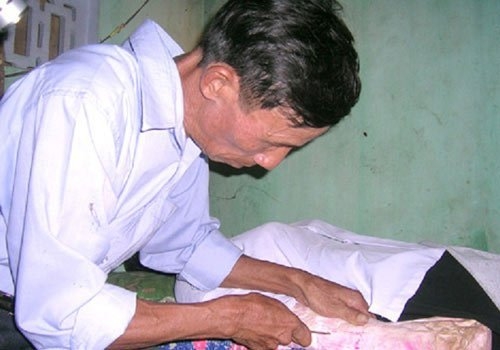 Every day Mr. Van changes clothes for his "wife." 
Though Le Van's story is not new but many are still curious about the reason that a man dug up his wife's grave to take the remains home with himself against the prevention of his neighbors and the local authorities. Why a healthy man has that odd behavior? Has the dead wife been buried again? Reporters met Le Van again to find out the answers.
Asking Van why he brought his dead wife home, he said: "At that time (February 2003), I was working in the Central Highlands when my family called to inform me of my wife's death. I went home immediately and tried to stop people burying my wife. Someone said I was crazy and if the dead is not buried, her soul will not be saved. So I let them do whatever they want. One year later, in a rainy evening, I went to the cemetery alone to dig up my wife's corpse. I put the remains in a bag. Afraid of being detected, I dug a small hole, put her in and filled it."
Since then, he could not sleep at night, thinking of how to bring his dead wife home. He bought plaster, cement, sand and glue and stayed in the cemetery for days to make a statue of his wife then he put her remains into the statue.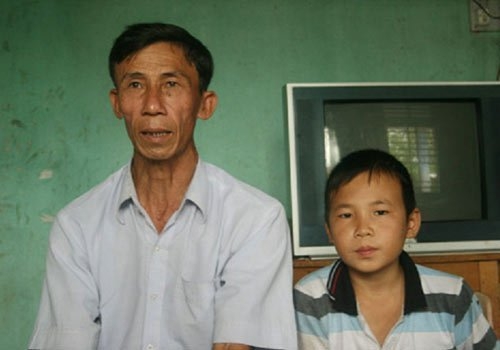 Van and his son have slept with the corpse for ten years. 
"After two months, I successfully rescued my wife. My children were so surprised when I brought the statue home. At first they only thought that since I missed her so much so I made her statue. When I told them the truth, they were panicked," Van recalled.
The children thought he joked but he took them to the cemetery and showed them the empty coffin, with only a torn blanket inside. They were stunned. They tried to persuade Van to burry their mother again while Van's relatives criticized him for going again the customs and ethics. However, he didn't care and insisted that his wife was still alive.
Le Van's story has shaken the local and foreign media. Mr. Tran Trong Sanh, Chair of the town of Ha Lam, said in 2005 the local government received people's complaints of Van's case. Local residents expressed their worry of environmental pollution and the social impacts.
"The local authorities asked Van to burry his wife again and the man agreed. But some time later, local people continued to complain that Van still held the remains in the house. We have done all the way but with the conservative nature and bigotry of Mr. Van, the incident has not been solved yet," said Sanh.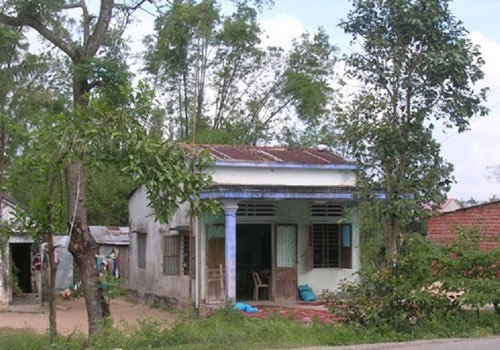 Le Van's small house.
Van has been living with his dead wife's remains for nearly 10 years, despite of other people's view. He sometimes drops at groceries to purchase cosmetics. At first, people thought he bought cosmetics for his daughters but it turned out that the cosmetics is for his dead wife. He bought lipsticks and face powder to make up the statue.
He also cleans the statue everyday. He said he is responsible to beautify his "wife." "Let's see! My wife is as beautiful as famous beauty queens and models. Her beauty can even be compared with Lady Kieu of Nguyen Du," he said. (Kieu is a beautiful woman in the world-famous work "The Tales of Kieu" by great poet Nguyen Du in the 18-19th century.)
Van also bought cloths to make clothes for the statue. "When my wife was alive, she never wore a nice dress so now I have to make many nice clothes for her. I change clothes for her twice a day. People said I'm crazy because I take care of a corpse but I strongly believe that she is always with me. I'll definitely sleep with her dead body until I die," he confirmed.
Infonet