VietNamNet Bridge – Setting a "red light district" seems to be a good way to solve physiological needs and related problems to illegal prostitution. But...
Legalizing "red light district," should or should not?
Prostitution is not a profession!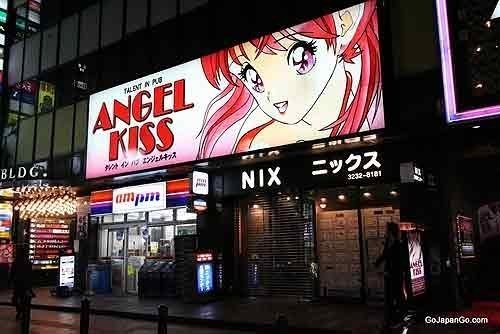 The Kabukicho red light district in Tokyo, Japan.
After the world-shaking case in India, when a girl was raped by a group of men on a bus and later died, the protection of women in this country has become a big issue. Some have suggested to "inject specialized chemicals for rapists" to take away their sexual inability.
When being asked about this idea, National Assembly deputy Do Van Duong said that besides imprisonment, "chemical castration" is an additional penalty. Duong also stressed that this is a measure of the efficiency and humanity!
Another controversial idea is legalizing prostitution and opening a "red light district" to manage prostitution in a formal way.
Both ideas related to sex are quite shocking and controversial.
The author of this article is not sociological expert. In this short article, he just gives a perspective on this complex social problem.
"Humanity" and the "inevitable?"
Prostitution is an ancient and common commercial activity of human. The use of sexual behavior to exchange an interest or goods is not uncommon. Even in Islamic countries which are bound by the strict religious and moral law, prostitution still take place silently.
It means that wherever men and women are, there is prostitution.
In Vietnam, which has never recognized legal prostitution, prostitution has been existing half-closed and half-open, exciting or hidden depending on ... the attitude of the social management body.
In densely populated cities such as Hanoi, Ho Chi Minh City and Da Nang, the "prostitution market" is also developed.
According to data provided by the People's Army Newspaper, the urban population is 26.88 million people. The labor force at the age of 15 and older in 2011 was 51.39 million. The number of people of working age (15 to 60) who can have sexual ability accounts for 58.4% of the total population of 88 million people.
Meanwhile, the age of marriage under the Law on Marriage and Family is from 18 to 20. Ignoring the factors such as marital breakups, adultery, wives/husbands incapable of sexual activity ... etc. the number of people in the age of having sexual demand but do not have sexual partner is estimated at about 10% of the total population, or 8.8 million.
Those in this category will have a number of solutions: 1) restraining their sexual needs; 2) finding a boyfriend or a girlfriend or a temporary sexual partner; 3) using sex services.
In the first situation: The views and 'solution' depend on the particular person, to go in in-depth analysis, we need another article with the participation of scientists and psychologists.
The second situation: It seems that this is the ideal solution for those who come of age, have sexual needs, but do not have sufficient conditions for marriage. But is it easy to do it? No! Especially in Asian countries, particularly Vietnam.
We can point out the clear phenomena for it: When "virginity" is still account for the majority of articles and is the cause of so many unhappy marriages, seeking a "temporary partner" is not and seem to be not a good choice.
Even in the Vietnamese thoughts, they are not sure that having sex (no marital relations) violates ethics or not when Confucianism and Western thinking are in a conflict in Vietnam. The school and parents still wonder whether they "show the path for the deer" or not when they discuss sexual topics with their children. A large group of people consider talking about sex is taboo and premarital sex relation is bad.
The third situation seems to be a good way to both deal with physiological needs while not committing all the problems in the two situations. But...
Lead to what?
The management bodies worry that legalizing prostitution will lead to problems in management and cause a lot of other implications, affecting the habits and customs, Eastern morals and the peace of families which are being shaken in the "corruption" of culture and morality.
Prostitution is much less a tourist attraction factor when it does not have the supportive conditions like services, environment, social... Nobody goes to a messy place just to sleep with prostitutes.
Nobody can ensure that once prostitution is admitted, the state of fraudulence, abuse and trafficking of women will reduce. Because when prostitution is considered illegal, in many cases the girls who for many reasons entered this path could not escape. So when prostitution is legalized, if they sign a "labor contract," do they have any opportunity to escape prostitution?
Legalization of prostitution, namely to build a special area for this activity seems not to be a viable idea. For example, in Hanoi, which area will be chosen as the "red light district" because such an area must satisfy the material conditions (hotels, motels concentrated in one area). In social and security conditions, how people will accept it?
In this assumption, perhaps we should let's the owners of hotels and motels to register for business services (if prostitution is legalized) instead of building a separate area.
Not to mention that sex always goes with drugs and HIV... It may be more practical to close "rehabilitation" centers to open community health centers and health support and information centers for sex workers?
If prostitution is legalized, whether sex workers have the right/obligation to implement the Law on Marriage and Family? Do they have the right to have a family while working in this field? Or they lose this right until they give up this "job?"
On the subject of sex whoremasters, given the current conditions and social concept, customers will still be mainly... men. In conception, the women who spend money for sex, or relationship that is formed mainly from the sexual benefits are not supported by society.
In fact, the legal aspects of protecting women and children still have many loopholes. Women are still dependent on men and they ability of men taking advantage of this factor to force his wife to accept his "going" with sex workers. The marriage ties will be certainly affected, not to mention more relationships and moral standpoints to be hurt.
The collection of "income tax" and development of "tourism" is also unfeasible. Prostitution is only a small array of life, is a simple transaction between two subjects, it cannot be regarded as an economic sector to make profits, not to mention the moral relations.
With many complex factors, this idea, in comparison with the idea of "chemical castration" of deputy Do Van Duong, is equally challenging.
Hoang Huong