VietNamNet Bridge - In recent years, Korean music has made a stable foothold in Vietnam and created both positive and negative consequences.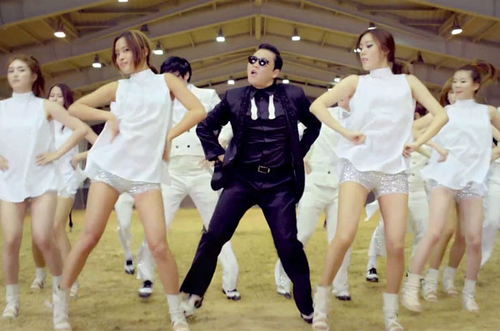 "Gangnam Style" of Psy has become a global phenomenon and made a Guinness record for the most popular video.
The year 2012 has ended with remarkable success for the Korean music (also known as K-Pop). The most prominent event is the "Gangnam Style" of singer Psy has become a global phenomenon and made a Guinness record for the most popular video. In the journey towards the 1 billion views on YouTube, Psy received "dreaming" proposals, met many famous people, including US President Barack Obama.
In the seminar "The present and future development of the Korean wave" (hereinafter being referred to as Hallyu) held in Hanoi in mid-November, Mr. Kang Cheol Keun, president of the Hallyu International Cultural Exchange Association stressed: "The 21st century is the century of culture, it must be open to develop." There is nothing "opener" and more fierce spread than popular music.
Foreseeing this, Korea has mixed the political and cultural factors very well to turn 2012 into the "hinge" year to promote Korean music in Vietnam through musical exchanges to celebrate the 20th anniversary of diplomatic ties between the two countries.
The Vietnam - Korea concert in March 2012 at the National Convention Center in Hanoi was the grand opening, marking an exciting year of Korean music in Vietnam, then the Wonder Girls in the concert "M Live Mo.A."
Ending the year was the Kpop Festival 2012 that brought together almost 100 famous Korean artists such as: Dong Bang Shin Ki (DBSK), T-ara, SNSD, Sistar besides Big Bang, Jae Joong, Brown Eyed Girls that also visited Vietnam for the commercial purpose or as cultural ambassadors.
If in 2011, European and American stars gained the upper hand in foreign concerts in Vietnam, this year, "oppas" and "unnies" of Korea overwhelmed in the numbers of music shows and artists. This helped Korean music stars get closer to the Vietnamese audience, paving the way for the strong invasion of Kpop in Vietnam.
The strong growth of Kpop in Vietnam is the inevitable consequence of a long-term plan that has been implemented for years by Korea.
This development has positive side: Vietnamese audiences have a chance to meet their idols who they have admired through TV series; Korean music with diverse genres and styles has satisfied the tastes of young Vietnamese; it's is also a good opportunity for Vietnamese young singers to learn the professional working style of Korean colleagues.
Many fans fainted at the show of Big Bang in Soundfest, Ho Chi Minh City in April.
The coming of Korean artists to Vietnam this year also attracted the attention of numerous international friends. On many social networks and forums, fans around the world expressed their envy for the Vietnamese audience who had opportunity to see so many Korean stars this year.
But there is a fact that K-pop has created "crazy fans" in Vietnam. In the Vietnam-Korea concert in March, some fans advertised on online forum that they were willing to have "one-night" love to get tickets to see Super Junior for the first time in Hanoi. Before the concert, many fans broke the fence at the National Convention Center, injuring some people who were close to the fence.
One month later, the public was shocked of seeing the bloody images of fans waiting to see Big Bang at the Soundfest show in April 2012. Many fans fainted, people trampled resulted in injuries, even bleeding…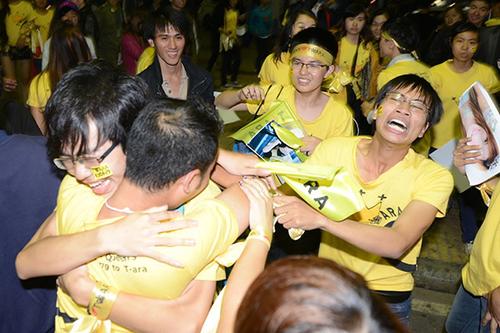 Young men hugged and cried when they went to the Noi Bai airport in Hanoi in late November to welcome T-ara.
In late November, the image of male fans embracing each other and bursting into tear when they saw seven girls in T-ara band at the Noi Bai International Airport became a hot topic on the Internet for several days.
However, the image of fans who are students waiting for several hours at the airport and crying when seeing them has become familiar whenever a famous Korean band or a Korean celebrity visits Vietnam.
Through many cases, crazy fans of Kpop have been special public interest. This issue even became a topic in the university entrance exam this year. People who did not know about Korean music, now have to pay attention to only because the image of crazy fans is rampant on newspapers.
Korean music business is not easy
The outbreak of the Korean Wave in recent years in Vietnam has made many people think that Kpop is developing strongly and it is very lucrative. But the reality is not so easy.
Most Korean music shows in Vietnam are "hidden" by the name "cultural exchange" and did not put emphasis on profits. The Kpop Festival 2012 could be seen as a test for the Vietnamese market when for the first time a Korean concert sold tickets publicly. Despite noisy promotion, the show had a lot of space.
Earlier, the organizers said that if they could sell out 50,000 tickets, the show would still get losses. The audiences who love Kpop are mainly teens so their financial ability is always limited. According to statistics from the organizers of Kpop Festival 2012, only the tickets with par values of several hundreds of thousand dong were sold well. The M Live Mo.A show was in a similar situation. The organizers attempted to reduce ticket prices up to 30% for several days before the show but they could not sell out 5,000 tickets.
Before sending its artists to Vietnam to perform, Korea's top entertainment company - SM Entertainment - frankly admitted: "Do not see the business potential in Vietnam." In terms of business, the Vietnamese market lags behind other countries in Southeast Asia.
However, numerous Korean concerts were still held in Vietnam to popularize Korean culture. There are many concerts are scheduled for next year, such as Super Junior in Vietnam - Asian Super Showcase, which will take place in March 2013.
T-ara promises to return to Vietnam for a concert tour around the Southeast Asian region. Not to mention the profit or loss, for the promotion of culture alone in Vietnam, Korea has many advantages over other countries.
Compiled by Thanh Van