VietNamNet Bridge – HCM City authorities chose 5 wards to carry out a pilot model on fighting crime. If it works, the model will be implemented in other places. VietNamNet returned to these "hot spot" to check it out.
Robbery on the streets of Saigon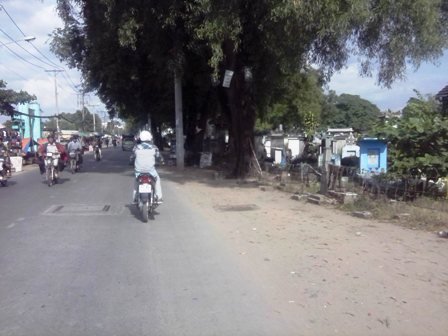 Binh Hung Hoa Cemetery in Binh Hung Hoa A Ward, Binh Tan District is known to be a haven for all kinds of street crime.
According to police of Tan Binh District, over the years, many drug traders were arrested in Alley 6 on Bui Thi Xuan Street, Ward 2 and the police have kept an eye on this place.
Many local people said, that despite the police's repression, drug trading is still an issue at this "drug alley."
On a night in late November, VietNamNet's correspondents visited this alley. Seeing strangers, the residents were very watchful.
The guide, a local man, said that after the police's repression, drug transaction in this alley took place more secretly. Drug users often buy drugs here and take it to the nearby Hoang Van Thu Park or elsewhere to use, rather than using it blatantly as before.
Colonel Le Van Thuc, Head of Tan Binh District Police confirmed at a recent meeting that in Ward 2, Tan Binh District, in addition to the "drug alley," where is the birth-place of drug-related crime, there are many other "hot spots" of social evils such as the area near the Tan Son Nhat International Airport, Hong Ha road and Hoang Van Thu Park, which are the "headquarters" of usury gangs, bandits, illegal debt collectors, etc.
Another area is Binh Hung Hoa Ward, Binh Tan District, which is known as a place for drug trading, with Binh Hung Hoa cemetery as one of the largest "drug markets" in Saigon. There is also a home to prostitutes.
Ward 25, Binh Thanh District is another "hot spot," with Van Thanh market area as the home for prostitution and drug users, Ung Van Khiem road for prostitution, D2 and Xo Viet Nghe Tinh roads for illegal motorcycle racers.
In addition, many roads here like the road under the Saigon Bridge and the coal port are also known as the places of robbery.
According to statistics of the crime prevention steering board of Ward 25, nearly 92% of the criminal cases occurred in the area were handled; drug abuse and prostitution have been significantly pushed back... But when VietNamNet's reporters went there, they still saw prostitution and drug trading activities.
Vinh Loc A commune, Binh Chanh District has also become a "hot spot". Senior Lieutenant Nguyen Thanh Binh, deputy head of the communal police bureau, said that crime is on the increase in various types such as theft, robbery, etc. Most of criminals come from other places.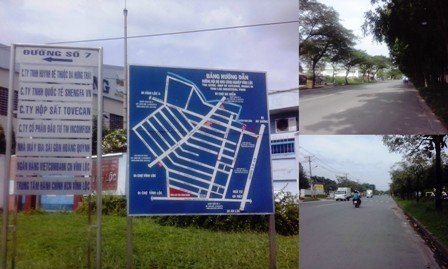 The quiet and interlaced internal roads in Vinh Loc Industrial Park are the areas where robbery occurs.
Vinh Loc A communes is more than 2,000ha in area. It has many routes running through Binh Tan, Hoc Mon and Tan Phu districts. The Vinh Loc Industrial Park is selected by many gangs because from here they can easily escape to other areas.
Vinh Loc Industrial Park has 6 guard stations outside but robbers often commit crime on inner roads, which are quiet and lack of light. Victims are workers who leave their factory after the night shift.
Recently, the district police bureau appointed Captain Nguyen Cong Dinh, former deputy chief of the criminal crime investigating team, as assistant police chief of Vinh Loc A commune to promote the fight against street crime. On the night of November 23, captain Dinh and his patrol team arrested a robber, who was said to have committed 12 robbery cases, using weapons.
In addition to the regular, semi-formal police forces and night-watchmen, who are divided into various patrol shifts--in early 2012 Vinh Loc A set up the team of anti-crime volunteers, with more than 10 members. This model works well, exploring many bandits in the area.
Another area, which is not just of interest by the HCM City police but also the Ministry of Public Security, is Linh Trung Ward, Thu Duc district. According to police, there are gangs of workers-robbers or students-robbers here because Linh Trung Ward is the home to the Linh Trung Export Processing Zone and the university village.
Linh Trung Ward also has dangerous roads, such as Highway 1A or Le Van Chi where many robberies were reported. Ms. Le Thi Yen, 40, a local, said that about 1-2 days, a robbery happened. Many people saw robbers riding on motorcycles with knives but they dared not to speak, for fear of being revenged.
In mid-2012, Linh Trung Ward authorities have set up a steering committee on fighting crime, with 15-member and led by the ward Party Secretary. Many grassroots models were also built with the desire to combat crime, especially street crime.
Reviewing the situation at the five wards where the pilot model against street crime was implemented, it is clear that the transformation in security is definitely not easy. It is hoped that the city police will find the new effective model in the prevention of street crime.
Dam De