VietNamNet Bridge - What are the usual tricks of robbers and how should people do to avoid becoming a victim?
Robbery on the streets of Saigon
The tactics of bandits
Related to the bandits that recently chopped the hand of a woman to rob her expensive scooter in District 2, Major Tran Van Hieu, deputy head of the police bureau of District 2, said the police initially found out the tricks that this gang used in their 15 robbery cases at night.
This bandit was led by Nguyen Van Luong, born in 1988, from the southern province of Ben Tre, who was arrested.
Major Hieu said this gang used to conduct robbery at night, on deserted suburban roads or on the bridges located in the junction areas of districts. When seeing the victim arrive a on motorbikes, they rushed and attacked them with a weapon to rob their assets.
Meanwhile, the bandit that used chopping-knives, and one which was arrested by Binh Chanh District police, used the similar tricks.
They targeted the victims who drive motorcycle alone at night, on deserted roads such as Ho Chi Minh City-Trung Luong highway, empty streets in Pham Van Hai commune, internal roads in Vinh Loc Industrial Park, etc.
Fortunately, in all 12 cases caused by this bandit, the robbers only pressed machetes to the neck of the victims, causing them to panic and leave, not stabbing them yet.
The other trick of Saigon bandits is "begging for money." The victims are young couples who date at quiet places.
Starting from "begging" for small amounts of money, these people have gradually become dangerous robbers, who are ready to kill the victims to rob their assets.
An old trick has become popular recently: arranging accidents or scene of jealousy to rob or steal vehicles, mobile phones and wallets.
A typical example is a gang led by a 20-year-old girl named Nguyen Phuong Ngoc, who was just arrested by the police.
At noon on November 29, they arranged three motorbike crashers to steal mobile phones of passers-by. But in the 3rd case they were arrested in District 1.
A woman named Huong usually arranged scenes of jealousy to facilitate her accomplices to assault and rob the victims.
The images of this woman have been spread on social networking sites by netizens to alert people.
What to do to combat street robbery?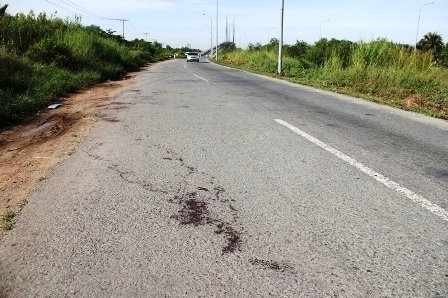 The road to Phu My Bridge, in the junction area of District 2 and District 7, where robbers chopped the hand of a woman to take her motorbike.
Lieutenant Colonel Vu Nhu Ha, deputy chief of the Office of Ho Chi Minh City Police Agency told VietNamNet that people should be wary of robbery on some places: deserted roads, roads inside industrial parks, roads under construction where having no residents and the area where have many foreigners.
The police and local authorities have also told people about the tricks of robbers and measures to prevent and avoid robbery, such as not wearing gold jewelry or talking on mobile phone on the road; if going out at night, people should travel in groups or to follow others on the same routes...
Saigonees have also been aware of street crime and taken measures to protect themselves.
Mr. Vu Minh Duc, 33, in District 6 said he usually chose crowded roads to run from his office in District 3 to his home in District 6. He also said to not carry large amounts of cash when he went out at night.
"If you encounter robbers, you should pull the motorbike key and run away for your safety," Duc said.
Mr. Ho Trung Tu, 42, from Thu Duc District told VietNamNet that once he traveled from Binh Duong province to HCM City, on Highway 13 at around 2am. He was stalked by four men, on two motorcycles. He immediately dropped into the police headquarters of Hiep Binh Phuoc Ward and stayed there for 30 minutes.
Ms. Tran Thi Nhu Nguyet, 29, from Binh Thanh District said that she was previously the victim of a group of two women and two men, who arranged the scene of jealously to steal her Iphone and her wallet on the Hanoi Highway, in District 2.
At that time she was so surprised and did not know how to handle it. The lesson she learned from it is to immediately shout "robbers! robbers!" to be supported by passers-by.
Dam De