VietNamNet Bridge – Street crime is now huge throughout Saigon, making people afraid whenever they go out. Why is street crime rampant?
Robbery on the streets of Saigon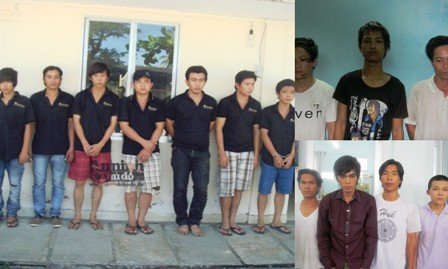 The robbers arrested by HCM City police.
The HCM City Police Agency confirmed that before Hanoi deployed the 141 taskforce against street crime, which works very effectively, HCM City had implemented an anti-street crime model, which has the coordination between different police forces. Yet, robbery has become rampant, with brutal tricks, making public outraged and feeling insecure. Is the street crime suppression model of HCM City limited or the city has not taken strong enough measures?
The following articles by VietNamNet aim to help people identify the tricks of Saigon's street criminals to defend themselves before the government takes strong measures to protect people.
Robbery is everywhere
At a press conference held in mid-November, a representative of Ho Chi Minh City Police, Colonel Vu Nhu Ha admitted to reporters that: robbery using a weapon appeared more in suburban districts; individually, robbery targeting commuters, tourists happened much in urban districts like 1, 3, 5, 10...
The evidence for the severity of street crime in the city is proved through specific statistics. In only 4 days of a local police's campaign against crime in November, the policy discovered 45 cases, including up to 40 robbery cases, or nearly 89 percent.
Recently, Ho Chi Minh City police have arrested many gangs that caused a series of robberies with cruel tricks.
The weapon used by Saigon's robbers.
Some typical cases include a robbery in District 2, with the robbers chopped off the hand of a woman to rob her expensive scooter; a gangs attacked couples in District 7 by knives; a gang used chopping-knives to rob in Binh Chanh district.
The latest serious robbery occurred on November 30. At 2:30 am, Mr. Nguyen Huu Chi (born 1990) and Ms. Luc Huyen Trang (born 1987) - employees of a restaurant on Nguyen Tri Phuong Street, Ward 8, District 10, Ho Chi Minh City, left the restaurant to come home.
They walked along Vo Van Kiet Avenue, the section passing Ward 13, District 5. Suddenly three men on a motorcycle blocked the couple and asked them to give VND150,000 ($70).
However, they did not have money. One robber picked up a rock on the sidewalk to beat to Chi's head then kicked the couple to the Tau Hu canal, which runs along the boulevard. Trang struggled to swim to the shore while Chi was drowned.
According to statistics on the security and order of the Ministry of Public Security, robbery occurs almost every day in Ho Chi Minh City. The common tactic of this type of crime is very wild. They are willing to attack the victims then taking their assets.
Robbery has long been considered a problem of HCM City and it is far more complicated. A lot of clips about robbery in Saigon have been posted on the Internet, show a very painful situation.
Why is street crime rampant?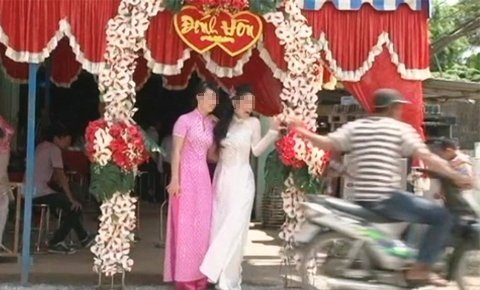 Blatant robbing a gold necklace of the bride in Binh Chanh district, Ho Chi Minh City in daylight and the robber was quite calm.
Recently, people have rumored about the criminals who use needles to rob at the 23/9 Park in District 1, targeting pedestrians at night.
Ms. Nguyen Thi Kim Khe, 35, living in District 4 but running a store in District 1, told VietNamNet that although she had not eye witnessed the robbery, but at the end of the day, she always left money in the store to go home with just VND50,000 ($2.5) in her pocket. Like so many others, Khe felt unsecure whenever she was on the street.
Answering VietNamNet about the increase of robbery, both in the number and the dangerous nature, a leader of the HCM City Police Agency said that as the city has a large number of immigrants, the local authorities cannot control the background of these people.
In economic difficulties, even some university students who cannot afford school fees become criminals.
A number of workers in industrial parks and export processing zones are fired and become street criminals.
Previously, when the crime situation became complicated, Ho Chi Minh City police re-established the task force to fight street crime.
However, district police leaders also lamented that this force is thin. Each district can only mobilize one team of 5-6 scouts to patrol the street.
A scout of the task force said that every night, his team goes to the street to detect suspected subjects to follow.
In a talk with VietNamNet's correspondents, robber Vu Huu Cuong (born 1993, from the central province of Thanh Hoa,), leader of a bandit that caused 12 robberies, who was arrested by Binh Chanh district police said: "I'm unlucky! That night I unfortunately met a patrol team of Vinh Loc A ward so I was arrested. Normally we chose deserted roads to organize quick robbery. Police could not easily catch us!"
Dam De