VietNamNet Bridge - Away from home, people from the poor countryside of Nam Dinh, Thai Binh and Thanh Hoa go to Ha Noi for a living. From one and two people, gradually the villages of migrant laborers have been formed amid the capital city.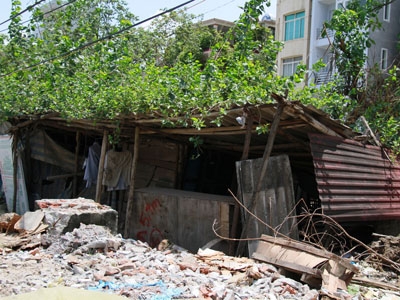 Temporary houses of concrete makers in Hoang Cau, Hanoi.

Exile after upheavals
When seeing Mr. Son, no one could say that he is a migrant worker in Hanoi. With white skin and petite figure, Son is more like a civil servant rather than a building worker who deals with bricks, concrete and steel all day.
Son is a resident of Giao Thuy district, Nam Dinh province who went to Hanoi a few years ago. He jointly rents a motel room in Phung Khoang, which is known as the village for migrant workers in Hanoi, with four relatives. They are poor men who have to exile to earn their living. They do any job, from digging foundations, pulling wagons, making concrete as long for "clean" money to send to their families in the countryside.
"We have to hang them up to not be bitten off by rats," Son said, pointing to the bags hanging from the middle of the room. These are bags of clothing and blankets. Son's room is next to a few apartment buildings in Phung Khoang. In contrary to the glamor of new apartment buildings are the dirty inns.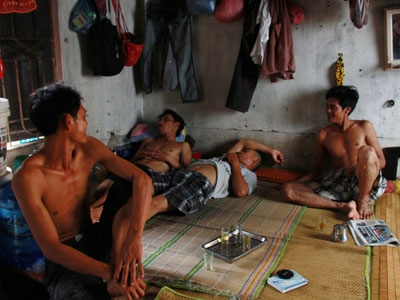 A room of migrant workers in Phung Khoang, Tu Liem district, Hanoi.   
The room is more than a dozen of meters in area, which is the living space of five men. Wood pieces are placed together, covering nearly the entire room, which is used as a bed and a dining-table. Above the "bed," clothes are hung off.
In the corner of the house is an old paper closet to store clothing. The opposite side is the angle for dishes, pans and pots. Several days ago, Son got a contract to dig foundations for a building project so he called his wife, his sister and some compatriots to Hanoi to do the task. The room, therefore, is more crowded.
To rent this room, the five men have to pay VND400,000-VND500,000 ($20-25) each. In addition, they also have to save money for food and medicine. "If we practice thrift well, each month we can save more than VND1 million ($50) to send to our family," said Thong, a member in the room.
Several days ago, Son's sister, named Lien, suffered from an accident at work. Her leg was dislocated so she had to stay at home. Lien took time to knit wool. She said, in her hometown, everyone including children does this job to earn extra money. She said her brother – Son is the most miserable man.
"A few years ago, when he was at home, his friends who did business asked him to borrow money and gold for them. Then, the friends incurred losses and they could not pay the debt. Son had had to pay the debt since then," Lien said.
According to Lien, the debt is up to several billion dong (hundreds of USD). He just waits for his friends to rethink and pay the debt; otherwise Son would have to be a migrant worker for the entire life.  
A few blocks away from Son's room is a "labor market." Taking advantage of the leisure after harvest time, many farmers from Thai Binh and Nam Dinh go to Hanoi to find a job. Every day, they stand in the street waiting for job. They are ready to do anything. To save money, they hire inns in groups.
Concrete hamlet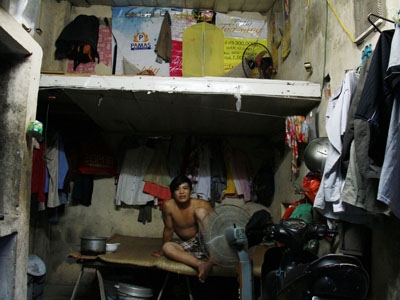 Pham Van Dong, a concrete worker in the "labor hamlet" in Hoang Cau, Hanoi.
Long ago, the area around Hoang Cau in Dong Da district has been known as the concrete hamlet because most of concrete makers live in this area. According to Pham Van Dong, a concrete worker, there are a few dozens of his "colleagues" live in this area.
Dong is very young but he has been a concrete worker for more than three years. He said his uncle was the first member in his family who went to Hanoi to do this job. He then bought a concrete mixer and invited Dong's two brothers to Hanoi to join him. After getting a high school diploma, Dong followed his brothers to become a concrete maker.
"At the beginning, my head skin was swollen. A few days later, the skin was peeled off, along with my hair. My neck was painful and I could not move my neck," Dong said. However, the pain only took place in the first weeks, and then the scalp became thicken and was not swollen anymore.
Dong said that he usually has to work at night. On average, to make concrete, each bag of cement goes with four baskets of sand and four baskets of stones. "One day I have to carry a hundred of baskets of construction materials," the young man said.
However, Dong said he can earn VND70,000 - VND100,000 ($3.5-5) per day from this job. "This job is not very hard in comparison with other jobs," Dong said.
Tien Phong