VietNamNet Bridge - International experience confirms that agricultural modernization always goes with the systematic concentration of land and the increase of the average land area of farmer households, and this trend will take place in Vietnam.
Where are people's interests in land acquisition?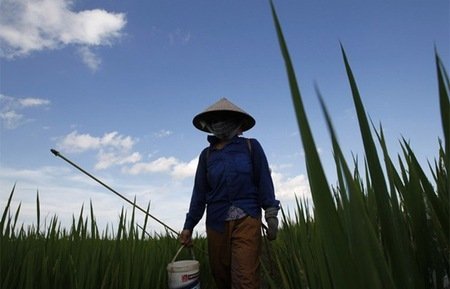 Land accumulation is said to be the basic way to improve agricultural productivity, income and to boost exports of agricultural products in a sustainable way.

Vietnam has 14.5 million farmer households, with nearly 70 million plots of field. The sizes of these plots of field vary and are generally small. Land dispersion in the north is more popular than in the south.

There are many documents referring to the disadvantage of land fragmentation. Land scatter hinders agricultural modernization; reduces the efficiency of resource use because people cannot take advantage of the economics of scale; increases production and marketing costs; makes it difficult for farmers to coordinate production with scattered plots of field; increases social costs in promoting land concentration. Land fragmentation also causes land waste for the building of field edge paths; wastes time for moving between field plots; and causes difficulties in shipping products.

There are many references that mention the benefits of concentration of land, including the ability to increase productivity through mechanization, labor productivity through the effective organization and monitoring of production, optimizing fixed capital; to reduce input costs per unit average (seed, fertilizer, etc.); and to increase transport efficiency.

The concentration of land also allows local governments to easily improve infrastructure for agriculture that have not been done previously because field plots were too small. The final advantage of land concentration is the large-scale production allowing the application of modern technology.

It should be noted that the disadvantages of land fragmentation and the benefits of land accumulation are related to financial and administrative aspects. We often ignore the views of farmers when it comes to this issue.

Why do farmers not realize the ineffectiveness and the cost of land fragmentation, and why do they not voluntarily reorganize their land? What prevents farmers who do small-scale production in the world from joining their neighbors to accumulate land to significantly reduce production costs and other expenses?

The short answer is land scatter does not seem to be a serious problem for farmers in Vietnam as well as in other countries who apply the model of small-scale agricultural production.

If the land is considered the basic properties of farmers, but farmers still persevere with land scatter, it means they still see the key benefits of land scatter in fact.

Part of a more complete answer to this problem is to land accumulation is only an advantage for farmers who have a lot of land (or groups of farmers participating in cooperatives), and have the financial ability to mechanize production.

Lack of capital to expand fields and implement mechanization are the causes for farmers who do small-scale production believe that land scatter is appropriate to their ability in increasing production, income and wealth with the set conditions for different soil quality, availability of resources other than land and limited tolerance to risk.

The third part of the answer is for farmers who apply small-scale production, the cost spent for unilateral efforts to accumulate land exceeds the benefits that they can gain in the future.

For farmer households, land fragmentation has many advantages. It helps level risks, allows access to land with many different farming characteristics (slope, orientation, location, type, fertility); allows product diversification; allows resources (especially labor) are distributed efficiently over time and activities; enhances the liquidity of land assets.

Although farmers can allocate land and resources in accordance with their circumstances, they can still be poor and face food insecurity. Problems arise from the lack of productive resources such as capital (including land), human resources, finance and necessary information. Thus, the lack of resources affects the welfare of rural households and impedes the development of the rural rather than land dispersion.

In Vietnam, land dispersion is derived from poverty (farmers could not afford to buy more fields), social pressure (After cooperatives were dissolved, land was distributed equally among the members of villages), and by cultivation methods (farmers choose to work on multiple plots of field to diversify production and reduce risk). The degree of land dispersion is also affected by the population pressure. Arable land per capita in Vietnam is only a little more than 1,000m2. This is one of the lowest numbers in the world.

Although land dispersion is detrimental to production, it does not highly affect soil productivity and this has been observed worldwide. Despite the high degree of land dispersion and fragmentation, agricultural land productivity and total production (rice, corn, livestock) of Vietnam have been increasing significantly.

However, the average income of farmers has increased relatively slow or not increased despite the aforementioned improvements. This is not related to the reorganization of land. Instead, the problem is that farmers generally cannot afford to finance additional production inputs, including land. Land accumulation for a country that is shortage of land as Vietnam cannot help farmers have more land.

Senior officials have tried to encourage the reduction of land scatter. The demand for land concentration has been raised and there are suggestions for action. Former Minister of Natural Resources and Environment said: "We will not be able to develop large-scale agricultural production with high competitiveness in the international economic integration process if we continue with small agricultural production. That is why the Party and Government urge land concentration."

This has been confirmed in a press release on November 2008: "At the November meeting of the Government, Prime Minister Nguyen Tan Dung confirmed: the Land Law will be amended to promote land concentration. The Budget Law will be also amended to increase investment in agricultural production, and farmer and rural development."

The common logic that we see in most of the field trips to provinces is that only big and well-organized landowners (including individuals, cooperatives, corporations) can have access to capital to implement mechanization. Other officials have argued that land concentration is necessary for widespread adoption of agro-processing technology and the commercialization of agriculture. Land concentration is also seen as a solution to increase employment.

Despite the emphasis on this issue, the government remains cautious. In the second half of the 1990s the government began to encourage voluntarily land accumulation to improve production efficiency. The Government avoids using administrative measures to force land concentration. To successfully implement land accumulation, three tasks must be done. Firstly, land must be concentrated, for example, the scattered fields must be been combined in a certain order. Secondly, field scale should be increased. Thirdly, farm households and farmers whose fields are acquired must have resettlement areas and new sources of income.

While the first two tasks are relatively easy for implementation by administrative measures (particularly through land recovery by the State), the third task will be much harder. Lands concentration, expanding production scale can have advantages in improving productivity, increasing exports. The downside of it is large numbers of farmers will lose land and they will have to struggle to adapt to new circumstances. More importantly, many farmers who have no land do not want to leave farming. In any form, lives and welfare of farmers who lose land will be also affected.

Because of these reasons, in Vietnam, the question is not whether land concentration is correct or not, but how to handle the social, economic, political consequences of programs of coercive concentration of land and expand production scale.

Such programs have to face questions like: Who will decide which land should be concentrated? Which criteria should be used? Who will benefit from this process and how? Who will lose and how much loss? How much more the government should compensate for farmers, especially those who lose all of their fields (life-changing and livelihood loss) to achieve the national target of increasing production, export expansion and modernization agriculture?

As being mentioned above, the Government has always been careful to avoid forcing the concentration of land through administrative measures. Some districts have been very successful in mobilizing people to voluntarily participate in land concentration to support mechanization or convert to pig and poultry farming. The support from the government for farms is pretty well. The objective is "proving economic efficiency, creating hundreds of thousands of jobs and making the most of land area and water surface, and contributing significantly to the country's integration process."

Data of the Ministry of Agriculture and Rural Development shows that by mid-2009, there were 150,102 farms across the country with an average area of 6 hectares. This number has increased to nearly 8,600 a year from 2000, and these farms employed approximately 510,000 employees in 2009.

The World Bank's analysis shows that when the expansion of land use rights in different legal documents has assisted land redistribution. The ability to hire, sell and/or transfer the land use right has helped farmers who operate least effectively sell their land or get out of agriculture. This allows farmers with higher production effectiveness to expand land and promote large-scale production. These changes are still modest but they have made certain impacts. One of them is the area of agricultural land per capita increases to over 1ha.

This positive development can only continue when the rest of the economy expands accordingly. Economic growth allows workers to have the opportunity to move out of the agricultural sector and create more primary resources in the agricultural sector to invest to increase productivity. Data analysis shows that the two processes are going on the right route in Vietnam.

Policy implication is that even without administrative intervention, but there are a lot of positive adjustment in land concentration has taken place. Currently, agricultural production and exports continue to grow thanks to farmers adjusting production mode, switching to more profitable activities, improving farming and land management skills, making good use of information and opportunities on the market. This allows farmers rationalize the existing land area through voluntary land concentration and under market signals. The government should continue to support this trend.

Ho Dang Hoa Le Thi Quynh Tram, Pham Duy Nghia and Malcolm F. McPherson