VietNamNet Bridge - The name of Nguyen Ngoc Ky has become a typical example of overcoming difficulties in Vietnam in the 60-70s. Ky can be compared to the world well-known British physicist Stephan Hawking.

"Secrets" about extraordinary man Nguyen Ngoc Ky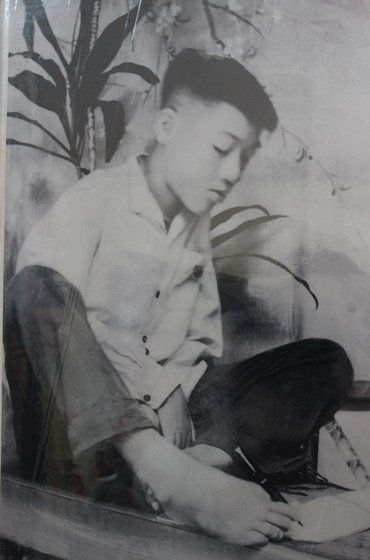 Teacher Ky said:
"I still remember the morning that I woke up after illness. I was 4 years old that year. I walked out to the yard. My mother gave me an orange. I put my hand to hold it but it was very weird, my arm could not move.
I tried to raise my hands to get the orange but they did not listen to my command. No matter how I tried, they were still dangling.
I burst out crying. My mother hugged me. After that I knew that my mother cried more than me.
Many times I found her crying. Seeing me, she hastily wiped tears, hugging me tightly. Her eyes were red.
Sometimes, she lost her control and sobbed: "Son, your if parents die, what will you do to live, huh?"
Mother's tears fell down my shoulders. I choked to cry. I wanted to hold my mum but my arms kept hanging down.
My mum held and hugged my arms: "Oh, how my child's arms are like this? If I am guilty, let me suffer it, please give my child's healed arm, let me be paralyzed!"
At that time, I craved for embracing my mother as previously, or taking her hand. But my arms did not understand my heart. Helplessly, I rubbed my head on her lap; her tears wet my hair. I and my mum cried together for a long time.
That night, during the dinner, my mum said: "I'm going to give the eldest daughter a few acres of land. You have to take care of your brother in the future. If you get married, you have to still take care of your brother."
There was an astrologist near my house. He came to see me and told my mother: "Ky is paralyzed his both arms but he will become a good person. He will have a bigger house than yours!"
My mum uttered: "Oh dear, normal people cannot be sure about their future, let alone my son with two paralyzed arms. I just hope that his sister to take care of him after I die!"
The astrologist said: "He will help his sister in the future!" Anyone who knew this story laughed because they thought that the astrologist just comforted and encouraged me and my mom."
Teacher Ky stopped telling that old story. Then we continued talking about his school age.
How did you start studying with two paralyzed arms?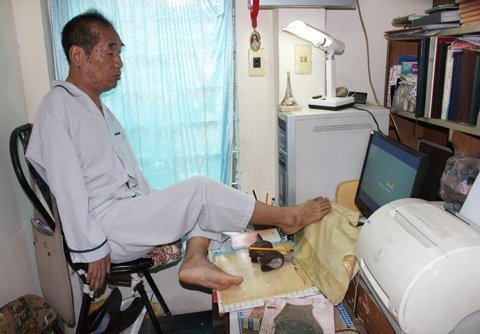 The school was close to my home. Seeing my friends going to school, I was very sad. Every morning I stood at the door of my friends' class to see them. They turned looking at me so the teacher drove me away because "the class was distracted!"
I stood a little far from the class to see my friends studying. Then the teacher let me enter the class. After school, he took me home and told my mum: "You should keep him at home, please don't let him go to class. My students are distracted by him."
I was very sad. I stayed at home and used my foot to keep pieces of brick and coal to write on the yard. Some people saw my effort and said: "Oh, I've never seen anyone who can write by feet. Please stop wasting your time!"...
Were you frustrated?
No! Prior to that, when I was abandoned from the class, I was sad and wandered in the garden where I saw a bird carry food with its beak. I mimicked it to write by my mouth but I could not.
I thought the other way. Once I saw a chicken used its legs to scratch garbage for food. I discovered that I could use my foot to write. So I practiced writing by my foot.
Unlike other kids, I did not start from the letter A. Initially, I had to use different positions to write. I bathed in sweat to be able to write letter O then V; later to other letters.
After write letters on the yard by brick, I moved to write letter by pencil on papers. Then I tried to draw lines and boxes by ruler and draw circles with a compass. For normal people, this is very simple but to me it was torture.
Could you go to school when you were able to write?
It was not so simple. At first because of the respect for my family, a teacher allowed me to attend her class, but she stated that I could not study!
But my perseverance, patience shook my teacher. She allowed me to join other students. I demonstrated that the foot can replace hands for writing, drawing, rotating the compass, doing craft tasks, folding paper boats and birds, etc.
In my free time, I made bird cages, which were always better than those of my friends.
By the will, energy and patience, you graduated from a college, how iwas it?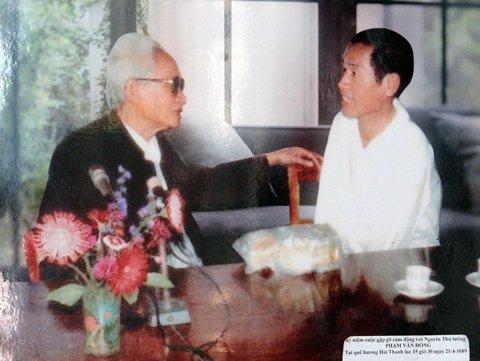 Teacher Ky met with PM Pham Van Dong.
I was good at math. When I was a 7-grade student, I was selected for the math competition for gifted students of the northern region in 1963. Uncle Ho presented me a badge. In the high school, I still studied well.
Once, the teacher gave me the book "How the Steel Was Tempered" by Russian writer Ostrovsky. I read and loved the character Paven Corsaghin so much. I dream of becoming a writer or a poet.
Character Paven Corsaghin inspired me a lot with his sacrifice for his ideal, the dare to live with all the energy of heart, overcome adversity to live a meaning life.
I entered the college with the dream to rewrite my life. The book "The unforgettable years" was written when I was a student.
Being graduated from the University of Hanoi, in 1971 my book was printed with the title "I go to school." It was a big success and it was great encouragement for my next step.
This book was reprinted dozens of times. Once in Haiphong, I was very moved when an audience gave me the book "I go to school," published in 1975. The book has the words of a father before he went on the battlefield : "Only a few minutes I will cross the 17th parallel to the B battlefield. I present this book to you. I hope you will pass yourself as character Nguyen Ngoc Ky."
At that time, graduating from the University of Hanoi, the Literature Faculty, was very impressive, why did you choose to become a teacher?
Indeed, at first I did not choose that profession. Prime Minister Pham Van Dong invited me to meet him. He talked with and encouraged me a lot.
The Prime Minister advised me to become a teacher to teach children overcoming all obstacles and difficulties, contributing to the reunification of the country and I should get married, if necessary, the Prime Minister would be a matchmaker. I only got the advice to become a teacher!
If you had a chance to choose your job again, would you have still chosen the teaching profession again?
Yes! I discovered a lot of great things about this job though now I have new "career" as a writer and consultant. Thanks to the teaching job that I could realize my dreams, my ambitions, and contribute more to society!
Duy Chien