VietNamNet Bridge – While waiting for a visa to go to South Korea with their husbands, a lot of brides in the Mekong Delta have undergone an intensive training course of three days to become good wives.

Women's Union leader acts as woman seeking a foreign husband
Ruralgirls marry foreign men for filial duty
Brideruns away at midnight because of 'sexual violence'
Tricks to turn Mekong Delta girls into overseas prostitutes
Obsessed 'hell' of southwestern girls

Express training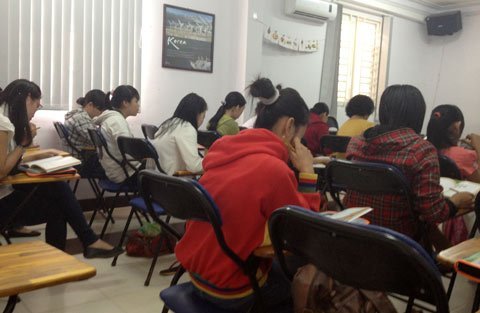 Each class has 25 trainees.
Intensive training classes are held in the city of Can Tho, reserved for women who marry to Korean men.
Each class has 25 trainees. The brides will spend three days to learn about the situation of Vietnamese women who get married with foreign men, everything that they need to know when they get married and a few points to note when they live abroad. These documents are compiled by the Can Tho City Women's Union.
In addition, the course also provides Vietnamese brides with the overview of South Korea, including the culture, food, clothing, communications, and how to care for their husbands and children.
However, as most of Vietnamese brides finish grades 9, 10, and 11, it makes difficult for Vietnamese brides to approach a new culture.
When being asked, they told VietNamNet's reporters that everything they knew about South Korea is from movies.
The class also provides telephone numbers for emergency calls and support services for Vietnamese brides in case they face bad circumstances in Korea.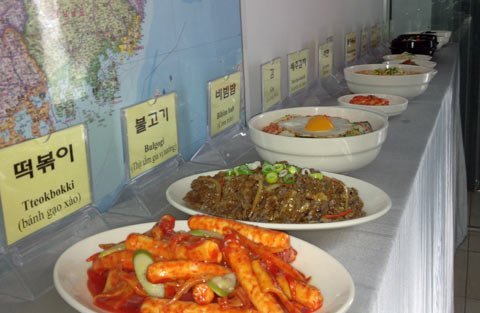 Korean food culture is part of the basic lessons for Vietnamese brides.
Also in the lecture, teacher Trinh Luong Hoang told a story: "There are women who went abroad with their foreign husbands but they called home, cried and asked their families to bring them back home. After asking their husbands, it turned out that the women left their home to follow other men. Specifically, their ex-boyfriends went to Korea as workers, they met again and resumed their relationship and the Korean husbands detected their affairs."
Through this story, the lecturer gave a warning to women who were about to go to Korea that they must be careful because all the guarantees for themselves abroad is only their husbands.
Intensive marriages
Many brides said that everything was conducted by matchmakers and the time was only from 3 to 5 days for meeting with and marrying to their foreign husbands.
After the wedding, Korean men return home. Their Vietnamese brides still stay in Vietnam waiting for the visa and go to Korea later.
Bride H.T.M.T., 20, in Can Tho City, married Oh To Jin, 42, said that she got married a Korean man because she loved Korea, a developed country, and Korean people. She also loved the tradition of Korean people in maintaining families of several generations.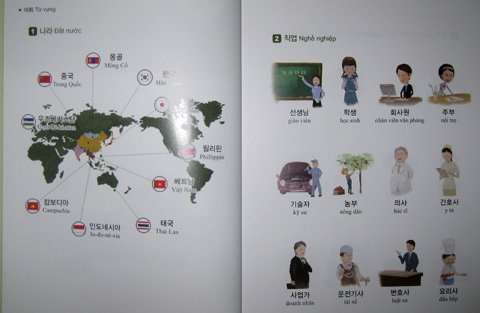 One of the lessons of greeting and introduction.
Furthermore, marrying a man whose age is higher than hers is not a matter because he has a lot of experience and knows how to care for life, T said.
"They have money so they come to our country to get married. When the economic life is good, then I think we will have conditions to care for our family and our children," she added.
"It is not true that I do not want to get married with Vietnamese men, but seeing many boys of my age to drink coffee every morning, afternoon and evening, I'm tired of that scene," she said.
"I decided to get married with a foreign man. The country that I love is Korea. I think I will be a good wife because I'm eager to learn," T said very confidently after two months of marrying a Korean man.
A woman named N.T.K.T., 22, from Hau Giang, married Lee Kyeong Ho, 47. They knew each other for three days before their wedding. The husband is only two years younger than her father.
T said: "I left school when I was a 9th grader to become a tailor. I dreamed of marrying a Korean for a long time. The age does not a matter. I just want to build a happy family."
In a talk with VietNamNet, Mr. Won Sun A, representative of a training center for Vietnamese brides who marry Korean men, in the Mekong Delta, said: "Most of the brides here find their husbands through brokers (illegal). In Korea, there are marriage brokers, and each man has to pay from $10,000 to $15,000 to brokerage services."
Korean men choose to get married to Vietnamese women because of the similarity in culture. Vietnamese women are capable and meet the aspirations of many Korean men.
The center in Can Tho opened in October 2011 and so far it has trained over 1,000 Vietnamese brides, Won Sun A said.
According to the Can Tho City Women's Union, from 1997 to 2007, Vietnam had 180,000 women marrying to foreigners from more than 50 countries and territories. Of these, 38 percent married to Chinese, 29 percent to Taiwanese, and 8 percent married to South Korean.  
From 2002 to 2010, about 40,000 Vietnamese women married to Korean, mainly in the Mekong Delta provinces of Dong Thap, Bac Lieu, Can Tho, Ca Mau, Ben Tre, Hau Giang, accounting for 79 percent of the total.
Quoc Huy