VietNamNet Bridge – Meeting with VietNamNet's reporters at the police station of Ben Thanh Ward, District 1, Ho Chi Minh City, Singaporean tourist Melissa Koh, 34, said in Vietnamese with a slight accent: "So fast ...! so daredevil! ... ". She then turned to two security guards at the Ben Thanh Market to continuously say "thank you."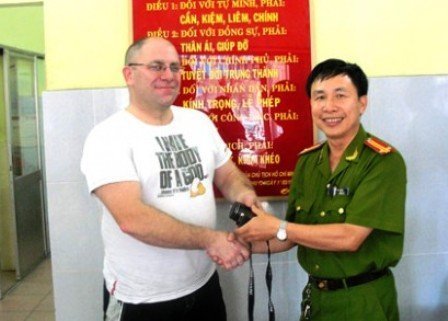 A foreign tourist takes back his camera that was robbed at the police
station of District 1, Ho Chi Minh City.
Robbery targeting foreign tourists
Melissa said that she walked to see the streets of Saigon in late afternoon. Upon arrival at the intersection of Le Thanh Ton - Phan Boi Chau in Ben Thanh Ward, District 1, a young man driving a motorcycle unexpectedly came from behind to jerk away her wallet, with a cell phone, VND800,000 ($40), US$80, two credit cards, etc. and sped up to escape.
Hearing Melissa's scream for help, two security guards at the Ben Thanh market - Nguyen Van Phu and Do Tran Thanh Binh - immediately chased the robber.
The two guards promptly caught, controlled the robber and transferred him to the police. At the police station, he admitted himself as Chau Tan Hoa, 35, from District 10.
Upon receipt of the property, Melissa Koh was very happy and constantly embarked thank the two security guards of Ben Thanh Market.
However, lucky victims like Melissa are not many, especially when robbery targeting foreign tourists occurs very often in the center of Ho Chi Minh City.
An urban inspector of District 1 who guards at the 23/9 park told VietNamNet reporters that at the intersection of Pham Hong Thai - Truong Dinh - Le Lai, robbery against foreign tourists occur everyday.
Previously, many foreign tourists were robbed when they got out of the Ben Thanh Market. Recently, the guard and volunteer forces at the market has been strengthened, robbery at this are has been curbed remarkably.
However, when visitors leaving Ben Thanh Market area to the roads like Tran Hung Dao, Pham Ngu Lao, Nguyen Hue, they immediately become victims of robbery.
Another typical case that VietNamNet reported before is the case of Yan Kit Kay and Ka Kei Doris, 24, from Hong Kong whose assets were robbed at night in December 2011 on a street in Binh Thanh District.
Their tragedy caused a stir among the public opinion when they were penniless and lost their personal documents. The couple had to stay with some good-hearted people and sell postcards on Pham Ngu Lao Street to survive and to earn money to return home.
People and control a robber on the street of Saigon.
Finally, the two were lucky to get back their personal papers to return home. Before leaving Vietnam, Yan Kit Kay told reporters: "I have been to many countries, but I have to say that robbery in HCM City is too terrible!"
Not only aiming at foreign tourists in the hub of Ho Chi Minh City, local people are also victims of robbery.
Ho Chi Minh City police have arrested many robbery gangs but local people are still very frightened when they go out at night.
Tricks of robbers
According to a report of the HCM City Police Agency at the recent meeting to review anti-crime against foreigners in the central area of Ho Chi Minh City, on average, there are about 20 cases of assets infringement related to foreigners, including 16 cases of robbery.
However, this is only the number of cases that the police was reported by the victims.
Anh Tuan, a guard at the parking lot at Nguyen Trung Truc - Le Thanh Ton intersection, District 1, said that robbery against tourists usually occurs at dusk. Robbers usually go in pair, sometimes alone. They use motorbikes to approach the victim to snatch their handbags, necklaces, cell phones, etc. then run away.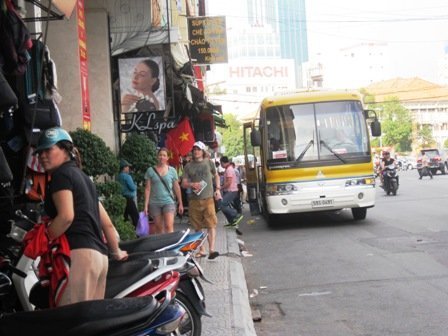 Pham Hong Thai - Le Lai intersection in District 1, where many foreign
tourists were robbed.
Many volunteers told VietNamNet that robbers use various tricks to rob foreigners.
Specifically, a number of criminals stand around tourist attractions like the Notre Dame Cathedral, Nguyen Hue roundabout, 23/9 Park, in front of shopping malls to snatch cameras in the hands of foreign visitors and then run away with their accomplices who wait on a motorcycle.
In some cases, travelers place their camera in a fixed position to use the automatic mode; robbers snatch the camera and run away.
But the most popular trick is snatching bags, necklaces and cell phones of foreigners who are walking on the road. There are some cases that the victim resisted robbers and they were assaulted by robbers.
Talking with VietNamNet, "street knight" Nguyen Van Minh Tien, who caught many robbers, and reconnaissance policemen of the HCM City special task forces said that there are three ways to recognize robbers.
The first type: they do not drive much, only stand on the sidewalk pretending to buy food and drinks or read books but actually they observe victims.
The second type: they often drive on the road to find victims.
The third type: they disguise themselves as very smart people. They do not stare at their prey, they just glance and rob if their victims are careless.
Most of robbers in the heart of Ho Chi Minh City belong to the third category, which is very difficult to detect.
Notably, when arresting these robbers, the police seized a lot of weapons such as teargas sprayers, iron tube, knives, electric clubs, etc. from them, which they claimed to use for "self defense." However, when they are resisted by the victims, they reveal as extremely dangerous robbers.
Some robbers are also drug addicts. According to the police's statistics, of 10 arrests, up to 7-8 robbers are drug addicts.
Dam De - Nguyen Oanh