VietNamNet Bridge - In recent time in Ho Chi Minh City there were several cases of robbery in which the robbers fiercely assaulted, injured and even stabbed to death victims, and also policemen who chased them. This shows that robbery has become a big problem in Vietnam's biggest city, which can make the city appear worse in the eyes of international friends.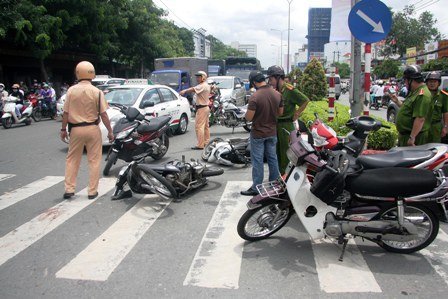 Robbery on the street - potentially danger for passers-by.
HCM City authorities have brought this problem to discussion many times but robbery is still rampant and a big concern of local people.
VietNamNet would like to introduce a series of reports reflecting the status of robbery in HCM City and the opinion of people who have experience with it: street knights, police officers, etc. with the hope to alert people every time they go out and when they face robbers.
Laptops – the most favorite target of robbers
The latest robbery case in HCM City occurred in the morning of September 17 at the intersection of Cong Hoa - Hoang Hoa Tham in Tan Binh District. Robber Cao Xuan Lap, 28, was arrested and charged with robbery and murder.  
Lap confessed that he was an electronic repairer but this job was unstable. Lacking of money, in the morning of September 17, he drove a motorcycle to the street to rob, targeting people with laptops.
Running around many roads, on Cong Hoa Road, Lap discovered Mr. Hoang Ngoc Tri, 22, carrying his girlfriend on his motorbike, with a laptop hung in the front of the vehicle. Lap pulled the laptop bag. Tri shouted for help and chased after Lap with other people. Lap stabbed Tri to death and seriously injured a police officer.  
According to HCM City police, arrested robbers declared that they "favored" of robbing laptops. These robbers aimed at office employees who take laptops to and from their offices.
Not very long ago, Mr. Vo Minh Phong and his wife Dinh Ngoc Quynh Nhu, reporters of HCM City Law Newspaper, lost their laptop, camera and other assets in a robbery case at 8am, on their way to office.  
In mid-August, District 9 Police Bureau prosecuted two men - Le Van Tinh, 20, and Dang Nhu Y, 19 for robbery and murder.
The two robbers confessed that they liked robbing laptops on Hanoi Highway because in the morning, this road is very crowded and many people carry laptop bags but they are rather subjective and careless.
Tinh and Y declared that to prepare for robbing laptop bags, they also took sharp scissors with them. Whenever they saw people would carry bags with straps they would come from behind, quickly cut the strap, grabbed the bag and speed up to escape.
In several hours in a morning, these men successfully robbed three laptop bags on the road. In the 3rd robbery, they were chased by the victims, the people and the police so they used knives to attack these people. They even pulled a gun from a policeman to oppose fiercely, injuring two passers-by and two policemen.  
Why do robbers become murders?
Lieutenant Colonel Trinh Van Sam, head of the investigating police team for social order crimes, District 9 Police Bureau, said that in general, robbers are usually reckless and are ready to injure those who chase after them.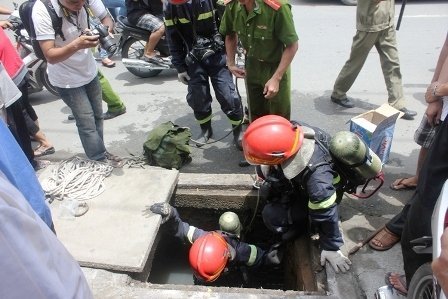 Police officers get into drains to hunt a robber in District 9, Ho Chi Minh City.
Sam said that when they were arrested, all robbers declared that they did not intentionally kill people. They just wanted to "open the blood way" to escape.
VietNamNet's reporters had met with robbers when they had just arrested by the police. Most of them had criminal records but whenever they got out of jail, they continued robbery.
It seems that robbers clearly understand the law. They know that this crime is only sentenced for a few years in jail.
They are also very confident in their driving ability. Whenever they identify the prey, they are ready to rob, regardless of how busy streets are.  
A reconnaissance policeman in HCM City explained that when they are hunted, criminals frantically resist escaping, especially criminals who carry weapons.  
"Once facing this type of crime, it is the best to coordinate with others to chase them, try to disarm them, in order to minimize casualties to the people," the police officer said.
Dam De- Nguyen Oanh
To be continued...