VietNamNet Bridge – "I only wish to preserve the soul of letters. All titles are meaningless to me," said Mr. Duong Van Ngo, 82, the most senior and the last public letter-writer in Vietnam.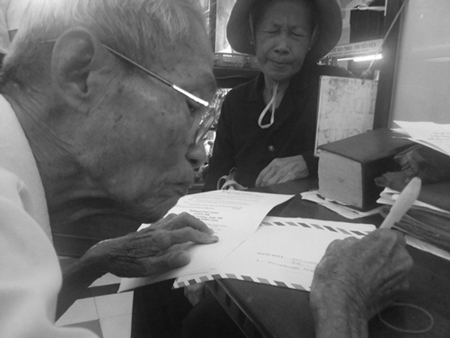 At the age of 82, Ngo still works as a writer letter at the HCM City Post Office in District 1, HCM City. One will easily recognize this man when he/she enters the hall of the post office: a small man with white hair, who wears a short-sleeved white shirt and very thick glasses. He holds a magnifier to look up in a dictionary in one hand and slowly writes by another hand.
 
When I came, Ngo was writing a letter in French. This was a mother's letter to her son's family in France. The mother asked Ngo to write it in French so her daughter-in-law could understand.

After writing the letter, he read it out in Vietnamese for the customer's check. The woman gave him VND50,000 ($2.5) but he only received VND10,000 ($0.5).

"This is a simple task, VND10,000 is enough," Ngo told the woman.

Another woman approached to ask Ngo to write down the address of her son in Australia on an envelope. Ngo told the woman to call her son to get his accurate address. He also advised her to note her son's cell phone number on the envelope.

After Ngo helped two other customers, I could talk to him. "I don't want to stay at home. It is happy to see people here. Perhaps writing letter is my destiny," he said.

Ngo usually works from 8am to 4pm, from Monday through Friday. It takes him 20 minutes to pedal from his home in Thi Nghe to the post office.

"I finish my job on daily basis because I'm not sure whether I'm healthy enough to continue my job tomorrow," Ngo said.

In the past 50 years, Ngo has written tens of thousands of letters, which were sent to many countries in the world. His letters connected love between a thousand couples.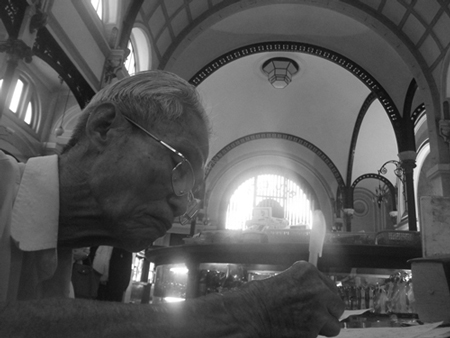 His letters helped people to search for their relatives. A mother in Binh Phuoc province found her missing son in France thanks to Ngo's letters. The mother and her son sometimes visited Ngo at the post office.

Ngo's principle is working punctually, responsibly. He has never written letters with contents that could raise hate. He always asked customers to note addresses of the sender and the receiver on the envelope as well as stick stamps at the right place.

Another principle is immediately forgetting customers' information and contents of their letters.

Ngo told me about his life by his warm voice. He was born on March 3, 1930 in a Chinese-origin family. He studied at Petrus Ky high school and became an employee of the Hanoi Post Office. He is fluent at French and English.

"After going on retirement, I and several others asked the post office's permission to work as public letter writers at the hall. Most of letter writers died, except for me and a 90-year-old man. I would try to do this job until I'm unable to do it," Ngo said.

"I do this job to firstly serve people and secondly to make international friends to have sympathetic look at Vietnam," he added.

For that reason, though Ngo was old and he was tired, he always smiled, talked to and took photo with foreign visitors. The HCM City Post Office still attracts tourists thanks to Ngo's presence.

Ngo said many local and foreign reporters wrote about him but some newspapers overstated about his life. He did not complain, only circled the wrong information. He showed me a wad of old newspapers of Vietnam, Germany, Japanese, and America that wrote about him.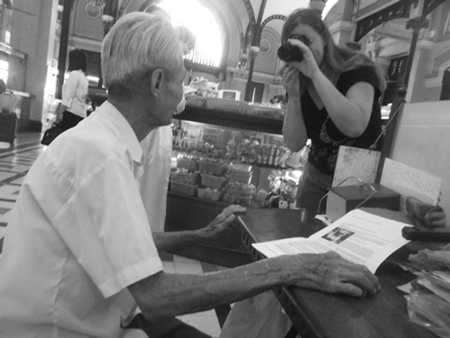 Ngo was very proud of being a character in these articles. Each article told a different story about him.

"This story is written by Ms. Thanh Truc, a Vietnamese correspondent of an American newspaper. She very politely interviewed on the phone."

"I remember Ms. Tran Hai, an overseas Vietnamese in the US, the most. He cut this article from a newspaper in Europe to send it to me."

There are many other things on his desk: the certificate of Vietnamese record for the most senior public letter writer in Vietnam and thank-you letters, postcards from many countries. These are his precious things and the biggest motive of his job.

In the last 50 years, Ngo has been diligent with this job. It is known that his family is facing many difficulties. His daughter is a mental patient while he suffers from high blood pressure. He does not have pension or social welfare.

Before saying goodbye, he said: "The youth are not interested in hand-written letters because they have computers and 3G cell phones. These things are emotionless. You have to write manually to improve your personality and man's heart. I'm afraid that nobody will remember hand-written letters in the near future. I only wish to preserve the soul of letters. All titles are meaningless to me…"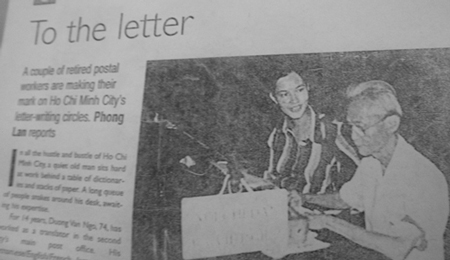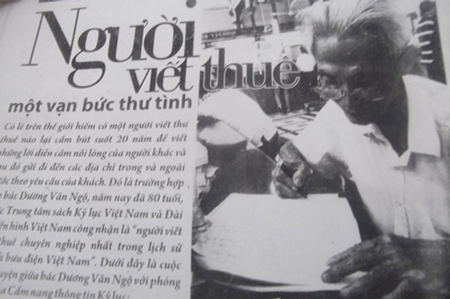 Mr. Ngo on newspapers.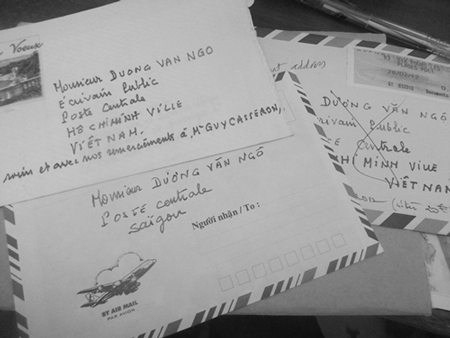 Thank-you letter to Mr. Ngo.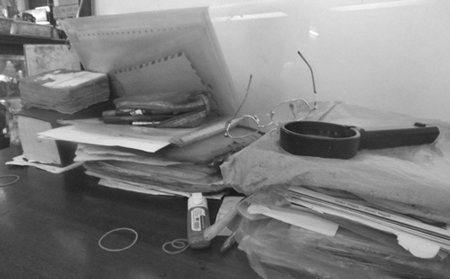 Ngo's belo ngings: two old dictionaries, a magnifier, several pens, etc.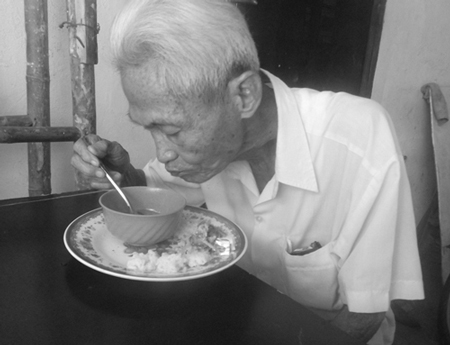 Mr. Ngo's simple lunch.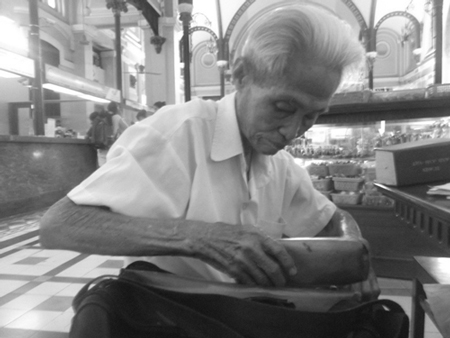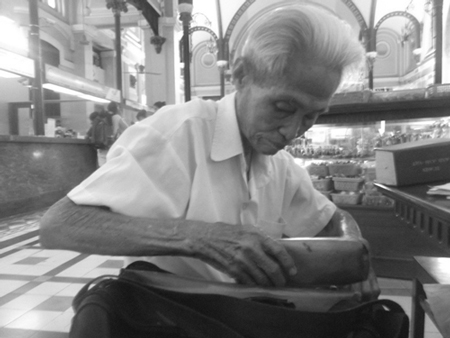 Mr. Ngo finishes his workday.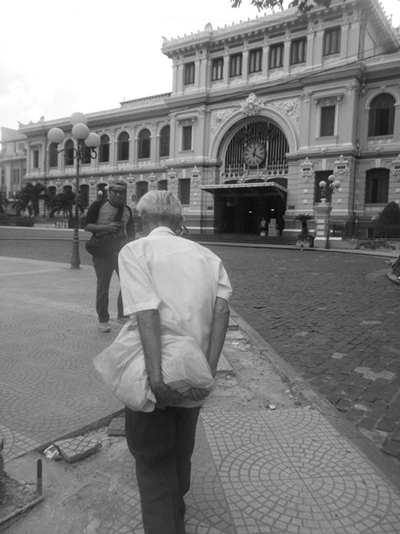 On the way home.
Compiled by P. Linh (Infonet)