Every week, a group of people with disabilities, poor kids and orphans gather in the front yard of a social centre in HCM City's Bình Tân District, laughing, playing and getting ready for their taekwondo class.
A taekwondo club for orphans, poor children and people with disabilities is held every Tuesday, Thursday and Saturday in HCM City's Bình Tân District. 
Phan Thị Hoàng Dung, a former taekwondo instructor, opened the club seven years ago with the help of Master Michael Sirota, principal of Sirota's Alchymy, a Canadian-based school that teaches martial arts and life skills.
Dung teaches the students for free and runs the club with the help of her former students who are now black belts in taekwondo.
Each class is accompanied by students' lively shouts as they spar with each other and practise punches and kicks.
"I wanted to create something that fits my career. I have a passion for teaching martial arts and working with kids," says Dung as she prepares to address her class."I wanted to devote my time and energy to create a place for kids to hang out, where they can feel like their childhood is not lacking."
"I also wanted to help people with disabilities, wheelchair users, and students with autism."
In the past, Master Sirota provided sponsorship and sporting gear but the club is no longer part of any organisation.
Initially, Dung's class, which is held on Tuesdays, Thursdays and Saturdays, started with 20 people, but has grown to 40 orphans and poor kids, and six people with disabilities.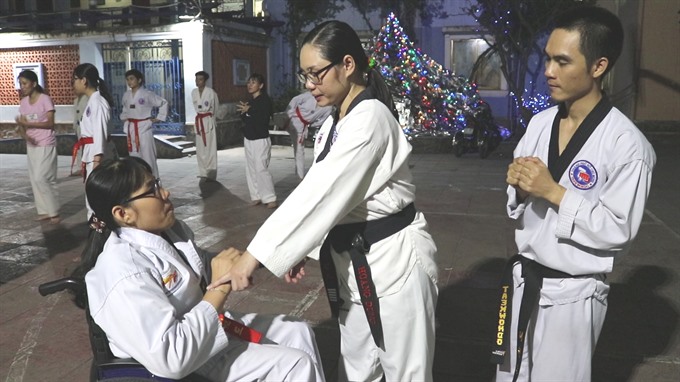 Phan Thị Hoàng Dung, a taekwondo instructor, helps Võ Thị Phương with self-defence techniques. 

Most of her students are from The Village Chance, one of three centres of Maison Chance, a non-governmental organisation that provides housing, healthcare and vocational training for orphans, street children, the disadvantaged, and the physically handicapped in Việt Nam.
Information about the club has spread mostly through word of mouth, especially within The Village Chance where the class takes place.
The front yard is also a great area for kids to hang out and wait for parents to pick up them after their usual daytime classes at The Village Chance. 
Trương Phạm Minh Thư, an orphan who has been in the class for nearly three years, says she like spending time with her peers and they get along with each other well.
She says she has a chance to learn self-defence techniques, and that the instructors are kind and meticulous in their teaching.
Huỳnh Văn Giàu, a 27-year-old who suffers from an intellectual disability, says the class is always full of energy, with nice, hard-working students and enthusiastic coaches.
Dung, who was formerly with the Việt Nam Taekwondo Federation, says she has had experience with different forms of taekwondo practices used around the world.
Việt Nam has para-taekwondo (adapted to athletes with disability) classes, but the practice is not as well developed as in other countries, according to Dung.
Overcoming hardship
In recent years, Dung has helped more and more people become members of her class. At first, many were shy or discouraged from taking the class, and some had even heard uncharitable comments about their desire to learn martial arts.
Motivating them, is a long and hard process, so Dung is pleased that they have stayed with the class for a long time.
"Their disabilities harm their back muscles. Sitting up straight is difficult for them. We can stabilise our backs as we punch, but it's hard for them to maintain balance since their backs are weak. It looks easy to us, but to keep their balance, they have to practise really hard," says Dung as she helps wheelchair-bound students practise their punches.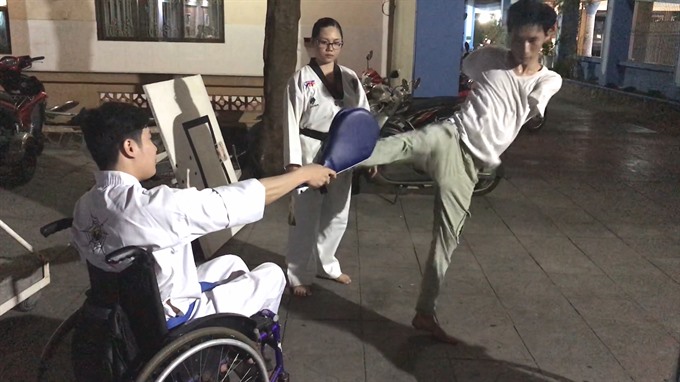 Trần Anh Sang practises his kicks.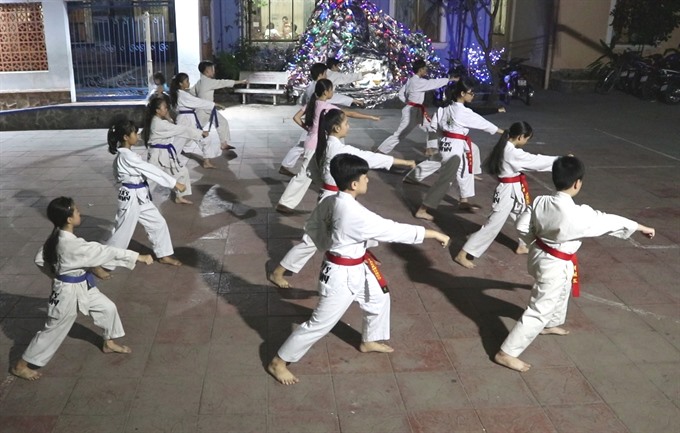 Children practise for a taekwondo performance. 
Võ Thị Phương, who has been taking the class for around five years and has taken part in taekwondo performances, says the class has boosted her confidence and improved her health.
Phương, who uses a wheelchair, says she was "very moved by Dung's effort" to create a special exercise plan for her.
Trương Thị Vân Anh and Nguyễn Hoàng Ril, two other wheelchair users, say the class is like a second home, a fun and relaxing place to be. They also love spending time with the kids there after a long day of hard work.
Trần Anh Sang, whose arms were amputated after an accident, says that before he began taking the class everyday activities were challenging and his limbs were stiff, but now he feels that his health has improved and daily activities are now easier to do.
"I feel more energetic, and I can walk anywhere I want, which I could not do after my accident," Sang says while practising stances and kicks. 
As her students continue to practise throughout the evening for an upcoming performance, Dung, who is married and has one daughter, notes that each person with a disability has their own characteristics.
"So, fully understanding them is necessary to create an appropriate lesson plan. To teach them requires effort, but the most important factor is their determination to succeed and the love the instructors and students show to one another." — VNS