VietNamNet Bridge - Strengthening food security and sustainable agriculture, and responding to climate change is one of the priorities given by the host Vietnam in APEC Year 2017.

Great challenges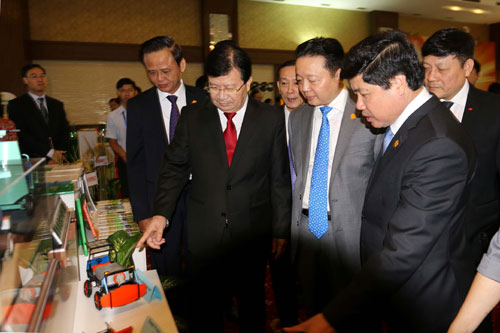 Deputy Prime Minister Trinh Dinh Dung visits the APEC Exhibition on New Food Products and Technologies in Agriculture.
In the context of the world's population being projected to increase from 7.2 billion today to 9.6 billion by 2050, to meet the food demand at that time, global food production will have to increase by 70%.

For the APEC region, which now accounts for about 40% of the world population, although the proportion of people with food shortages fell to 24% between 1990 and 2006, the latest studies show that adequate food security for people is still a big problem for most member economies.

The main cause is that the Asia-Pacific region regularly faces catastrophic natural disasters that can cause crop failure or disruption of food supplies. Official statistics show that the region suffers from 70% of natural disasters in the world.

Thus, ensuring enough food for all people is one of the major challenges faced by many APEC member economies.

Priority themes of APEC 2017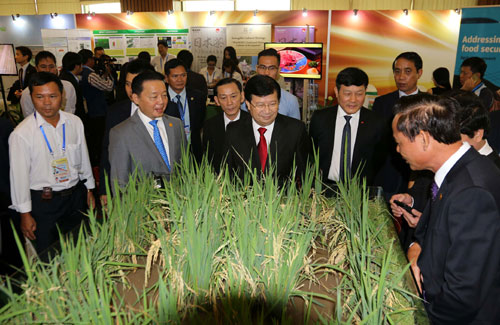 Deputy Prime Minister Trinh Dinh Dung visits the APEC Exhibition on New Food Products and Technologies in Agriculture.
In recent years, cooperation to ensure food security has always been highlighted in APEC activities. APEC Ministers affirmed that APEC plays an important role in improving regional food security as a major forum for economic cooperation in the Asia-Pacific region and the world. 
Accordingly, APEC economies have proposed and successfully implemented many food security initiatives. For example, in October 2010, APEC ministers in charge of food security met for the first time in Niigata (Japan) and adopted the first comprehensive APEC plan to pushing efforts to ensure sustainable food security in the region. Since then, APEC ministers on food security have met every two years. At each meeting, APEC ministers adopted new action plans on food security.
This year, although the APEC Ministerial Meeting on Food Security was not organized, Vietnam as the host has chosen "promoting sustainable food security and agriculture, adapting to climate change" as one of four priority themes to help APEC economies respond more effectively to the increasingly severe impact of climate change.
To concretize this priority topic, at the Policy Partnership for Food Security (PPFS) forum in Nha Trang in February 2017, the Vietnamese Ministry of Agriculture and Rural Development (MARD) launched three initiatives: Action Plan for the Implementation of the APEC Food Security and Climate Change Program; Declaration of Can Tho on enhancing sustainable development and food security in response to climate change; and Action Plan for the Implementation of APEC Strategic Framework on Urban-Rural Development to Promote Food Security and Quality Growth. 
APEC leaders are well aware that climate change will be a complex one, but it is also an opportunity to build agriculture. APEC leaders strongly believe that with the efforts of the host Vietnam, APEC 2017 will create new strides in addressing the challenge of climate change and food security.
Hoang Long