VietNamNet Bridge – The recent incident at Song Bung Hydropower Plant has alerted Vietnam to reconsider the construction of so many hydroelectric plants, which have been compared to "timebombs".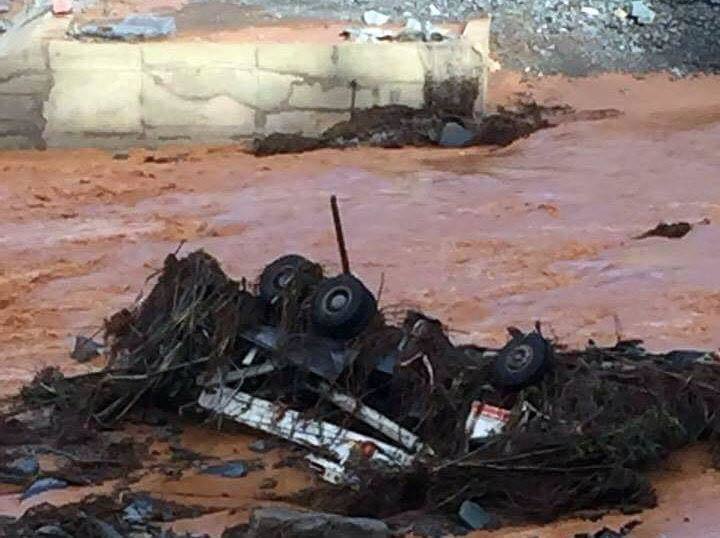 A broken water valve is the suspected cause of an incident on September 13 that left two workers missing at the Song Bung 2 Hydropower Plant in the central province of Quang Nam.
Those who visit the northern mountainous province of Ha Giang cannot miss Ma Pi Leng, one of the four most famous mountain passes in Vietnam. 
Standing on the pass, one can see the beautiful Nho Que River running below, now the home to three hydropower plants.
Ha Giang authorities accepted environmental and ecological risks in return for VND10 billion ($5 million) of tax revenues from these hydropower plants. But investors now owe nearly VND40 billion ($2 million) of environmental charges.
Ha Giang is lucky because these hydropower bombs have not caused any disaster. Some provinces, however, have not beenas lucky as Ha Giang.
A water valve at the Song Bung 2 Hydropower Plant in the central province of Quang Nam broke on September 13, with water from the plant's conductor tunnel sweeping away two on-duty workers, destroying two houses in La Ee Commune's downstream area and flooding some roads in nearby communes.
A broken water valve is the suspected cause of an incident on September 13 that left two workers missing at the Song Bung 2 Hydropower Plant in the central province of Quang Nam.
According to the latest technical report, water from Thu Gia-Thu Bon river system flocked rapidly to the hydropower reservoir after the 4th storm in recent weeks, speeding at 560 cubic metre per second. Strong water flow broke one of two steel cast valves of the tunnel, sweeping everything inside the tunnel away.
The 100MW (megawatt) hydro-power plant, which started operating one turbine in 2012, has stored 28 million cubic meter of water in its reservoir in preparation for operation of the second turbine later this year. 
The reservoir was designed to hold 94 million cubic meters and to produce 460 million kilowatt per hour per year. The tunnel was officially accepted by state agencies for water storage on September 3rd, and it had been in the final completion process for the operation of the hydro-power plant this December.
In an urgent message, Prime Minister Nguyen Xuan Phuc asked the province, the ministries of industry and trade, the Vietnam Electricity Group (EVN) and relevant agencies to discover the cause of the accident.
The $235 million Song Bung 2 hydro-power plant, which was built in area of two communes – La Ee and Zuoih, both in the Nam Giang district – is one five projects built in Vu Gia-Thu Bon under the national energy security strategy.
The province has 62 hydropower projects with a total designed capacity of 1,600MW, and more than 820 irrigation projects with 72 reservoirs built in the river basin. However, these projects only operate at 51 per cent of designated capacity.
In 2014, a tunnel in Da Dang- Da Chomo hydroelectric power plant in Lam Dong Province collapsed during construction after heavy rains in the area.  
In 2013 in the central province of Binh Dinh, floods plus water discharge from a hydropower reservoir killed several people.
One of the main tasks of hydropower plants is to prevent floods in the downstream area during the rainy season, and supply water for production and people's needs in drought. 
But when the control of hydropower plants is loosened, hydropower projects become a threat in the rainy season. 
How many such bombs in Vietnam?

There are 284 operating hydropower plants and 204 projects under construction, with total capacity of 6146.56 MW, which are expected to operate before 2017. 
In addition, there are 250 projects (3049.2 MW) under research and 78 planned projects. Once all of these works are put into operation, the country will have more than 800 hydroelectric dams or 800 bombs. 
The Central Highlands and the central regions are the driest areas in Vietnam but they host the highest numbers of hydropower projects. 
Quang Nam, where the Song Bung incident occurred, has up to 62 hydropower projects. A few years ago, this province faced danger as the dam of Song Tranh 2 hydropower plant cracked.
As the central region has many forests with various kinds of precious wood, people are concerned that someone took advantage of building hydropower plants to destroy the forest. 
According to the General Directorate of Forestry, some incapable businesses still ask for permission to invest in hydropower projects for the purpose of mining and exploiting the forest. It is not surprising that the poorer provinces have more hydropower projects.
Even when hydroelectric plants are simply built to generate electricity, the impact on forest is huge. As hydropower projects are often located in mountainous areas, the construction of these works require the clearance of a vast area. 
It is estimated that each small hydroelectric plant takes away 16 hectares of forest to produce 1MW of electricity.
Worryingly, the forest taken by hydroelectric plants is usually in the upstream, which has a crucial role in regulating natural water. 
The role of hydropower in ensuring national energy security is indisputable. These historical works such as Hoa Binh, Tri An or Son La hydropower plants are development milestones of the country. But that does not mean Vietnam has to sacrifice everything for hydropower.
Water and the environment are the property of the nation. If a hydroelectric project brings high profit to the investor but causes severe damage to nature and local people, it should not be built.
Everything has its time. It is no coincidence that many countries are breaking dams to return the status quo to nature. 
Nguyen Khac Giang