VietNamNet Bridge - After more than four years since it was announced, the $22 billion Nhon Hoi petrochemical project officially proposed to withdraw from Vietnam's oil and gas development plan to 2025. To date at least three foreign oil and gas groups have fled from Vietnam.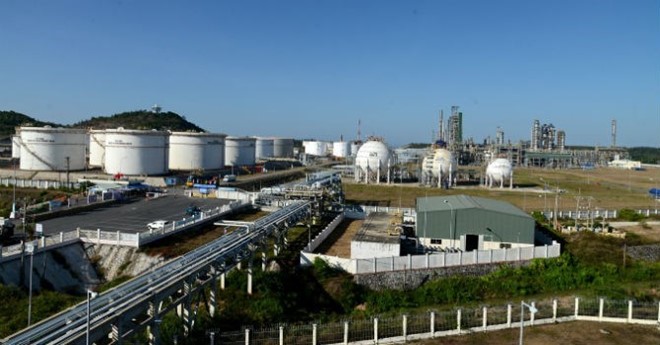 Illustrative image.

The authorities of the central province of Binh Dinh have officially announced that the Victory Nhon Hoi Oil Refinery and Petrochemical Complex was cancelled after a long delay.
"The province and the Thai partner, the Petroleum Authority of Thailand Company (PTT), agreed to end the project because of the latter's inability to implement. PTT was unable to proceed because of the project's unfeasibility given the low global crude oil price compared to when the investment decision was made," said Mr. Nguyen Ngoc Toan, Deputy Manager of the Nhon Hoi Economic Zone on the VN Economic Times.
When PTT decided on the investment in 2012 it was the first petrochemical refinery complex in Vietnam, with a total capacity of 20 million tons per year and was to contribute about 40 percent to Binh Dinh's GDP once operational. It was also expected to provide about 30,000 jobs.
Given the difficult economic situation, PTT and the other partner, Saudi Aramco from Saudi Arabia, asked for a reevaluation of the project in February, with investment to be cut from the initial $28 billion to $22 billion and capacity to 400,000 barrels a day.
Binh Dinh province threatened to revoke the investment license in June due to delays in reimbursing the Nhon Hoi Economic Zone for infrastructure investment.
If the project was implemented it would have benefited from corporate income tax and property tax preferences well as reductions on import taxes on crude oil and equipment, machinery, and materials that cannot be produced domestically. Once completed its products were to also be sold domestically.
PTT initially proposed having its own seaport and had sought other special incentives.
The project has not moved forward since 2012. The investment was subsequently cut to $22 billion and then $20 billion and Binh Dinh had yet to receive any licensing documents for the project.
Global crude oil prices then tumbled, which has put many global giants in the oil and gas field into difficulty, with PTT and Saudi Aramco being no exception.
Earlier, Russia's Gazprom Neft Public Joint Stock Company dropped its plans to purchase 49 percent of the Vietnam Oil and Gas Group (PetroVietnam)'s stake in the Dung Quat Oil Refinery being developed by the Binh Son Refining and Petrochemical Company Limited (BSR) in the central province of Quang Ngai.
"We are ready but are not satisfied with the terms proposed. Profit conditions were initially favorable but BSR is not ready to provide the conditions we expected, which result in lower profitability," he said. "We cannot enter into a low profit investment," Gazprom Neft Chairman Mr. Alexandr Dyukov was quoted by Russia's Sputnik as saying in June 2016.
He added that the most important matter was identifying business performance indicators.
"At this moment Gazprom Neft does not agree with proposals from the Vietnamese partner. When they are ready to provide better conditions we will agree," he said
PetroVietnam announced early this year that Gazprom Neft had released an official document ending negotiations over purchasing the 49 per cent.
Gazprom Neft also said that the group will research opportunities to purchase shares in Dung Quat in the future.
In November 2013 Gazprom Neft and PetroVietnam signed a framework agreement on a share acquisition in Dung Quat and its modernization. Gazprom Neft expected to buy 49 percent and propose plans to expand the oil refinery with investment of about $1.5 billion to $3 billion.
During negotiations, however, the valuations of the two sides were different and the handling of BSR's debts was a complex issue. Negotiations were therefore brief and could not be completed within the valid timeframe contained in the agreement (i.e. prior to June 30, 2015).
On August 21 last year Gazprom Neft sent a petition to Vietnamese authorities proposing it be granted incentives and favorable conditions to take on the shareholding.
In a response in November last year, the Ministry of Industry and Trade (MoIT) confirmed that import tax incentives on products will not be available to BSR after 2018 and other incentives like corporate income taxes and value added taxes must comply with Vietnamese law.
On December 7 PetroVietnam sent a notice to Gazprom Neft on these constraints.
At the same time it also announced plans to equitize BSR in order to invite Gazprom Neft's to become a strategic shareholder.
However, the Russian group officially ceased negotiations and will research other opportunities in the future.
Vietnam's oil and gas industry has recently seen the withdrawal of major oil companies due to recalculations of their investment decisions, including Qatar Petroleum International at the Long Son Oil Refinery project in southern Ba Ria Vung Tau province.
Licensed in 2008, the complex was invested by a join-venture of Thai Siam Cement Group (SCG), Qatar Petroleum International (QPI), and Vietnam National Oil and Gas Group (Petrol Vietnam).
It was previously slated to begin construction in 2014 and be completed in 2017. However, the construction was delayed due to site clearance issues.
As further obstacle, in December 2015 the Qatari investor has officially withdrawn from the project due to the restructuring of its development strategy. QPI and the two remaining investors failed to reach a compromise on capital transfer, leading to a serious delay in the project's progress.
It was recently announced that the construction of the $4.5 billion Long Son petrochemical complex will be restarted in the fourth quarter of 2016 after eightyears of delay.
According to Dhep Vongvanich, advisor to the president of SCG cum executive director of SCG in Vietnam, as of now, the consortium has finished the site clearance and is working on completing the remaining procedures to restart in the fourth quarter of this year.  
SCG also revealed that the project found a new investor replacing QPI, but the name of the new investor has yet to be disclosed.
Once the complex comes into operation, it will be the biggest of its kind in Vietnam and is intended to meet the growing demand of local industries for high-quality plastic resins, valued at $2 billion annually.
The complex will consist of a factory capable of turning out 1.65 million tonnes of olefins, 1.45 million tonnes of poly-olefins, 280,000 tonnes of chloralkali, and other materials each year. The site will also include supporting facilities, such as a port, warehouses, and a power plant.
Expert warns against new steel and oil refinery projects
Chairman of the Vietnam Association of Foreign Invested Enterprises, Nguyen Mai has said that Vietnam should stop calling investments for cement, steel and oil refinery projects due to their environmental pollution and ineffective business. 
Formosa's recent toxic waste discharge in the central region and news that foreign investors have delayed or cancelled a USD20-billion petrochemical project in Nhon Hoi Economic Zone have raised the issue. Mai said Vietnam should review and re-evaluate all existing and coming projects instead of calling for new investments.
The government was warned a few years ago about restructuring their investment portfolio and impacts but only small projects have been inspected. Vietnam has already halted investments into the cement industry after warnings about redundancy and environmental issues, such as air pollution or loss of limestone karsts of Ninh Binh and Kien Giang, were issued. And this time steel projects have been the focus.
In recent years, a large number of localities had granted permits to steel projects en mass without checking if they were using new or out-dated technology. At the end, lots of firms went bankrupt due to high production costs and inability to compete with Chinese products. Those still using out-dated technology pose threats to the environment.
"China and the US have strong steel industries which are also suffering from environmental issues, especially China. Meanwhile the number of steel factories we have now can satisfy local demand. If it's not enough, buying steels from overseas is actually cheaper than local products. That's why we don't need new large-scale projects," Mai said.
Before 2013, many local authorities violated regulations, offering incentives, to attract steel investments. As a result, many of the factories were able to occupy large plots of land despite being small or medium-sized firms in reality. The government tried to screen projects more carefully but the Formosa incident and the Nhon Hoi project show that they haven't been careful enough, he said.
"Formosa is an ambitious project right from the start. The investor proposed to build a factory with capacity to produce 20 million tonnes of oil products a year. After much discussion, we decided that in the first phase, the factory would produce only half of what had been proposed. But now we need to review and reconsider the second phase development too," Mai said.
He went on to say that Vietnam already had Dung Quat, Nghi Son and Vung Ro oil refinery projects with capacity to produce from 55 to 60 million tonnes per year. But Vietnam's annual crude oil reserve is only 10 to 15 million tonnes. In order to keep the refineries running, Vietnam must import crude oil and might not make much profit as world oil prices are low.
In addition, oil refineries are not environmentally-friendly projects. They do not create huge amount of jobs for locals and has low added value because Vietnam does not have total control over the technology nor exported products in large FDI projects.
Mai also emphasised that Vietnam should not start new cement projects and supervise textile projects more tightly because they also pose environmental hazards. Dtinews
Compiled by Khuyen Bui