VietNamNet Bridge - In the top 50 most powerful businesswomen in Asia are three representatives of Vietnam - Thai Huong, Nguyen Thi Phuong Thao and Cao Thi Ngoc Dung.
1. Nguyen Thi Phuong Thao - CEO of Vietjet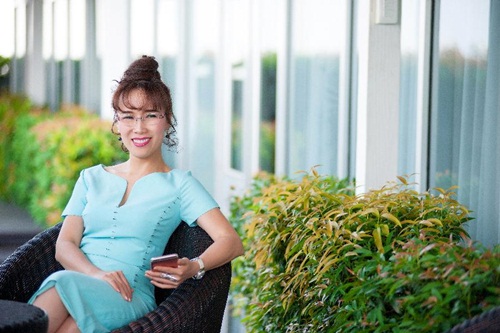 Nguyen Thi Phuong Thao is known for many bold decisions in business. The female CEO of Vietnam's first private low-cost airline Vietjet is expected to become the first female dollar billionaire of Vietnam if Vietjet's IPO is successful in the near future. When Vietnam's only private airline launches the IPO, Thao will have net assets exceeding $1 billion.
In 1998 Thao began doing business when she was a second year student majored in finance-economics of a university in Moscow. With a modest amount of capital, she distributed clothing, stationery, consumer goods of Japan, Hong Kong, South Korea in Russia.
After three years, she earned the first $1 million, at the age of 21 and began trading industrial goods such as steel, machinery, fertilizers.
Returning to Vietnam, she contributed capital to establish Techcombank and VIB, the first private banks in Vietnam. Then, she and her partners applied to set up the first private airline in Vietnam, entering the market that was occupied by only one firm - Vietnam Airlines.
VietJet Air quickly became popular with the team of young stewardesses and the daring image-building strategy. Its flight attendants wore swimwear on maiden flights to coastal destinations. Thao said that this was a message conveying confidence and encouragement.
Thao's ambition is to turn VietJet into "an Emirates of Asia" to succeed as the airline of Dubai, which has 150 destinations and offer flights with the longest traveling time in the world.
Starting operation in late 2011, VietJet now has 47 routes in Vietnam and Asia. If it is assessed at $1 billion, the company will have market capitalization even bigger than South Korea's Asiana Airlines or Finnair Oyj of Finland.
The majority of Thao's assets come from her shares in VietJet and Dragon City (Phu Long) – the 65 hectare property project in HCM City and other companies. Thao also contributed capital to three luxury resorts, including Furama Resort in Danang, Ana Mandara in Nha Trang and An Lam Ninh Van Bay Villas in Khanh Hoa.
VietJet plans to sell up to 30% its shares for foreign investors in the next three months. The carrier can be valued at more than $1 billion.
Assuming many senior positions in the areas of finance, banking and real estate, VietJet CEO Phuong Thao is considered a talented female leader. In addition to VietJet, she also holds important positions at many large companies in Vietnam and abroad such as the Chair of Phu Gia Securities Company, has a stake in HD Bank, chair of Phu Long Real Estate Compan ...
Thao joined the Board of Directors of HD Bank Board since 2008. Previously, she was the co-founder and manager of VIB Bank and Techcombank.
Thao is also a founding shareholder of Sovico Holdings. According to the group's website, Sovico Holding has chartered capital of VND1,000 billion, investing in the financial sector, real estate, industry and energy ... In the aviation sector, Sovico is a founding shareholder and the largest shareholder of VietJet Air.
2. Thai Huong – President of TH Group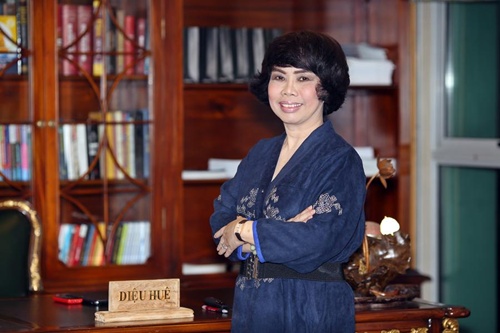 This is the second time Ms. Thai Huong - President of TH Group - entered the top 50 most powerful businesswomen in Asia. She was the latest representative of Vietnam on this list in 2015.
She was involved in the dairy sector in 2009 with a commitment to change the dairy industry of Vietnam. Since then, TH Group has invested $450 million to import and raise cows, and to produce clean milk with Israeli technology.
The company now breeds 40,000 cows on 8,100 hectares of farms and plans to raise its farms to 37,000 hectares. TH's estimated 2014 revenues exceeded $200 million, holding a third of the domestic fresh milk market. TH Group planned to have 137,000 cows and process 500 million liters of milk by 2017, meeting 50% of the need of the domestic market. TH is the biggest rival of Vietnam's largest dairy company - Vinamilk.
Thai Huong began doing business in 1994 and is the founder of the North Asia Bank. She is still the president of the bank.
North Asia is one of 10 banks selected to join the automatically interbank payment system. In addition to activities on the financial and monetary fields, North Asia also invested in key projects: dairy, cement, mining, hotel, trade, services, supermarkets ... In 2010, the banks completed raising chartercapital to VND3,000 billion at the request of the State Bank of Vietnam.
3. Cao Thi Ngoc Dung - Chair and CEO of Phu Nhuan Jewelry (PNJ)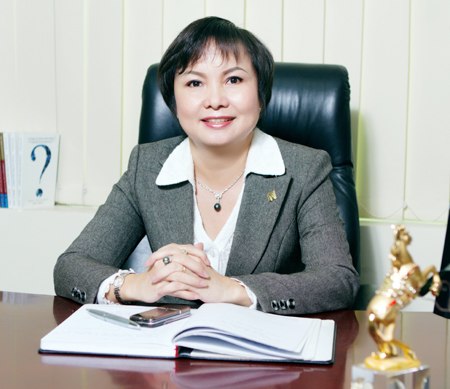 Dung started participating in the executive board of the Phu Nhuan Jewelry JSC in 1998 as Director. Since 2004 she has been the company's chair and the largest shareholder.
In 2015, PNJ earned revenue of $350 million and profit of $23 million.
Besides the role of Chair and Chief Executive Officer of Phu Nhuan Jewelry, Dung also held important positions in other businesses where PNJ is a major shareholder, such as the Chair of the Dong A Real Estate Joint Stock Company.
Last August, it was reported that Dung and her family members owned 9.62% of shares of East Asia Bank, corresponding to VND480 billion ($24 million).
PNJ also holds 7.7% stake in East Asia Bank, with a total investment of VND395 billion. Dung's family owns shares of PNJ and East Asia Bank with a value of up to VND1,000 billion (nearly $50 million).
Na Son