VietNamNet Bridge - The elephants in Buon Don (Don Village), Dak Lak province, the kingdom of tamed elephants in Vietnam, are too old and weak, and are no longer fertile so the herd of domestic elephants in Buon Don is facing the threat of becoming endangered.
Elephants are dying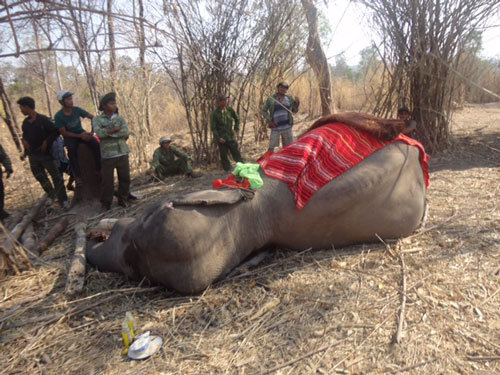 Many elephants in Dak Lak died young.
According to the Ministry of Agriculture and Rural Development, Vietnam's elephant population is under serious threat. Without active measures, they will become extinct. From 1975 to 1980, the estimated number of wild elephants in Vietnam was more than 1,500 heads, distributed almost throughout the country. Currently, there are only about areas having wild elephants with a total of about 70-130 heads.
The number of tamed elephants is also dropping. In the 1980s, Dak Lak had more than 500 domestic elephants but currently the number is only 43, including 18 male and 25 female elephants. Notably, only 16 female elephants are under 40 - the age of fertility. Many elephants died young.
Nguyen Hoai Duong, Director of the Department of Agriculture and Rural Development of Dak Lak Province, said the number of dead domestic elephants is increasing as they are aging elephants, and are not  taken care of well and are abused for tourist activities.
Prof. Dr. Bao Huy, an expert of elephant conservation, said in addition, the habitat of elephants is shrinking due to deforestation. Sick elephants are not released into the forest to find medicinal plants for self-healing so their resistance declines and they incur more illnesses.
"Normally, the lifespan and the development stage of the elephant is equivalent to humans, so it is extremely worried for the elephants to die at the age of 30-40," Huy said.
Erin Ivory, from Animals Asia, said the conservation of elephants in Vietnam in general and Dak Lak in particular is becoming ever more urgent. For the tamed elephants, there are only 12 female elephants at the reproductive age. In Vietnam, it is in common that elephants live individually. They are chained and forced to serve tourism. When they are taken to the forest for feeding, elephants are also chained to trees so they don't have own space.
Helping elephants to reproduce is very urgent because the longer time is, the older elephants are and their fertility will decline. The elephants are only preserved when they live in herd, in nature, don't have to serve tourists, Erin Ivory stressed.
Huynh Trung Luan, Director of the Center of Elephant Conservation of Dak Lak said, the center had identified the establishment of a concentrated grazing area in Yok Don National Park (Buon Don District) is urgent. At this zone, the elephants will be released in the forest area over 200 hectares, with adequate food, water, medicinal plants to promote their health. Living together, elephants will have a chance to meet and mate to promote fertility.
However, Luan admitted that although the project does not lack funds, the establishment of the zone has not been realized due to lack of qualified human resources and complicated procedures.
Borrow or buy elephants from Thailand, Sri Lanka?
Mr. Y Shi That, Vice Chair of Buon Don District in the central highlands province of Dak Lak, said the government should help Buon Don buy 1-2 pairs of elephants from Sri Lanka or Thailand for reproduction in order to maintain the cultural identity of the "kingdom of elephants" and promote the village's unique tourism.
The funding for purchasing foreign elephants can take from the elephant conservation project of Dak Lak, which has a total budget of VND85 billion (over $4 million) in the period of 2015-2020.
Meanwhile, on March 19, Huynh Trung Luan, Director of the Center of Elephant Conservation of Dak Lak, said the center planned to borrow two female elephants from Thailand for reproduction and conservation of Buon Don's herd of elephants.
Luan, however, said it is difficult to borrow elephants from Thailand because Thai law on protection of elephants is stricter than Vietnam's. Thai people see elephants as national treasures so Vietnam must rely on international cooperation programs for the conservation of elephants.
Currently, the population of wild Asian elephants numbers about 35,000-50,000 and around 15,000 taming elephants. In Sri Lanka, the government is trying to implement conservation measures for 3,000 elephants.
Some effective measures include preventing the use of noise, light and other shocking devices affecting habitats of elephants; establishing new national parks and expanding the area of  elephant conservation and enriching the habitats of elephants.
Linh Nhat