VietNamNet Bridge - After nearly 20 years in Vietnam, a pyramid-scheme business has attracted millions of people. Up to 90% of products are dietary supplements.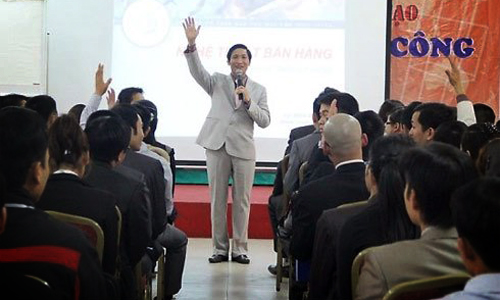 Pyramid-scheme businesses have developed strongly in the past 5-6 years, with the growth rate of 20%- 30% per year.
Network marketing or multi-level marketing is a method of direct sales to consumers. Accordingly, the buyer can directly receive the goods from the company or through adistributor, not through the dealer or retailer.
Appeared in the 70s with a lot of controversy, it only began in Vietnam in 1998.
Multi-level marketing appeared in Ho Chi Minh City for the first time in 1998, by a group of people from Taiwan in a joint venture with a local company named Inconmex. At that time their product was the mattress, which they advertised as a miracle product to cure all kinds of diseases.
Therefore, the price of the item was pushed to several tens of million a product, a huge amount of money at that time.
In 2000, the Sinh Loi Company appeared, operating in the form of multi-level business, but it was not managed by law because Vietnam did not have the legal framework for this form of business.
To join the network of Sinh Loi, members had to buy products such as massage machines, ozone machines, kitchenwares, and electronic goods ... for the price of VND3 to VND5 million, 2-3 times higher compared to the similar products on the market.
Tens of thousands of people participated in the network of Sinh Loi. Until the end of 2004, the Competition Law and in 2005 Decree 110 were issued to put multi-level business under a certain legal framework. Legal documents recognized it as a legitimate business model in Vietnam.
Shortly after that, after receiving many complaints from customers about the origin of Sinh Loi's products, in mid-2006 the HCM City Department of Planning - Investment decided to revoke the license of the multi-level marketing of Sinh Loi for commercial frauds.
After Sinh Loi's licence was revokedits leaders went to Hanoi to ask for the licence to establish a new pyramid-scheme company called Thien Ngoc Minh Uy and then set up branches in many provinces.
This business sold functional foods, beauty and household items such as massage devices, ozone creating equipment... Branches of Thien Ngoc Minh Uy in many provinces were fined for selling products of unknown origin. Besides Thien Ngoc Minh Uy, many other multi-level businesses were denounced by the public.
Pyramid-scheme businesses have developed strongly in the past 5-6 years, with the growth rate of 20%- 30% per year. In 2013, the Pyramid-scheme Business Association had over 100 member companies, but only 65 were registered with the Ministry of Industry and Trade.
According to the Competition Management Department, after nearly 20 years in Vietnam, the products trading by pyramid-scheme companies have expanded from functional foods to cosmetics, household items, fashion goods, sports equipment, physiotherapy ... However, functional foods are still the leading product, offered by over 80% of pyramid-scheme businesses.
This agency said most of the businesses sell imported products but some of them have built their own plants in Vietnam, such as Amway Vietnam Co., Ltd. Thien Su Vietnam Ltd. and FNC Friendship Network ...
Revenue in the field also increased 10 times in eight years, from VND614 billion in 2006 to VND6,447 billion in 2013. In the first half of 2015 alone, the sector's total revenue was VND3,200 billion.
The Competition Administration Department reported that these companies registered to trade over 7,000 items, with a total of 1,2 million people involved in their networks, compared to 235,000 people in 2006.
Previously, most of the members of the pyramid-scheme businesses were poor people, who joined the network with the hope of changing their lives but now the members include intellectuals, teachers, workers ...
Multi-level business companies apply different bonuses giving structures as the pyramid, binary and matrix model. However, besides the multi-level marketing businesses that operate within the law, some broke the rules.
These firms often asked members to pay very high fees to join the network, and the bonus was given based on the number of new members that they recruited.
They also made false advertising about the nature and the effectiveness of their products. Some companies did not have real products and did not sell anything. They just invited people to join the network and used the fee paid by the new members to pay the old members.
In the latest case, the police have arrested seven members of multi level marketing firm Lien Ket Viet for alleged fraudulent appropriation of assets in an apparent pyramid scheme, involving up to 45,000 people.
They were arrested for swindling over 45,000 people and appropriating a total of VND1.9 trillion (roughly US$85 million) since 2014.
Since late 2015, reports have been submitted to the Ministry of Public Security referring to the leaders of the company and many of its branches failing to pay commissions to their clients in accordance with their agreements.
Hundreds of people said they paid deposits to join the Lien Ket Viet multi-level trading system but never received any commission as promised.
The people, investors and members of the company, said they went to the company offices based in Ha Noi and Hai Phong to ask for compensation but found it was closed.
Investigations found that the company was established in 2010 and obtained a multi-level marketing license from the Ministry of Industry and Trade in 2014. Since then, it focused on marketing and trading a variety of supplementary products and healthcare devices under a pyramid scheme.
The company was found to be fraudulent after it advertised that it belonged to the Ministry of National Defence to win the confidence of customers.
The company's products, mostly fake, were sold at high costs compared to real products.
Police also found the company had forged many documents including certifications for outstanding services.
Giang and his group tried to develop his company throughout the country focusing on rural areas where they could easily dupe poor people into investing and become a member of the company.
Between early 2014 and July 2015, about 21 branches opened in 19 provinces and over 45,000 people joined the company.
The company's leaders instructed employees to recruit sellers by promising lucrative bonuses. Each seller was asked to deposit at least VND8.6 million ($386) to join the system.
Investigators said the company's leaders managed to expand their network by using deposits from new sales agents to old ones and repeating that cycle.
The clients were promised a sum of VND449 million ($20,093) including commissions, interest, and bonuses after five years, and the amount would be increased if they could find new participants. The company's current account worth VND45.5 billion ($2 million) has been frozen for further investigations, according to the police.
Na Son